December 7, 2010
Happy 12 Days of Giveaways to you!!
Today, meet the Big Guy, Fisher-Price's Bigfoot Monster: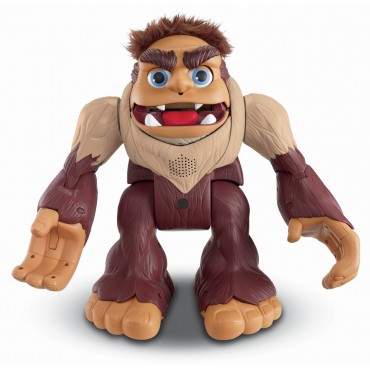 This little dude packs an entertaining punch!
He can toss a ball…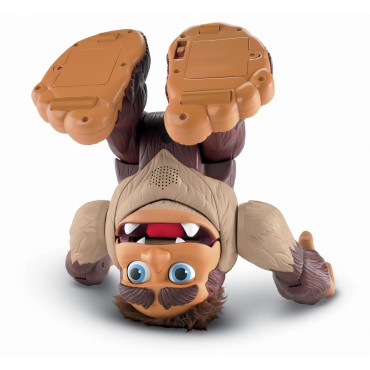 He can do a somersault and stand on his head…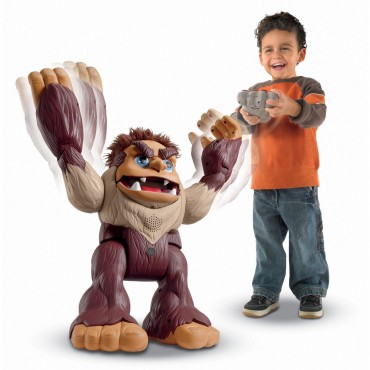 And he can walk, talk, sleep and many other things.
All controlled by your little adorable, with a big, easy-to-use remote.
And snaps to the F-P toy engineers: Bigfoot comes with his own *rechargeable* battery pack!  (thank you!)
This toy will provide hours of fun and entertainment.
See a big, live Bigfoot here:
And you can win one…
Giveaway
One lucky, lucky winner can one Fisher-Price Big Foot ($86) simply by leaving a comment by Saturday, December 11th. I'll choose the winners using Random.org on Sunday.
Because I just LOVE comments, here's how to gain extra entries (please leave them as separate entries):
1. Do you subscribe by email or RSS to The Good Stuff Guide? I love my subscribers, so you get an extra entry. Wahoo!
2. Email 5 of your friends about The Good Stuff Guide and tell them what a rockin' website this is. We'd love to have them join us!
3. "Like" The Good Stuff Guide on Facebook and receive the latest news and your chance at additional giveaways. (I LIKE you too!)
4. Tweet this: "12 DAYS of GIVEAWAYS going on now at http://su.pr/2TJPO2  – Playmobil, LEGO, Leapfrog, Fisher-Price and more!"
Good luck!
Many thanks to Fisher-Price for sponsoring this giveaway!
You can find the Fisher-Price Imaginext BIGFOOT the Monster
($86) at Amazon.
Gorgeous, lovely, creative eeBoo tomorrow!

Share this post
You might like...
Category: Toys and Gift Ideas
Tags: 12 days of giveaways, Fisher-Price Big Foot, Imaginext |
112 Comments »
Noreen

on December 7, 2010 7:09 am

My son just told me yesterday that he wants this guy. Not a cheap toy!!!

---

Noreen

on December 7, 2010 7:09 am

I'm a facebook fan too

---

Jenny

on December 7, 2010 8:07 am

We love looking at this guy at Target in the display case!

---

Jenny

on December 7, 2010 8:07 am

I'm an email subscriber.

---

Jenny

on December 7, 2010 8:07 am

I'm a fan on Facebook.

---

on December 7, 2010 9:22 am

I am a FB fan.

---

on December 7, 2010 9:23 am

I emailed five friends.

---

on December 7, 2010 9:23 am

I am an email subscriber.

---

on December 7, 2010 9:24 am

What a neat new toy. I have the perfect little monster for this!

---

monkygm

on December 7, 2010 9:30 am

So funny… my son calls him the "yucky monster" and when asked what he is going to ask Santa for he always says "The Yucky Monster" LOL! Would be great to win it because as mentioned it is quite expensive!

---

monkygm

on December 7, 2010 9:31 am

Facebook fan!!!

---

monkygm

on December 7, 2010 9:35 am

Email subscriber too!!!

---

Janessa

on December 7, 2010 9:42 am

My 3 yo has been talking nonstop about "I want a Bigfoot with his ball and his remote control." ever since we started talking about Santa lists.

---

Janessa

on December 7, 2010 9:43 am

Facebook fan!

---

Janessa

on December 7, 2010 9:44 am

I follow you via GFC.

---

Lauren

on December 7, 2010 9:50 am

My kids LOVE this bigfoot.

---

Lauren

on December 7, 2010 9:50 am

Facebook fan, too!

---

D.

on December 7, 2010 11:03 am

great christmas present!

---

on December 7, 2010 12:34 pm

My little grandson "monster" really wants this monster. It would be the perfect Christmas present. I follow Good Stuff on facebook regularly.

---

Jamie N.

on December 7, 2010 12:37 pm

Love this! I want to win this so badly!!!!

---

Jamie N.

on December 7, 2010 12:37 pm

Im a facebook friend!

---

Jamie N.

on December 7, 2010 12:38 pm

Im an email subscriber too.

---

Lisa Marsh

on December 7, 2010 1:13 pm

I am an email subscriber!

---

Lisa Marsh

on December 7, 2010 1:13 pm

I follow you on Facebook

---

Lisa Marsh

on December 7, 2010 1:14 pm

My daughter LOVES this guy!!! Everytime we go to Target she has to play with him and then I end up making her mad by pulling her away from the display!

---

Lisa Marsh

on December 7, 2010 1:14 pm

I am emailed 5 friends about you guys!!

---

on December 7, 2010 1:29 pm

My two youngest always, always go to this toy display at our local retailer. Not sure what the attraction is, but they would love it!

---

Patricia Carey

on December 7, 2010 1:52 pm

My son would just love this guy. May be the last year he wants something like this.

---

gillian s

on December 7, 2010 2:12 pm

my boys would LOVE to play ball with this guy!

---

gillian s

on December 7, 2010 2:12 pm

subscriber.

---

gillian s

on December 7, 2010 2:12 pm

FB fan.

---

Sandi

on December 7, 2010 3:24 pm

This would be so cool on Christmas morning!

---

Colleen Gallagher

on December 7, 2010 4:20 pm

would be a riot

---

Cathy

on December 7, 2010 4:33 pm

I don't know if my sister or my nephew would love me more for this gift, but i'd love to find out! Looks like fun!

---

Ronda

on December 7, 2010 5:12 pm

What a fun toy!

---

Ronda

on December 7, 2010 5:12 pm

I am a Facebook fan

---

katie

on December 7, 2010 6:56 pm

my kids love seeing this thing at target!

---

Valerie S

on December 7, 2010 6:56 pm

My son would love this!

---

Valerie S

on December 7, 2010 6:56 pm

I subscribe via RSS

---

Rebecca S

on December 7, 2010 9:46 pm

This is awesome. My daughters and I saw this at the store and thought it was great.

---

Rebecca S

on December 7, 2010 9:46 pm

I subscribe via RSS.

---

Rebecca S

on December 7, 2010 9:47 pm

I like the GSG on Facebook.

---

nan

on December 7, 2010 11:39 pm

my son wants him..after seeing the commerical
nannypanpan at sbcglobal.net

---

nan

on December 7, 2010 11:40 pm

e-mail subscriber

---

Ferdinand A.

on December 8, 2010 3:11 am

I hope this big foot contest is open to all human beings anywhere

---

on December 8, 2010 3:30 am

Leaving a comment before the 11th like requested!

dragonflye2003(at)hotmail(dot)com

---

on December 8, 2010 3:31 am

I subscribe to emails

dragonflye2003(at)hotmail(dot)com

---

on December 8, 2010 3:31 am

I like you on facebook!

Petes Sake is my username on there

dragonflye2003(at)hotmail(dot)com

---

on December 8, 2010 3:32 am

I tweeted this!

http://twitter.com/Katishma/status/12424138715041792

dragonflye2003(at)hotmail(dot)com

---

Leanne M

on December 8, 2010 4:11 am

My twins would love this for Christmas!!

---

Leanne M

on December 8, 2010 4:15 am

I'm a email subscriber

---

Leanne M

on December 8, 2010 4:16 am

I like you on facebook

---

Leanne M

on December 8, 2010 4:17 am

http://twitter.com/leanne_mac/status/12435437037559808

tweeted

---

on December 8, 2010 8:30 am

This will make my daughter a great christmas gift
tbarrettno1 at gmail dot com

---

on December 8, 2010 8:31 am

email subscriber
tbarrettno1 at gmail dot com

---

on December 8, 2010 8:32 am

like on fb (michelle b)
tbarrettno1 at gmail dot com

---

on December 8, 2010 8:35 am

tweet
http://twitter.com/ChelleB36/status/12500536188211200
tbarrettno1 at gmail dot com

---

on December 8, 2010 8:44 am

I have seen this toy everywhere – My boys would be so excited if I won. I love how it's remote controlled too!

---

on December 8, 2010 9:18 am

This is SOOO cute – my boys would love it!

thanks for sponsoring this.

2kidsblogger(at)gmail(dot)com

---

on December 8, 2010 9:18 am

subscribe via email

---

on December 8, 2010 9:19 am

"Liked" The Good Stuff Guide on Facebook – 2kidsblogger

---

on December 8, 2010 9:20 am

emailed 5 friends about bigfoot and the good stuff guide!

---

on December 8, 2010 9:20 am

tweeted!

http://twitter.com/2kidsblogger/status/12511856195280896

---

Kim Derrick

on December 8, 2010 9:38 am

I am a fb friend

---

Kim Derrick

on December 8, 2010 9:39 am

I get emails

---

Kim Derrick

on December 8, 2010 9:39 am

We saw this at Target and my son loved it.

---

Dawn Valentine

on December 8, 2010 9:42 am

My granddaughter Loves Bigfoot.. I can't get her away from the display at the store.

---

Rachel C

on December 8, 2010 10:10 am

My kids would probably be scared of this, but it would make a great gift for my nephew!

---

Rachel C

on December 8, 2010 10:10 am

email subscriber

---

Kim

on December 8, 2010 10:13 am

This is on my daughter's Christmas list. How wonderful.

---

Kim

on December 8, 2010 10:13 am

I follow you on fb.

---

on December 8, 2010 10:17 am

Great choice on a giveaway gift. Bigfoot is one of the hottest toys this year! Very entertaining and still simple enough for smaller kids to use.

---

on December 8, 2010 10:19 am

A few people think this toy is too scary for small kids. Its true that its a bit loud, but most kids will adjust very quickly and end up loving it!

---

Jackie J.

on December 8, 2010 11:28 am

I'm an email subscriber and would love this for my grandson.

---

Jackie J.

on December 8, 2010 11:29 am

I emailed 5 of my friends to let them know about this great website!

---

Laurt

on December 8, 2010 11:39 am

I am an email subscriber

---

Laurt

on December 8, 2010 11:40 am

I emailed 5 friends Thanks!

---

Laurt

on December 8, 2010 11:40 am

Like YOU on Facebook

---

Laurt

on December 8, 2010 11:40 am

http://twitter.com/LAURAWI18/status/12547155155755008

---

Kareem Fenner

on December 8, 2010 1:45 pm

My boys would go bonkers for this little gem.

---

on December 8, 2010 5:15 pm

This thing is hilarious, my son always stops to play at the store displays!

---

on December 8, 2010 5:16 pm

http://twitter.com/ChaniMeyer/status/12631205488893952

Tweeted about the giveaway

---

on December 8, 2010 5:16 pm

FB fan of TGSG!!

---

Mimi

on December 8, 2010 11:40 pm

who wouldn't want something so endearing !

---

Mimi

on December 8, 2010 11:41 pm

Love those eyebrows !

---

on December 9, 2010 10:44 am

That thing is awesome!

---

Elisa

on December 9, 2010 10:54 am

My daughter loves this iphone ap!!!

---

on December 9, 2010 4:24 pm

Okay, I've seen this guy in the stores but I had no idea how cool he was. Would love one!!

---

on December 9, 2010 4:25 pm

Also, "like" you on FB.

---

on December 9, 2010 8:56 pm

I would really love to give this to my nephew. His Mommy and Daddy divorced this year and Mommy is struggling to give them Christmas. He would love this!

---

on December 9, 2010 8:57 pm

I'm a subscriber: ubrewme at yahoo dot com

---

Jessica Crump

on December 9, 2010 11:14 pm

Both my kids go crazy when they see this in the store. Would love for them to get it.

---

Jessica Crump

on December 9, 2010 11:15 pm

I am an email subscriber

---

Jessica Crump

on December 9, 2010 11:15 pm

I emailed 5 of my friends about the giveaway!

---

Jessica Crump

on December 9, 2010 11:16 pm

I like your page on facebook.

---

JAN SCHAUB

on December 9, 2010 11:42 pm

Cute

---

JAN SCHAUB

on December 9, 2010 11:42 pm

Great website

---

JAN SCHAUB

on December 9, 2010 11:43 pm

Fbfan

---

JAN SCHAUB

on December 9, 2010 11:44 pm

Lots love went into this site

---

JAN SCHAUB

on December 9, 2010 11:44 pm

Check out this site

---

Lesli

on December 10, 2010 11:56 am

I would be my nephew's favorite Aunt with this one!! Yowza!!

---

Lesli

on December 10, 2010 11:57 am

I'm already a subscriber! We love GSG!!

---

Lesli

on December 10, 2010 11:57 am

I emailed 5 friends about the fantastic giveaways for Christmas!

---

Lesli

on December 10, 2010 11:57 am

I'm a FB fan!

---

Lesli

on December 10, 2010 11:58 am

Tweeted! (@seemommyknit)

---

Jennifer Venno

on December 10, 2010 2:29 pm

i like you on facebook

---

Jennifer Venno

on December 10, 2010 2:30 pm

i am on your email list

---

Jennifer Venno

on December 10, 2010 2:30 pm

this is a very cool toy

---

Rose in Ohio

on December 10, 2010 11:46 pm

Bigfoot Lives!

rosemills (at) bex (dot) net

---

Rose in Ohio

on December 10, 2010 11:46 pm

I subscribe to GSG via email.

---

Rose in Ohio

on December 10, 2010 11:47 pm

I like GSG on fb.

rosemills (at) bex (dot) net

---

Judy

on December 14, 2010 11:01 am

Jake would love this.

---
Leave Us Some Comment-Love