December 10, 2010
Happy 12 Days of Giveaways to you!
Today is something for the older crowd ages 6 and older.
Meet Dragons Universe by Mega: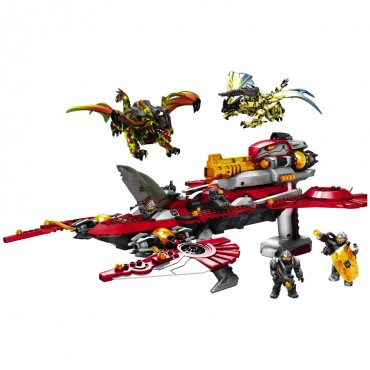 This is the Ultimate Action Dragon Destroyer, to be exact.
With 218 building pieces,  the Dragon Destroyer is a fully buildable spaceship with multiple sections and 2 Predavor soldiers.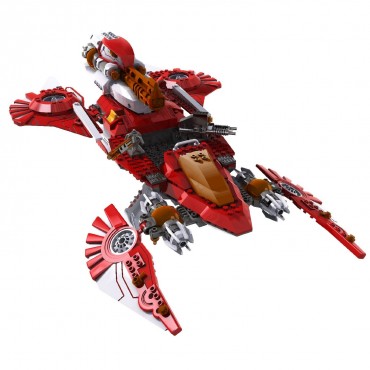 How cool is that??
Dragon Destroyer comes with multiple orange power cores and missile launchers that really fire, and anything that fires is an instant hit with my adorables.
Some additional features:
Dual Flight Controllers that also serve as deploying landing gear gives you total control and real flying action
Multiple laser Sound and Light-up F/X for authentic battle action
6-seat trooper bay with opening hangar doors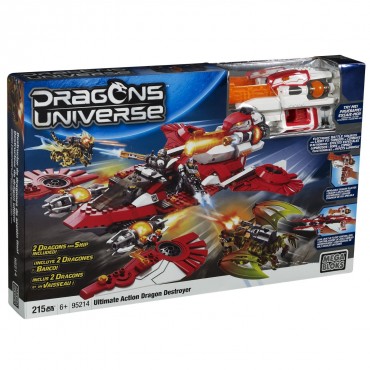 Giveaway
One lucky, lucky winner can 1 Mega Bloks Ultimate Action Dragon Destroyer
simply by leaving a comment by Monday, December 13th. I'll choose the winners using Random.org on Tuesday.
Because I just LOVE comments, here's how to gain extra entries (please leave them as separate entries):
1. Do you subscribe by email or RSS to The Good Stuff Guide? I love my subscribers, so you get an extra entry. Wahoo!
2. Email 5 of your friends about The Good Stuff Guide and tell them what a rockin' website this is. We'd love to have them join us!
3. "Like" The Good Stuff Guide on Facebook and receive the latest news and your chance at additional giveaways. (I LIKE you too!)
4. Tweet this: "12 DAYS of GIVEAWAYS going on now at http://su.pr/2TJPO2  – Playmobil, LEGO, Leapfrog, Fisher-Price and more!"
Good luck!
Many thanks to MEGA for sponsoring this awesome giveaway!
You can find the Mega Bloks Ultimate Action Dragon Destroyer
($29.99) at Amazon. Be sure to check out the other Dragons Universe
toys too.
I'm so sad to report it's the LAST day of these 12 Days of Giveaways tomorrow.
But it's a goodie…

Share this post
You might like...
Category: Toys and Gift Ideas
Tags: 12 days of giveaways, Dragons Universe, MEGA toys |
61 Comments »
Julie R.

on December 10, 2010 6:53 am

like

---

Julie R.

on December 10, 2010 6:53 am

FB fan

---

Julie R.

on December 10, 2010 6:54 am

email subscriber

---

katie

on December 10, 2010 7:10 am

this would be such a hit in our house!

---

Joy G

on December 10, 2010 8:10 am

OH MY! David would so love this!

---

Kim

on December 10, 2010 8:12 am

My nephew would love this.

---

Kim

on December 10, 2010 8:13 am

Follow you on fb.

---

monkygm

on December 10, 2010 8:34 am

Very nice… I never knew that Mega Blocks made anything other than the "MEGA" blocks for toddlers.

---

monkygm

on December 10, 2010 8:35 am

Facebook fan!

---

Diana

on December 10, 2010 8:44 am

my son would love this

---

Diana

on December 10, 2010 8:46 am

fb friend

---

monkygm

on December 10, 2010 8:47 am

Email subscriber!

---

christine

on December 10, 2010 9:03 am

FB fan!

---

on December 10, 2010 9:05 am

This looks cool and a little scary!

---

Lauren

on December 10, 2010 9:08 am

Agree with one of the other posts – I didn't know mega blocks made older kid sets. Fun!

---

Lauren

on December 10, 2010 9:09 am

I am a facebook fan, too.

---

on December 10, 2010 9:22 am

I am in trouble if I don't enter this one!

---

on December 10, 2010 9:22 am

Subscriber!

---

on December 10, 2010 9:23 am

Facebook Fan, too!

---

Michelle

on December 10, 2010 9:26 am

These are wonderful. The best thing about these 12 days (Ok, well, other than the possibility of winning) is all the great Christmas ideas. Keeping fingers crossed for this one, T would love it!

---

Michelle

on December 10, 2010 9:26 am

I like you on FB!

---

Michelle

on December 10, 2010 9:26 am

And I subscribe on email.

---

Valerie S

on December 10, 2010 1:25 pm

My son would LOVE this!

---

Valerie S

on December 10, 2010 1:25 pm

I subscribe via RSS

---

Rebecca S.

on December 10, 2010 1:43 pm

Thanks for the contest.

---

Rebecca S.

on December 10, 2010 1:44 pm

I subscribe via RSS

---

Rebecca S.

on December 10, 2010 1:44 pm

I like the GSG on Facebook.

---

on December 10, 2010 2:50 pm

I have the perfect little boy to give this to.

---

on December 10, 2010 2:50 pm

I like you on FB.

---

on December 10, 2010 2:51 pm

I subscribe via email.

---

on December 10, 2010 2:52 pm

I emailed 5 friends.

---

on December 10, 2010 6:23 pm

Oh My Gosh! What young boy wouldn't love this! Looks like soooo much fun.

---

Colleen Gallagher

on December 10, 2010 7:46 pm

great giveaways…thx

---

Sandi

on December 10, 2010 8:27 pm

So neat, My boys would love.

---

Ronda

on December 10, 2010 9:40 pm

I'm thinking the grandsons would love this!

---

Ronda

on December 10, 2010 9:40 pm

Facebook fan

---

Rose in Ohio

on December 11, 2010 12:03 am

It does everything my 6 yr-old grandtot likes!

rosemills (at) bex (dot) net

---

Rose in Ohio

on December 11, 2010 12:04 am

I like you on fb.

rosemills (at) bex (dot) net

---

Rose in Ohio

on December 11, 2010 12:04 am

E-mail subscriber to GSG.

rosemills (at) bex (dot) net

---

Mimi

on December 11, 2010 10:04 am

This is terrific ! What an fantastic toy.

---

Mimi

on December 11, 2010 10:05 am

You can never have enough dragons around the playroom !

---

isabel

on December 11, 2010 10:37 am

Omg my kiddo would freak out! He loves building stuff and these look so cool!

---

Jessica Crump

on December 11, 2010 11:09 am

I like you on facebook.

---

Jessica Crump

on December 11, 2010 11:09 am

I emailed 5 friends about this website.

---

Jessica Crump

on December 11, 2010 11:10 am

I am an email subscriber

---

KIm Derrick

on December 11, 2010 11:26 am

I am a fb friend

---

KIm Derrick

on December 11, 2010 11:26 am

Cool stuff

---

nan

on December 12, 2010 12:08 am

my nephews would love this
nannypanpan at sbcglobal.net

---

nan

on December 12, 2010 12:09 am

e-mail subscriber

---

Uncle Al

on December 12, 2010 2:30 pm

The boyz and I would have fun with this!

---

Uncle Al

on December 12, 2010 2:31 pm

I subscribe by email.

---

Linda

on December 12, 2010 7:54 pm

This looks like a great Christmas gift. Put my name in the pot!

---

Linda

on December 12, 2010 7:55 pm

I'm an email subscriber

---

Linda

on December 12, 2010 7:55 pm

I'm a fan on fb

---

Lisa Marsh

on December 13, 2010 8:54 am

I follow you on Facebook

---

Lisa Marsh

on December 13, 2010 8:54 am

I emailed friends about you

---

Lisa Marsh

on December 13, 2010 8:54 am

I subscribe to you via emails

---

Lisa Marsh

on December 13, 2010 8:56 am

Terrific gift!

---

Judy

on December 14, 2010 11:02 am

Love the toys for the older kids.

---

on December 21, 2010 5:18 pm

Terrific gift!

---

on December 21, 2010 9:44 pm

I subscribe to you via emails

---
Leave Us Some Comment-Love