December 8, 2010
I will never tire of raving about eeBoo.  I just love their thought-provoking games and puzzles and of course that gorgeous artwork.
For today's Giveaway, you can win a "basket" of 4 great eeBoo puzzles and games.
1. eeBoo Life on Earth Dominoes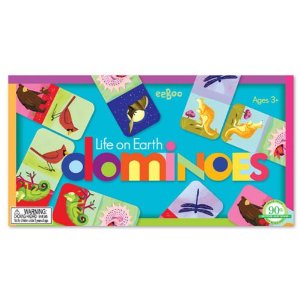 2. Counting Animal Puzzles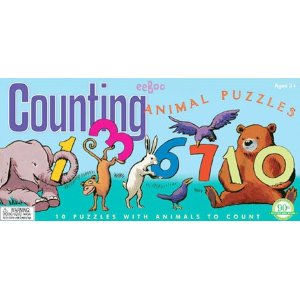 3. Animal Spelling Puzzles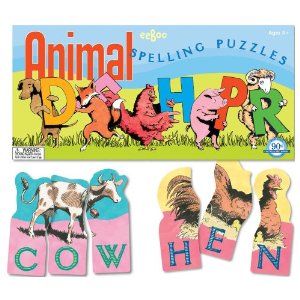 4. Wild Mothers and Babies Tray Puzzle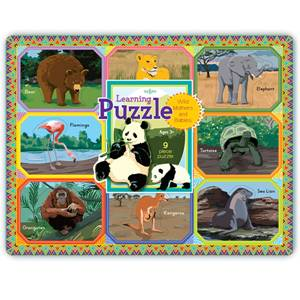 Can you stand the cuteness?
Oh, not to mention the educational benefits as well.  But we'll just keep that between us.
Giveaway
One lucky, lucky winner can these 4 eeBoo items simply by leaving a comment by Monday, December 13th. I'll choose the winners using Random.org on Tuesday.
Because I just LOVE comments, here's how to gain extra entries (please leave them as separate entries):
1. Do you subscribe by email or RSS to The Good Stuff Guide? I love my subscribers, so you get an extra entry. Wahoo!
2. Email 5 of your friends about The Good Stuff Guide and tell them what a rockin' website this is. We'd love to have them join us!
3. "Like" The Good Stuff Guide on Facebook and receive the latest news and your chance at additional giveaways. (I LIKE you too!)
4. Tweet this: "12 DAYS of GIVEAWAYS going on now at http://su.pr/2TJPO2  – Playmobil, LEGO, Leapfrog, Fisher-Price and more!"
Good luck!
Many thanks to eeBoo for sponsoring this giveaway!
You can find Heidi's Favorite eeBoo Items
at Amazon.

Share this post
You might like...
Category: Toys and Gift Ideas
Tags: 12 days of giveaways, eeBoo, eeBoo games, eeBoo puzzles |
121 Comments »
Rebecca S

on December 8, 2010 6:50 am

Great contest, thanks.

---

Rebecca S

on December 8, 2010 6:52 am

I subscribe via RSS.

---

Rebecca S

on December 8, 2010 6:53 am

I am a FB fan.

---

katie

on December 8, 2010 6:56 am

LOVE eeboo!

---

Noreen

on December 8, 2010 7:00 am

Love them!!!

---

Noreen

on December 8, 2010 7:00 am

I am a FB fan too!

---

Noreen

on December 8, 2010 7:01 am

And subscribe via RSS

---

Megan Wells

on December 8, 2010 7:39 am

These look so cool! I subscribe via Google Reader

---

Jamie N.

on December 8, 2010 7:46 am

These look like great products

---

Jamie N.

on December 8, 2010 7:46 am

Im an email subscriber

---

Jamie N.

on December 8, 2010 7:46 am

I like you on facebook!

---

Jenny

on December 8, 2010 7:48 am

EBoo is awesome!!

---

Jenny

on December 8, 2010 7:49 am

I'm a fan on facebook!

---

Jenny

on December 8, 2010 7:50 am

I'm an email subscriber.

---

Jules Greenaway

on December 8, 2010 8:20 am

This looks like an amazing teaching product!!!!

---

on December 8, 2010 8:43 am

I have 4 kids that would really love to win this – they are ages 3-10 so I bet we could really get a ton of use out of all 4 items!

---

on December 8, 2010 9:32 am

Eeboo has such nicely illustrated games!

---

Colleen Gallagher

on December 8, 2010 9:34 am

another great giveawayt – thx

---

Cathy

on December 8, 2010 9:43 am

Love all these cool toys you are introducing me to! Never heard of eeboo…cute stuff!

---

Lauren

on December 8, 2010 9:49 am

Eeboo products are great!

---

Lauren

on December 8, 2010 9:49 am

Facebook fan, too!

---

Kim

on December 8, 2010 9:59 am

We have the eeboo pin the parrot on the pirate and it was a big hit.

---

Kim

on December 8, 2010 9:59 am

FB fan.

---

Martha

on December 8, 2010 10:18 am

FB fan

---

Martha

on December 8, 2010 10:19 am

Email subscriber.

---

Martha

on December 8, 2010 10:19 am

Yeah for non battery operated toys that encourage kids to play with the them instead of the other way around.

---

Jill

on December 8, 2010 11:19 am

very cool toys!

---

Jackie J.

on December 8, 2010 11:35 am

I am an email subscriber. Educational and fun games.

---

Donnetta

on December 8, 2010 11:39 am

The kids would really enjoy these!

---

Donnetta

on December 8, 2010 11:39 am

I subscribe by email.

---

Donnetta

on December 8, 2010 11:40 am

I like you on facebook!

---

Donnetta

on December 8, 2010 11:42 am

Tweet

http://twitter.com/#!/coffeebreakmom/status/12547459356033025

---

Laurie

on December 8, 2010 12:19 pm

It doesn't get much better than eeBoo!

---

Laurie

on December 8, 2010 12:20 pm

I'm a FB fan too.

---

Kristy

on December 8, 2010 12:21 pm

Love Eeboo!

---

Kelly R.

on December 8, 2010 12:37 pm

So cute!!

---

Kelly R.

on December 8, 2010 12:38 pm

FB fan, too.

---

on December 8, 2010 12:56 pm

Yay this is so fun! Hope I am doing this right!

---

on December 8, 2010 12:57 pm

I also liked it on Facebook

---

on December 8, 2010 12:57 pm

And I tweeted it on twitter!

---

on December 8, 2010 12:59 pm

And I subscribed via email

---

on December 8, 2010 1:02 pm

You're right, these are sooooo cute. Would love to have them for my children.

---

monkygm

on December 8, 2010 1:39 pm

LOVE!!!!

---

monkygm

on December 8, 2010 1:39 pm

Facebook fan!

---

monkygm

on December 8, 2010 1:40 pm

Email subscriber!

---

Valerie S

on December 8, 2010 1:43 pm

Thanks for the giveaway!

---

Valerie S

on December 8, 2010 1:43 pm

I subscribe in google reader.

---

D.

on December 8, 2010 2:00 pm

so psyched to learn about eeboo!

---

DJ

on December 8, 2010 2:11 pm

I love eeBoo!

---

Sandi

on December 8, 2010 6:17 pm

We love eeboo. So cute you can leave the games out and they make your house cute!

---

on December 8, 2010 6:40 pm

Cute idea
tbarrettno1 at gmail dot com

---

on December 8, 2010 6:40 pm

email subscriber
tbarrettno1 at gmail dot com

---

on December 8, 2010 6:41 pm

like on fb
tbarrettno1 at gmail dot com

---

on December 8, 2010 6:42 pm

tweet
http://twitter.com/ChelleB36/status/12650558263402496
tbarrettno1 at gmail dot com

---

Shelley W

on December 8, 2010 10:05 pm

My kids would love these. thanks

---

Mimi

on December 8, 2010 11:27 pm

Colorful and interesting to grab their attention.

---

Mimi

on December 8, 2010 11:28 pm

Would love to see these in use !

---

on December 9, 2010 3:06 am

Great pick for a prize!

---

on December 9, 2010 3:07 am

subscribed by mail

---

on December 9, 2010 3:07 am

following on FB

---

on December 9, 2010 3:08 am

tweeted

---

bridget r

on December 9, 2010 5:48 am

Fun, fun, fun! My girls love puzzles and I would love what they would learn!

---

bridget r

on December 9, 2010 5:48 am

FB fan

---

bridget r

on December 9, 2010 5:49 am

Email subscriber

---

Lisa Marsh

on December 9, 2010 7:06 am

I subscribe to you via email!

---

Lisa Marsh

on December 9, 2010 7:07 am

I am a Facebook fan of you too!!!!

---

Lisa Marsh

on December 9, 2010 7:07 am

I emailed your information to some friends trying to get them to join too!!!

---

Lisa Marsh

on December 9, 2010 7:08 am

This is a TERRIFIC prize!!! My daughter would love the game/puzzle aspect of it.

---

Kim Derrick

on December 9, 2010 8:48 am

I am a fb friend

---

Kim Derrick

on December 9, 2010 8:49 am

I get emails

---

Kim Derrick

on December 9, 2010 8:49 am

Cute

---

Katie

on December 9, 2010 9:30 am

I didn't know eeboo, but I do now. How great!

---

Katie

on December 9, 2010 9:31 am

Email

---

Katie

on December 9, 2010 9:31 am

Like, and not just on FB

---

Katie

on December 9, 2010 9:31 am

twitter tweet tweet tweet

---

Linda

on December 9, 2010 9:42 am

I'd never heard of eeboo, thanks for opening the door to new toys! I'd love to give these to someone for Christmas.

---

Linda

on December 9, 2010 9:43 am

I'm an email subscriber

---

Linda

on December 9, 2010 9:43 am

I'm a fan on FB

---

Rachel C

on December 9, 2010 9:56 am

Fun! Thanks for the chance

---

Rachel C

on December 9, 2010 9:57 am

email subscriber

---

Lisa

on December 9, 2010 10:43 am

Very cute puzzles!

---

Lisa

on December 9, 2010 10:43 am

RSS subscriber

---

Lisa

on December 9, 2010 10:44 am

I like you on FB

---

on December 9, 2010 10:45 am

I love eeBoo!

---

Judy

on December 9, 2010 11:20 am

Looks great

---

Jennifer

on December 9, 2010 12:47 pm

My toddlers would love these…

---

Jennifer

on December 9, 2010 12:48 pm

I get emails from you…

---

Lesli C

on December 9, 2010 2:19 pm

Another great giveaway!! love family game night!

---

Lesli C

on December 9, 2010 2:25 pm

I'm already a subscriber! yay!

---

Lesli C

on December 9, 2010 2:25 pm

I emailed 5 friends! woot!

---

Melissa Mori

on December 9, 2010 2:32 pm

Love these unique interesting toys!

---

Melissa Mori

on December 9, 2010 2:33 pm

Email subscriber

---

Melissa Mori

on December 9, 2010 2:33 pm

FB fan!

---

Jacquie

on December 9, 2010 3:01 pm

These are really cool. Learning & fun rolled into one!

---

Jacquie

on December 9, 2010 3:02 pm

I am an email subscriber , and love the website

---

Gillette

on December 9, 2010 3:02 pm

Would love to win these…. will probably buy them if I don't

---

Gillette

on December 9, 2010 3:03 pm

subscriber

---

on December 9, 2010 4:26 pm

Love these.

---

on December 9, 2010 4:26 pm

"Like" the goodstuffguide on FB.

---

Jessica Crump

on December 9, 2010 11:18 pm

These look really fun!

---

Jessica Crump

on December 9, 2010 11:18 pm

Emailing 5 friends

---

Jessica Crump

on December 9, 2010 11:19 pm

email subscriber

---

Jessica Crump

on December 9, 2010 11:19 pm

like on facebook

---

nan

on December 9, 2010 11:34 pm

thanks for the chance
nannypanpan at sbcglobal.net

---

nan

on December 9, 2010 11:35 pm

e-mail subscriber
nannypanpan at sbcglobal.net

---

JAN SCHAUB

on December 9, 2010 11:39 pm

Look good and fun

---

JAN SCHAUB

on December 9, 2010 11:40 pm

fb fan

---

JAN SCHAUB

on December 9, 2010 11:41 pm

Like this site

---

JAN SCHAUB

on December 9, 2010 11:41 pm

Great job ladies

---

Lesli

on December 10, 2010 12:00 pm

I'm a FB fan!

---

Lesli

on December 10, 2010 12:00 pm

I tweeted! (@seemommyknit)

---

Jennifer Venno

on December 10, 2010 2:24 pm

I am an email subsriber

---

Jennifer Venno

on December 10, 2010 2:25 pm

i love these they are so cute

---

Jennifer Venno

on December 10, 2010 2:26 pm

i like you on facebook too

---

on December 10, 2010 2:56 pm

I like you on FB.

---

on December 10, 2010 2:56 pm

I emailed 5 friends (I see most of their names on earlier comments). They must have listened to my advice

---

on December 10, 2010 2:57 pm

I am an email subscriber.

---

on December 10, 2010 2:57 pm

My children love puzzles. These are great creative thinking tools.

---

Rose in Ohio

on December 10, 2010 11:58 pm

eeBoo is new to me, but I already love them!

rosemills (at) bex (dot) net

---

Rose in Ohio

on December 10, 2010 11:58 pm

I follow GSG via email.

rosemills (at) bex (dot) net

---

Rose in Ohio

on December 10, 2010 11:59 pm

I like GSG on fb.

rosemills (at) bex (dot) net

---
Leave Us Some Comment-Love