December 10, 2009
The Fisher-Price Songs 'n Smiles Sillytown, that is (but all of that wouldn't fit in the title).
In case you are unawares, Fisher-Price toys just rock.  They are, after all, the makers of my beloved GeoTrax system and for that I'm eternally grateful.
But enough about me, back to the little ones.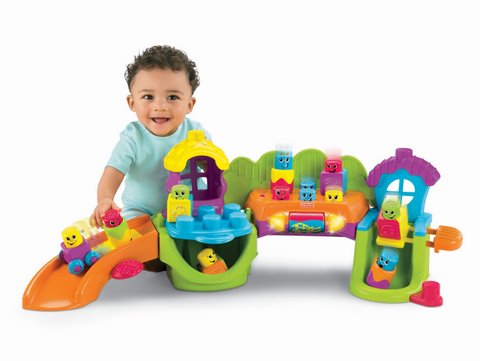 Isn't this super cute for your littlest adorables?
16 songs and sounds keep your adorable enchanted, while they play in a town, stacking blocks and conducting some good first pretend play.
What baby can resist a car and a slide?   This could be 30 minutes here alone.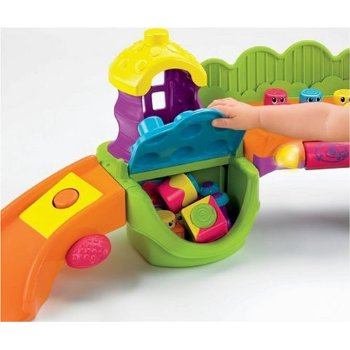 This is the storage bin where all the blocks fit so cleanup is a snap.  Your adorables will hear one of the songs when they open the lid too.
Giveaway
You can win this cute little town for your adorable just by leaving a comment by Monday, December 14th, and I'll choose the winner using Random.org on the 15th.  You can enter yourself for a second time by emailing 5 of your friends and asking them to visit The Good Stuff Guide.  It's on the honor system (I know you're just like Abe), and yes, 10 friends = 2 extra and so forth.
You can always find this on Amazon ($39.87): Fisher-Price Stack 'n Surprise Blocks Songs 'n Smiles Sillytown
Happy Day ya'll!


Share this post
You might like...
Category: Activities, Toys and Gift Ideas
Tags: 12 days of giveaways, Fisher-Price, Sillytown |
18 Comments »
on December 10, 2009 8:43 am

This is super-cute! And I love, love, love the toys that already have a place to store the pieces!

---

Jules Greenaway

on December 10, 2009 9:28 am

OMG…I was looking to get this for my adorable for Christmas!!!! I love that it's so colorful & that some of the pieces go up & down!
You really do have a great website & this 12 Days of Giveaways…AWESOME!!!!

---

Carina Cortez

on December 10, 2009 11:04 am

I've never seen this before – looks like some good entertainment for a 1 year old!

---

susie

on December 10, 2009 12:46 pm

this is so cute! i'd love this for my littlest one!!

---

Lindsay Pignataro

on December 10, 2009 12:53 pm

Would love this! Love Fisher Price, they make the best toys!

---

Laurie Boettcher

on December 10, 2009 1:51 pm

I've got a goddaughter who would absolutely LOVE this!

---

Sandi

on December 10, 2009 2:44 pm

My little guy would love this!

---

on December 10, 2009 4:13 pm

This is adorable!

---

on December 10, 2009 4:37 pm

Want it. I love things like this. I can picture my son happily working in front of this for hours.

---

on December 10, 2009 4:46 pm

Very cute.

---

Joy G

on December 10, 2009 5:11 pm

This is way too cute.

---

Romer

on December 11, 2009 12:34 am

I know some Silly boys that would like this!

---

on December 11, 2009 2:56 am

Aww……..that Grandbaby I'm going to have in June would get a kick out of this.

---

on December 11, 2009 2:57 am

E-mailed: Tabitha, Destie, Lisa, Lena, Sandy

---

Laurie B.

on December 11, 2009 9:23 am

My littlest would love this one…looks like another great toy!

---

Sarah

on December 12, 2009 11:34 am

We could have some fun with this! I think my older kids would love to entertain the baby with this and I could actually cook dinner or get my Christmas cards out:)

---

on December 13, 2009 12:19 am

Oh my….I have the perfect little boy for this prize…Thanks for the chance to win!
bleatham(at)gmail.com

---

on December 14, 2009 7:47 pm

Would love this for my grandson!

---
Leave Us Some Comment-Love