December 11, 2009
Here's the truth: we consume roughly 5 gallons of milk in our household every week.  That's a lot of empty milk jugs to recycle!  Now finally someone has created something fun out of all that empty plastic.
Hello Green Toys – made out all those milk jugs that your adorables fly through so quickly.  I love that they have a second reincarnation as toys.
And good ones!
I know you've seen this tea set in your travels:
I'm sure this is because I have boys who love a good tea party, but I love how this set isn't entirely pink.  And I love the durability of plastic – no broken cups to ruin the set!
The durability of this plastic assures that you will have no broken tools!  I also like that these are labeled for those of us who are not able to extract their correct names from our memory at a moment's notice – I use them but I don't know what to call them!
Giveaway
You can win your pick of the following: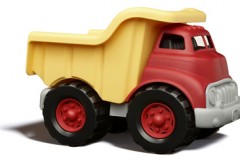 1. Dump Truck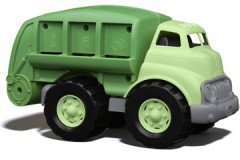 2. Recycling Truck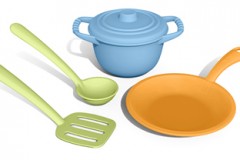 3. Chef Set
Just leave a comment by Tuesday, December 15th and I'll choose a winner by Wednesday, December 16th using Random.org.  REMEMBER you can score yourself an extra entry by emailing 5 of your friends and telling them about The Good Stuff Guide.  Much luck to you!
Just one more day of these 12 Days of Giveaways to go, I am sorry to say.  But it's a good one, so I'll see you then!

Share this post
You might like...
Category: Toys and Gift Ideas
Tags: 12 days of giveaways, greentoys |
24 Comments »
on December 11, 2009 7:39 am

I have always loved the Green Toys tea set! (So, why isn't Santa bringing us one this year?!?) Hmmm… Perhaps a birthday idea for my imaginative little one!

---

on December 11, 2009 8:18 am

Would love to try these toys out!

---

Lynsi Garvin

on December 11, 2009 9:00 am

It is all so cute! I love that they are made from recycled plastic, too.

---

Amy

on December 11, 2009 12:31 pm

Love these! Would have a problem deciding between truck for Evan and chef set for Sydney

---

patty

on December 11, 2009 12:33 pm

green and cute! i'm definitely on-board

---

on December 11, 2009 12:41 pm

Love the trucks!

---

Carl

on December 11, 2009 12:55 pm

I love these products and I've heard great things, but would love to try them myself.

---

on December 11, 2009 12:57 pm

we've had our eye on the dump truck for quite some time!! Love these toys!

---

Laurie B.

on December 11, 2009 1:07 pm

Love these toys. Cute.

---

Sandi

on December 11, 2009 2:23 pm

Love your site! You have great ideas!

---

Sharon

on December 11, 2009 3:20 pm

I'd love to win!

---

on December 11, 2009 5:17 pm

I have the perfect little one in mind for this.

---

Cheryl

on December 11, 2009 6:49 pm

Love the trucks!

---

Lisa

on December 11, 2009 11:03 pm

My granddaughter would love this stuff !!

---

Romer

on December 12, 2009 12:29 am

I've never seen that before. Nice!

---

Kathy

on December 12, 2009 11:01 am

The tea set is my favorite. What a wonderful new idea.

---

Sarah

on December 12, 2009 11:35 am

I love the chef set, too cute!

---

on December 13, 2009 12:25 am

Little Bit would SOOOO love the recycling truck!! Thanks for the chance to win!

---

Heather

on December 13, 2009 8:17 am

I have a daughter who is SOOOO into trucks. This would be a great addition.

---

Katie F.

on December 13, 2009 7:09 pm

pick me pick me pick me!!
love your give aways heidi

---

Jill

on December 13, 2009 10:24 pm

I love the recycling truck!

---

Teri

on December 14, 2009 6:17 pm

I've had my eye on these for a while!

---

Laurie Boettcher

on December 16, 2009 10:24 am

Totally lovin' the chef set and so would my 3 year old adorable!

---

Nancy J. Ryba

on December 16, 2009 3:08 pm

I would love the recycling truck

---
Leave Us Some Comment-Love