January 6, 2011
*** This is the first post in a month (or possibly 2) – long series on organizing different parts of our homes.  Several times a week, we'll focus on a different room or area with several ways and ideas to improve it.  If you have any area, you'd particularly like to see or any tips that have worked for you, PLEASE share them!!

If you're like many people, your garage resembles that of a storage unit—not so much a place to park your cars (Ha!  That's exactly ours!!).  But, with freezing temps and ample snow on its way, you might want to rethink that strategy.  After all, who wants to scrape icy windshields in a foot of snow when you don't have to?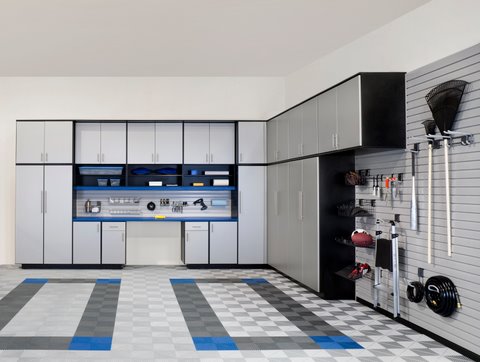 This year, make a resolution to get organized. You'll find that an organized life leads to less stress and more productivity.
To achieve this goal, the experts at Closets by Design offer their assistance:
1.   Reclaim the garage floor – The trick is to use the space on the garage walls to your advantage.  Toys such as golf clubs, tennis rackets and skates can be stored along the walls, while bikes can be hung on hooks from the ceiling.  Rakes, shovels and other yard supplies can also be easily organized on an interior wall.  Using this space wisely will not only help you to increase your storage space but make items easily accessible.
2.    Cut the clutter – It's amazing how many "things" you acquire over the years, and finding a place for each one is not always possible, or necessary.  It's important to discard items you no longer want or need.  Sort through all of your tools and home maintenance supplies, and separate items into those you can sell, donate, throw away or recycle. If you haven't used it in a year, you can probably get rid of it.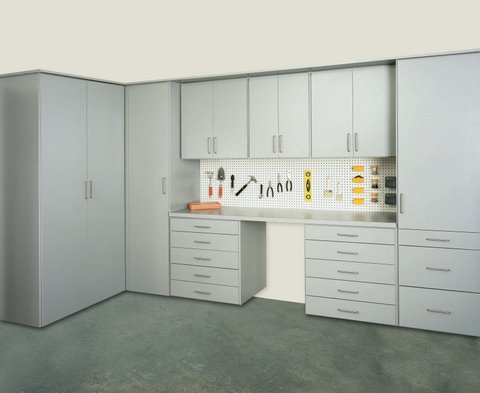 3.     Sort and label – It's not enough to simply get organized.  The real test is to stay organized.  Labeling boxes and containers eliminates the frustration of rummaging through all of your belongings to find one specific item.  Put similar items into categories (i.e. tools, holiday decorations, etc.) so you will be able to maintain an efficient organizational system.
4.   Safety first – Since you're already sorting items, be sure to keep potentially hazardous chemicals together and locked.  It's best to use a lockable tool chest or cabinet for extra caution. Also, make sure that any power tools with an on/off switch are stored securely out of children's reach.
5.       Increase storage with sturdy cabinets and shelving – Because paint cans, tools and other bulky items will be stored in the garage, it's important that cabinets and shelving are sturdy enough to support the extra weight.  Not all cabinets are built the same and it's important that you understand the construction behind your cabinet and the weight limitations.  A proper storage solution can organize your items and keep them out of site.  An important note when purchasing garage cabinets – make sure the doors will open when your car is parked in the garage.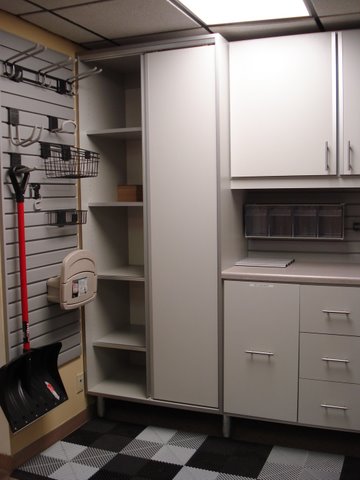 Thanks to Closets by Design for these ideas!  To learn more of contact them, visit www.closetsbydesign.com.
What garage strategies have worked for you?
Share this post
You might like...
Category: Organizing, Storage
Tags: Closets by Design, Garage, garage organization |
5 Comments »
Celeste

on January 6, 2011 4:20 pm

Wow, those garages are cleaner than my kitchen!

---

Heidi Farmer

on January 6, 2011 6:00 pm

Mine too!

---

on January 6, 2011 10:53 pm

Wow. This is just insane, but I love it!

---

on January 15, 2011 3:39 pm

I dream about having a garage that looks like one of these!

---

on January 18, 2011 3:12 am

In most peoples garages there are many items that could be stored other than a car it really depends on each home owners individual needs and their personal preference to what they would rather store in there..If you need to store items in your garage because there is little space available inside your home then the garage is the next best place to do it. means that they are at a lower risk of being damaged as they are kept at a height being placed on the appropriately..Here at BiGDUG there are a range of garage racks available and they come in a range of heights and widths so that you will be able to find a unit that works in your garage.

---
Leave Us Some Comment-Love