January 21, 2014
On a normal day, my minivan looks like a wild tornado drove right through it.
And there was once about 2 weeks ago when I was cleaning snow off from my car and accidentally hit the Open Sunroof button and dumped 6 inches of fresh powder into my middle console.  Oh, good times.
Sorry, folks, no photo of that.
But luckily, many of you are not like me and have some pretty stellar ideas for keeping your roving home clean.
So here we go:
1. A Collapsible Tote to cart items to and from your car (thanks Christine!):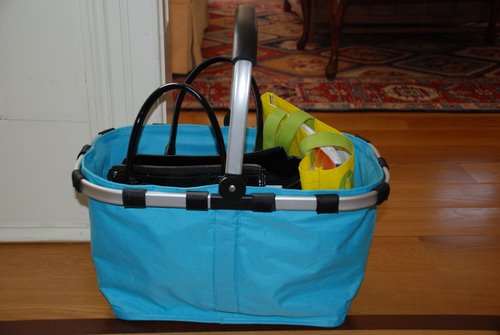 This is perfect for catching all the items that need to be returned, or carried with you throughout the day.  Set it in your passenger seat and cart it back into the house with you at the end of the day.  I found this one at Marshall's (score!), but these are also available at Garnet Hill.
2. Contributing Writer, Sarah another great idea: "I used to tuck things into the various compartments, nooks and crannies a typical minivan offers and it was a nightmare when there was a spill or an injury trying to remember where the paper towels or the band-aids were because it was all hidden away."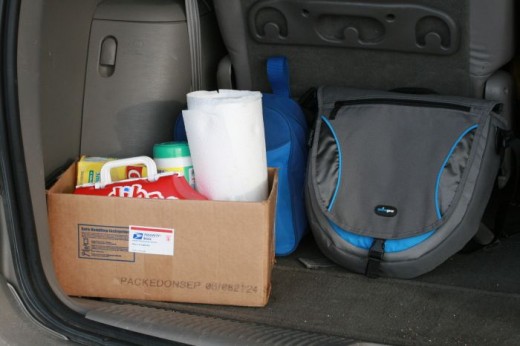 Sarah continues, "I found an appropriate sized box and I keep it in the back with paper towels, Lysol wipes, gallon size trash bags, the Fisher Price Potty-on-the-Go (worth its weight in gold…actually it's very light, let's say worth MY weight in gold and that, my friend, is really sayin' something!), a medical kit and a backpack with back-up clothes and socks for everyone.  It fits together more neatly than in the picture, I spread things out so they were each more visible, but it is SO nice to have that one box to go to when we have any kind of need AND it takes 2 seconds to remove if we need to haul something bulky or have the interior of the van cleaned."  I think this is brilliant!
3. Garbage bags at every seat (thanks Katie!).  That way it's very easy to keep trash from minimal to nonexistant.
This idea gave me another, since my adorables are out of diapers (hallelujah!), I repurposed my old ducky diaper trash bags for the car.  Those little blue bags work wonders!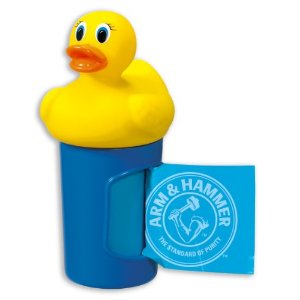 Munchkin Arm and Hammer Diaper Duck and Bags
($4.99)
4.  Remember at every gas stop to take the few seconds to clean out the car before you get out to pump gas – remember you're not supposed to get in and out of the car whilst your gas is pumping due to static electricity and the risk of explosion.  Or so I hear, but that's enough of a warning for me!
5. Since I heard these great ideas, I thought of a few of my own: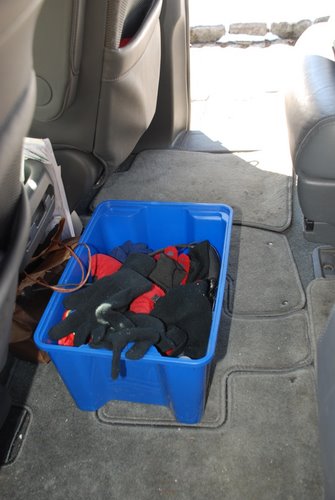 This is a little $2.99 tub I found at Target and I placed it in the middle of the backseat to catch all the loose gloves, hats, etc that make up most of the mess of my minivan.  In 2 seconds, I can ask my adorables to tidy up and they have a place to put things.  Then it's all collected for me to sort back in the appropriate places in the house.  At least that's my plan…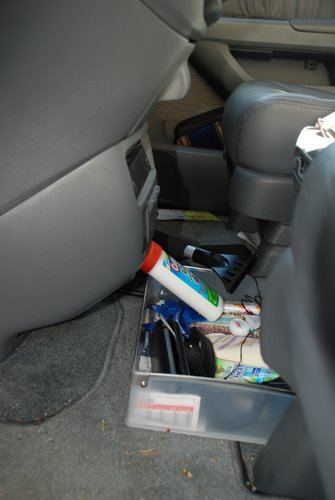 I seriously apologize for this photo – this is a small tub that sits on the floor between the driver and passenger seats.  You can see the mishmash of stuff in here: bug wipes, suntan lotion, gum, phone chargers, train schedules, you name it.  I promise at some point – next time I get gas! – I'll get this looking cleaner.
6.  This is the Divide 'N Store.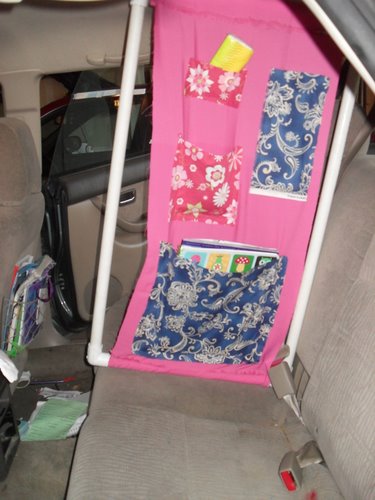 Developed by an 11-year-old, it is a contraption that works wonders! Not only does it make short work of organizing the back seat, but it prevents A LOT of issues between adorables on long car trips.  Not please don't steal this, can I say it's patent-pending?? – the 11-year-old just needs a little more time to bring this invention to market, but she will consider orders if you'd like one (just email me!).
So what are you doing?  What gadgets have you found that help you out?  What are your tricks?

Share this post
You might like...
Category: Mission Control
Tags: car organization, Minivan organization |
15 Comments »
christine t

on February 23, 2011 9:56 am

Thanks Heidi! the only other tip I have is to save the car wash coupons and have someone else clean it for you– vacuuming and all. Nothing makes you feel more organized than starting from a nice clean baseline! My favorite is Russell Speeders in Stamford…the cheapest in town.

---

Yaya Kelley

on February 23, 2011 10:29 am

One way I "try" to keep the car cleaner and then more organized is dumping all the trash while filling up with gas. Tuesday is Ladies Day at Lawrence Auto Plaza and with AAA you get another $2.00 off – so a once a week visit isn't too bad.

---

Jinny

on February 23, 2011 10:50 am

The container-in-the-back — whether specifically designed for that purpose or a simple plastic tub — is a great start. If there's a place for things, it's more likely that things will actually get there. 😉 We also have a carry-in, carry-out policy. In other words, when we get out of the car, everyone has something they remove! That way, we minimize the accumulation. Also (though this doesn't necessarily fit in the "organization" category, I've found it helpful), I keep one of those mini-phonebooks in my car, plus the directories from my kids' schools. That way I have phone numbers at the ready without having to 411 them or look them up online when I'm in the car.

---

Susan

on February 23, 2011 10:53 am

Great ideas for a more organized vehicle.
I keep a box in my trunk for the reusable grocery sacks.

---

Jenny Hout

on February 23, 2011 11:44 am

I too have re-purposed the ducky bags for the car! I also have a box in the trunk, but never thought about paper towels etc …thanks Sarah! Love the 11 yr old's divider..hope it takes off for her!

---

Amy

on February 23, 2011 11:45 am

I have a basket in the back that holds all of my reusable grocery bags. In between the kids' carseats is a bucket that holds books, crayons, and travel games. All of their stuff needs to be in the bucket.

---

Neeraja

on June 9, 2011 2:03 pm

I absolutely love the suggestions. I have 6months old and I tried everything possible to organize stuff in the car, but needed proper containers/organizers. Your article helped a great deal. Thank you

---

on January 30, 2013 4:15 pm

I used to be really organized in the car…and this is a great reminder to get re-organized! Thanks for all the suggestions!

---

Mary

on January 30, 2013 6:17 pm

I love the idea about the Collapsible Tote and will use it immediately

---

on January 30, 2013 7:28 pm

I clean my car out once a week and keep a gym bag with my hats, gloves, or any other personal items such as a towel for cleaning spills. One of the best products is the spot remover by a company named Guardian. I have noticed it cleans the spills such as coffee with limted effort.

---

Louise

on February 2, 2013 1:22 pm

I purchased one of the collapsible cold food bags that I can throw in my trunk, in the pocket on the back of my passenger seat or under a seat. It works great in the summer when I am a half hour from home with dairy products. I also have a microfiber cloth in the pocket of the driver's door. When I am stopped at a light or waiting for someone, I can use it to make a quick swipe over the dash or windows to remove dust or to clean a window

---

Lindsay

on February 2, 2013 3:12 pm

I like all of these ideas1

---

Kenny

on February 6, 2013 7:38 pm

All great ideas. Because I live in a vehicle most of my day it has turned into a man cave.
I must fix that!

---

Judy

on February 7, 2013 10:06 pm

I love the idea of the box in the trunk for supplies. I have a tote I put sweaters, etc into – but had not thot of the box of supplies.

---

Marykate

on January 22, 2014 11:02 am

Great tips! I love the idea of the storage container!

---
Leave Us Some Comment-Love