June 19, 2013
With birthdays falling in June and September around here, we have opted for the do-it-yourself, backyard birthday party.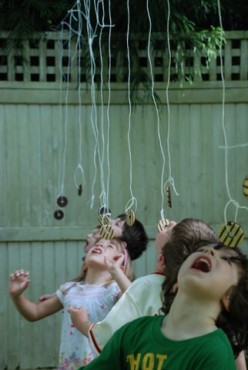 And we have survived to tell about it.
Here's what we've learned:
1. Limit the birthday party to 1.5 hours.  That's 90 minutes to keep the adorables moving, entertained and happy.  And that's plenty.
2. Keep the decorations to a minimum.  While I certainly appreciate the staged photos of birthday parties with matching, themed everything, I feel like the adorables, frankly, could care less.  And that's a lot of energy and expense wasted.
3.  Consider purchasing a bounce house in lieu of a very pricey rental.  (In our area, the purchase price = the rental!  Hmmm… one rental vs. about 80 uses – that's a no-brainer to me.)
4. I find drop-off parties (ie no parents) work the best.  The parents appreciate the 1.5 hours of free time and I feel I can manage their adorables better without them there (should I not admit to this??).
5.  While everyone arrives, have a craft ready until you're ready to start your main activity or games.  It's always something different: can be a build-it project, a bead project, or this year I just undid a huge roll of white paper and had the adorables decorate it with markers.  Count this as 15 minutes.
6.  I "borrowed" this idea from Marykate: In lieu of gorgeously decorated cake (again, pricey!), set up a "Decorate Your Own Cupcake" center.  Ideas for toppings: 2-3 different types of frosting, sprinkles, red hots, M&Ms, colored sugars, gummy bears, etc.  Warning: This is a MESS.  Do this outside and have everything disposable so you can just tie up the paper tablecloth and throw it all away.  Count this also as 15 minutes.
7. Find a friend with a similar birthday and "share" the party.  We've gotten away from this the last few years and I think it's time for a return.
Here are other party ideas we've done in the past:
Olympic Themed Party (scroll to the middle)
And don't forget about Group Gifting for the Adorables
Okay, spill your beans: what's worked for you?  How do you keep your costs down?
Share this post
You might like...
Category: Activities, Brilliant, For Kids
1 Comment »
Marykate

on June 19, 2013 6:53 pm

Heidi – I follow the same formula – craft upon arrival then activity (bounce castle borrowed from sweet friend for example then pizza cupcakes. I sometimes get a babysiiter – think the cute college or high school ones the kids love to do face painting as another activity and for an extra set of hands. An hour for a sitter is worth it! And you will laugh – Maggie's bday I did an 'almost sleepover'. Formula above (door knockers and frames for craft), girls wore pjs with a movie Soul Surfer. And to my dismay the night before I realized I was out of cake mix – which never happens. So I am forced to buy cupcakes and I go to the fancy smanshy cupcake wars place and the kids did not eat them – at all!! Not one. And they gobble up the homemade ones in about 2 huge bites. I wanted to say – kids those are $4 cupcakes! Ha! So it doesnt pay to get the trendy stuff anyway – kids prefer Betty Crocker.

---
Leave Us Some Comment-Love