November 16, 2011
This brilliant idea brought to you by Cathy Baker, from Missouri, who writes Moments on the Journey (a favorite of mine!).
Cathy writes:
"Every November, since 2006, we've been doing the same activity. I have this old cornucopia that sits on our dining room table. Next to it are strips of blank paper and pens. Every night at dinner, we write one thing we are thankful for, share it, and put it in the cornucopia. Then on Thanksgiving Day, we read them all. Then I saved them all. And when I finally had enough at the end of last year, I made place-mats with them."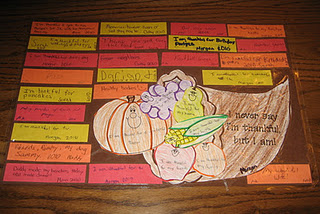 "Tonight was the first night they were on our table. The girls smiles and enjoyment from reading them was simply precious. They were trying to get each other to guess who had wrote what!

I also saved their fall artwork during these years and put it on the place-mats too.  Two sheets of paper, covered with contact paper. Simple. Easy."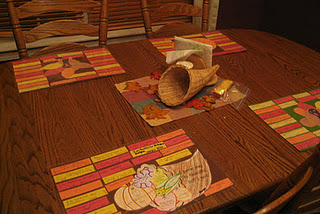 Now is this brilliant or what??  Love this idea Cathy!
Share this post
You might like...
Category: Activities, Brilliant, Holidays
6 Comments »
Heidi Farmer

on November 16, 2011 10:42 am

I just absolutely love this idea!!

---

on November 16, 2011 12:00 pm

This is a wonderful idea! My mom used to have us write down our New Year's Resolutions and she saved them. I remember re-reading one years later where I resolved to "redecorate my room." I think I was confusing a resolution with a wish list, hah!

---

on November 16, 2011 12:22 pm

This is such a fabulous idea! I love it!

---

on November 16, 2011 9:34 pm

Thanks for sharing this idea! I hope others find as much enjoyment out of this fun activity as our family has!

---

Jenny H

on November 17, 2011 4:39 pm

I printed this out and will pack this away with my fall decorations. My adorable will be the perfect writing age next year. I want to start this!

---

on February 2, 2012 1:17 pm

I used to teach a preschool class at various locations in our county. I would do this every year with our classes just before Thanksgiving. The only difference was that we had saved bits of various colored construction paper that would have been thrown out, and the kids cut out a tree first. Once the tree was glued down, they would label it My Thankful Tree. Then, the "leaves" (scrap paper) would be on the tree and ground (it is autumn), and would have one or two words on each of things they were thankful for having. I would then laminate them that weekend with clear contact paper, and they would get them back just before Thanksgiving.

---
Leave Us Some Comment-Love