August 30, 2010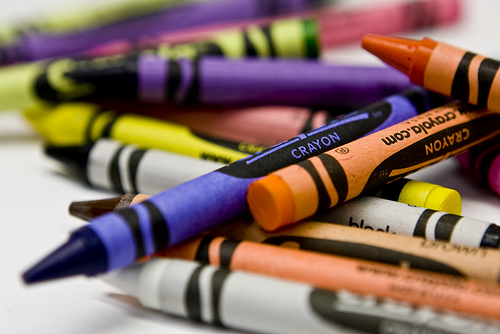 Today is a very different kind of giveaway….
With all the hype on Back-to-School (The Good Stuff Guide included!), it's easy to forget the thousands of adorables who won't be bringing new crayons, markers, and backpacks to school.
So today our "winners" are going to be those adorables.
I need you to meet DonorsChoose.org

Donors Choose.org is a highly-rated 501(c)(3) Not-for-profit which pairs helpful people with needy classrooms.  You can find classrooms to help by a specific subject area, by state (even by city), or by urgency of need.
"Giveaway"
The Good Stuff Guide will donate $50 + $1 for every comment entered by Friday, September 4th for a maximum of $200 to DonorsChoose.org.  The "winner" gets to choose the state where the money will be sent, and has the option to choose the specific classroom (high poverty classrooms only please).
Because I just LOVE comments, here's how to gain extra entries (please leave them as separate entries):
Do you subscribe by email or RSS to The Good Stuff Guide? I love my subscribers, so you get an extra entry. Wahoo!
Email 5 of your friends about The Good Stuff Guide and tell them what a rockin' website this is.  We'd love to have them join us!
"Like" The Good Stuff Guide on Facebook and receive the latest news and your chance at additional giveaways. (I LIKE you too!)
So, yes, each of you can be responsible for up to $4 going towards DonorsChoose.org.  In fact, I'd be thrilled!
And please visit DonorsChoose.org to see what classrooms have need of in your area, or nationwide.
Hopefully through our efforts, lots of adorables will become winners today!

Share this post
You might like...
Category: Activities
Tags: donorschoose.org, school supplies for the needy |
40 Comments »
on August 30, 2010 8:43 am

Wonderful idea!

---

on August 30, 2010 9:18 am

What a great idea. Our church does something similar for our local kids in need.

---

Jenny

on August 30, 2010 10:02 am

How sweet! I love this giveaway!!!

---

Jenny

on August 30, 2010 10:02 am

I'm a fan on Facebook.

---

Jenny

on August 30, 2010 10:03 am

I'm an email subscriber.

---

on August 30, 2010 10:16 am

Such an awesome idea! Count me in!

---

Caryn

on August 30, 2010 10:54 am

I love this idea. It's very generous of you, Heidi.

---

Caryn

on August 30, 2010 10:55 am

I subscribe via reader.

---

Caryn

on August 30, 2010 10:56 am

I "like" you on FB. I'll have to work on the five friends part…..

---

on August 30, 2010 12:52 pm

Yay – love this idea!

---

on August 30, 2010 12:53 pm

You're in my reader!

---

on August 30, 2010 12:53 pm

I Like TGSG on Facebook!

---

on August 30, 2010 2:40 pm

Love it!!! Great idea.

---

on August 30, 2010 2:41 pm

Like you on FB.

---

Ronda Schaadt

on August 30, 2010 4:47 pm

What a wonderful idea for all these kids!!

---

Sarah

on August 30, 2010 5:50 pm

What a great idea!

---

Jerry

on August 30, 2010 7:44 pm

Great idea.

---

Sandi

on August 30, 2010 7:44 pm

Love it.

---

Susan

on August 30, 2010 8:04 pm

LOVE this idea!

---

Rebecca S

on August 30, 2010 10:06 pm

Very generous of you. Thanks for doing this!

---

Rebecca S

on August 30, 2010 10:07 pm

I like you on FB.

---

Marlo Korstanje

on August 31, 2010 8:46 am

Great idea, Heidi!

---

sara

on August 31, 2010 8:49 am

Love this idea!! so generous!!

---

sara

on August 31, 2010 8:49 am

I "like" you on FB… a lot!! : )

---

sara

on August 31, 2010 8:50 am

And I am an e-mail subscriber!

---

Judy Riley

on August 31, 2010 9:37 am

Great idea!

---

gillette

on August 31, 2010 9:37 am

Best idea!

---

gillette

on August 31, 2010 9:39 am

Terrific giveaway

---

Rachel C

on August 31, 2010 9:40 pm

This is wonderful! I'd have to think hard about where to send the $

---

Rachel C

on August 31, 2010 9:41 pm

I'm an email subscriber!

---

on September 1, 2010 11:26 am

This is great, Heidi!

Melissa

---

Stephanie

on September 1, 2010 11:34 am

Great way to give back to a great cause!

---

nan lara

on September 1, 2010 9:32 pm

great giveaway

---

nan lara

on September 1, 2010 9:32 pm

e-mail subscriber
nannypanpan at sbcglobal.net

---

Jacquie

on September 2, 2010 8:40 pm

Great idea. Our church does backpacks.

---

on September 3, 2010 7:29 pm

I like you on facebook

---

on September 3, 2010 7:29 pm

What a nice giveaway

---

on September 3, 2010 7:34 pm

I emailed some friends and tweeted about this too

---

Pat

on September 3, 2010 8:11 pm

Great idea. Thanks!

---

MJ

on September 4, 2011 5:49 pm

Wow!! This is great!

---
Leave Us Some Comment-Love