March 18, 2015
Written by Marykate O'Malley, mother of three wonderful children, Gladwyne PA
Once upon a time there was a little girl who, on the eve of St Patrick's Day, told her mother her plan for trapping a leprechaun. She left a note at the base of the stairs with a picture of a pot of gold. Over it she wrote "gold, second bedroom."…
In the second bedroom she wrote on a sticky note "gold" and placed it on her jewelry box, a gift from her kind Aunt the previous weekend. The box, when you opened it, played music with a ballerina that spun about in an endless dance. When the leprechaun opened the box to find the faux gold, the little girl would wake because of the music and BAM, the lid goes down, the little laddie is trapped.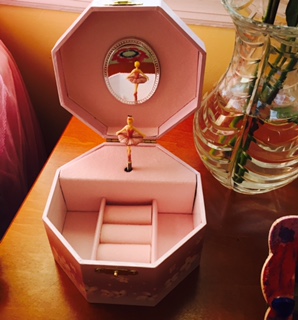 The mother asked what if the leprechaun falls in love with the ballerina, then what. The little girl laughed. And the tired mother wrinkled her brow and thought, what am I to do. I don't have anything prepared and someone is expecting magic. She searched the cupboard for food coloring, finding none and remembered it was all used at a tie dye party last summer. She then remembered she had candy stashed away as all prepared mothers do. And so at the note at the base of the stairs, and on the stairs leading to the grand plan she left a trail of peanut butter cups. And when the child woke she was pleased and happy that she was visited by the little man and amazed at his trickery.
But her mother wasn't satisfied with candy, she wanted more. You see she was the type to be hard on herself, with high standards, and if her daughter wanted magic, she wanted to deliver. With a bang. So she called her dear mother, who was hosting a St Patrick's Day dinner and asked – can you spread some lucky charm.
And because the mother couldn't, the grandmother did. She turned the milk green, which turned the mashed potato's green. She talked about the sly little man and how she bought regular milk and didn't even realize it was green until the colcannon was complete. The little girl's eye flew wide and darted around the room. And then the grandmother said she saw gold coins outside, and how leprechauns put the fake coins on top of their pots of gold to hide the real gold. He must have dropped it as he was running through the fields last night she exclaimed. 8 feet went running outside and sure enough gold coins were scattered throughout the yard.
The grandmother smiled. And the mother sighed, a deep grateful sigh, and smiled too. For it takes a village, and what one hand cannot complete, another takes the baton to finish the race. Even with leprechauns.
Share this post
You might like...
Category: Random and Fun
1 Comment »
Anne Schenendorf

on March 19, 2015 7:42 am

Oh MaryKate, this is amaaaaaaaazing!!!!!! The gift of the gab you have my sweet sis!!!!!! I love this! And you!!!!!!

---
Leave Us Some Comment-Love