May 11, 2015
Written by Marykate O'Malley, mother of three wonderful children, Gladwyne PA 
My yoga teacher said the seed knows what it will become, each one with a unique journey and destination. Honor your journey, tend to your seed. The woman in front of me is pregnant, her stomach round like the earth with life growing inside her. A grandmother to my left, 6 grandchildren she said. Each time I slide forward to up-dog and open my shoulders, shine my heart to the sun, she moves back to her heels, raising her beautiful belly, round like the moon to the sky. We do this dance throughout the class, our heads almost touching, I slide forward, she moves back.
I think about the story I told my oldest a few days before, slipping on black ice while pregnant with her. She asked if I cried because it hurt or because I was scared. I realized she doesn't know yet – the shift as a mother, our children hurting causes the most pain. I told her the Doctor said how protected she was in there, like a fish in a fishbowl, and that trauma could occur to the mother and the baby is fine. Our bodies know even then their role
Later that day my children and I visit my grandmother's grave with my mother. She delicately places an azalea busting with translucent wisps of purple in front as my son waters it. My oldest daughter leaves a red rose, one given to me as we left mass that morning. Her great grandmother Margaret, who she was named for, who lost her own mother at 8 buried here. And now mother and daughter together, their names on opposite ends of the stone like bookends, beginning and ending life together. My youngest places a smooth grey and sand colored stone next to the rose. A stone from Ireland, which traveled in a suitcase 15 years ago, and from apartment, to house to house, packed in boxes and resting next to photographs of my Nana. Now a testament to a homeland, far across the sea, for my family remembered in this place. I kiss the smooth stone, and trace my grandparents name with my fingers, thinking of "the cloths of heaven."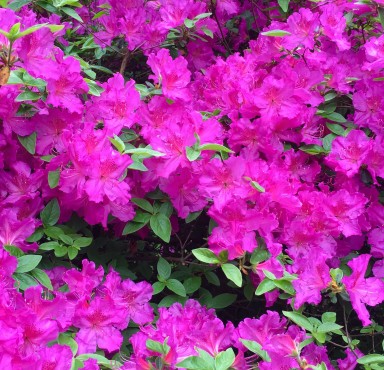 Motherhood is a journey, children are seeds. We nourish and tend and demand light and life for them to grow, and grow, and grow. And all the while the great secret is this, it is us who is growing. It is only through this journey of being a mother, that we can arrive at our destinations, and become who we need to be.
Aedh Wishes for the Cloths of Heaven
Had I the heavens' embroidered cloths,   
Enwrought with golden and silver light,   
The blue and the dim and the dark cloths   
Of night and light and the half light,   
I would spread the cloths under your feet:
But I, being poor, have only my dreams;   
I have spread my dreams under your feet;   
Tread softly because you tread on my dreams.
Share this post
You might like...
Category: Random and Fun
Tags: children, ireland, journey, life, Mother's Day |
2 Comments »
Cathy

on May 12, 2015 5:09 am

Beautiful. Love how your words captured this moment in time!

---

Marykate

on May 13, 2015 5:31 pm

Thank you Carole and Cathy!! So very kind!! XXOO

---
Leave Us Some Comment-Love