February 3, 2011
Written by Sarah Farthing, Contributing Writer
When I find a product I love, I tend to buy more than one for myself and to recommend it to all my friends.  What meets my needs so well is not always perfect for a friend, of course, but every so often a product proves so useful and reasonably priced that a ripple effect occurs and I find out about friends of friends of friends running out to get their hands on one!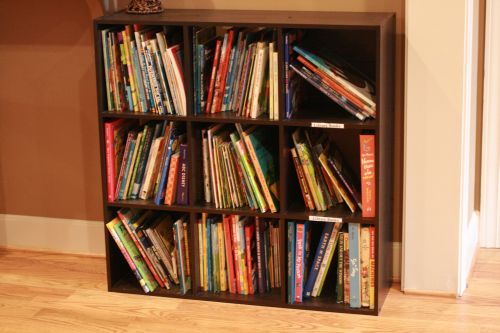 I found these ClosetMaid Cubeical Organizers at Target this summer just after we moved into a new home.   New spaces called for new systems of organizing books and toys and these cube shelves became my new obsession!
First up was our picture book library.  This shelf is a dark, espresso color.  It sits in our great room amidst pieces of non-Target furniture and blends in seamlessly.  Aside from being stylish (enough for me!) it makes it easy to categorize and store hundreds of books while providing easy access to the shelves and disaster free book removal and, this is key, book re-shelving that even little kids can manage independently.  Gone are the days of the book avalanches we used to deal with!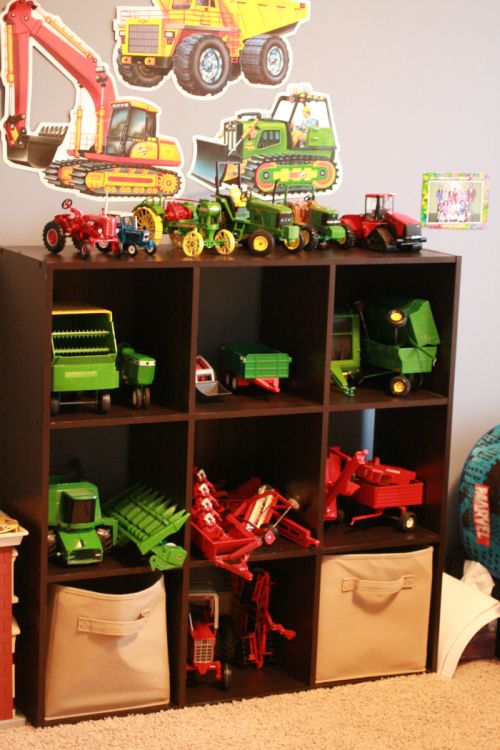 I have since learned that when I used to buy 5 of the same shirt at Old Navy, varying only in color, that I was committing some sort of wardrobe faux pas according to the experts and I'm sure similar rules apply to furniture.   Apparently I can't help myself.  I bought a shelf for each of my boys' bedrooms, in colors to match their dressers (one espresso, one alder) and I chose white for our basement playroom: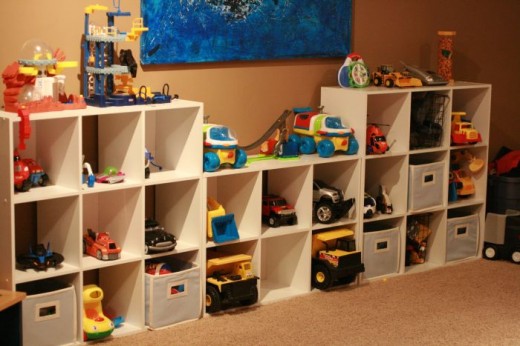 These were just too useful, durable and reasonably priced not to buy more!   I love that the kids and their friends can see the toys we have, access them without assistance and put them away themselves.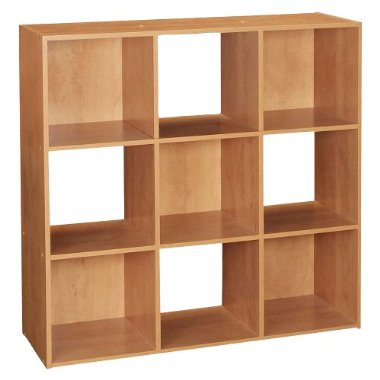 You can find these awesome shelves in a bevy of colors at Target – the ClosetMaid Cubeicals Cube.
Many thanks to Sarah, in her debut as Contributing Writer at The Good Stuff Guide!  How about a little comment love?
Oh and I'll race you to Target for these!
Share this post
You might like...
Category: Kid Bedrooms, Organizing, Playrooms, Storage
Tags: book storage, ClosetMaid, Cubeical Organizers, toy storage |
14 Comments »
Yaya Kelley

on February 3, 2011 7:00 am

Loved the article – great job Sarah – in writring and decorating! Can't wait to read what you will share with us next!!!

---

Julie

on February 3, 2011 7:19 am

I have almost the same thing from IKEA
http://www.ikea.com/us/en/catalog/products/50103086
(usually turned on its side)
I think we now have 4 of these throughout the house.

---

monkygm

on February 3, 2011 8:00 am

I also bought this at Target and LOVE it! Looks so much better and is more organized than the large toy box that we used to have! It actually stores much more than the toy box also! I definitely plan on getting another one! ♥♥♥

---

Kim B.

on February 3, 2011 8:51 am

I love these too. We have the 4×2 one by the front door and keep bins in them. Everyone gets one bin for shoes and the bin below for hats, gloves, etc. Kids are really good about putting their stuff away now.

---

Mama Nolte

on February 3, 2011 9:38 am

For me, organizing 'stuff' is a challenge for which I am always trying to find solutions. If you can do this and make it easy to children to learn to pick up, too, as well as do it affordably, then that is a winner for everyone!

Welcome to the new writer/photographer. <3This article on dealing with 'stuff' seems to fit in nicely on The Good Stuff Guide.

---

Mike Henry

on February 3, 2011 12:26 pm

As a Dad how doesn't throw thing away, I could use a little help with organizing stuff.

---

Mary Cee

on February 3, 2011 1:03 pm

I've been the lucky recipient of Sarah's sage advice since becoming a grandmother two years ago. I'm so glad for all of you who will benefit from her widsom. Yea, Sarah, Contributing Writer!

---

Sarah

on February 3, 2011 2:10 pm

I have one of these in my playroom too, and have plans for a few more upstairs. I like the bins you put in yours, Sarah. My bins take up the whole space and make it hard to see inside. Thanks for the tip!

---

on February 3, 2011 2:10 pm

Love the idea for books. So easily categorized, and I like that.

---

on February 3, 2011 2:41 pm

Why I have never thought to store our books this way?!?

---

Marie Henderson

on February 3, 2011 4:00 pm

I enjoyed reading Sarah's article! I do not have little ones around to use her super toy storing ideas.However, I do have many friends with children who will benefit from her affordable decorating and organizing ideas! Looking forward to your next article Sarah. Oh, by the way, I am going to insist my husband read this…he could use a lot of help in the garage!

---

Jenny Hout

on February 3, 2011 8:31 pm

I have had the pleasure of visiting Sarah's house and seeing these first hand and have since bought one for my daughter's room for her books & toy collections. I wish her room had enough space for another!

BTW…great one Sarah!!

---

on February 3, 2011 10:43 pm

Thanks for your comments on my debut post, everyone! I love that some of you already have something similar, or the same thing, and love it too.

RLR, I couldn't believe I had not thought of it before this summer either but it works so well.

Here, here on the so organized, Christy- we have a section for holiday books, two for library books, one for favorites, etc… I love it!

---

Matt

on February 4, 2011 7:03 pm

Great post! We have a white 2- x 4-cube that we use in the nursery for various baby gear.

---
Leave Us Some Comment-Love