January 12, 2010
I clearly remember "The Cosby Show" episode when Cliff and the rest of the Huxtable gang build Clair her own room.  I didn't have kids then, but I remember the slow realization that my dad had the study, and we girls had our bedrooms plus a fun playroom.  Besides the kitchen (which I did think of as my mom's territory), my mom didn't have a room that was just hers to hang out in.  We adorables were always invading her space.
Clearly houses in the past were always designed by men who didn't think of such things.
Today, we're touring a gorgeous home office space, and while it is shared with the adorables in this mom's life, the room remains distinctly grown-up and is it organized!  Just wait….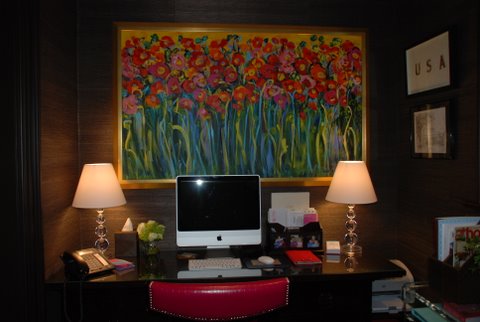 Beauty, function, and a hot pink chair.  This painting is perhaps my favorite in the whole world.  Joy exudes…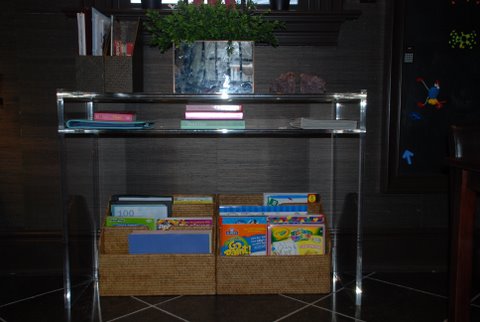 This table holds several of this mom's oft-used items, and the baskets below house the craft books for the adorables.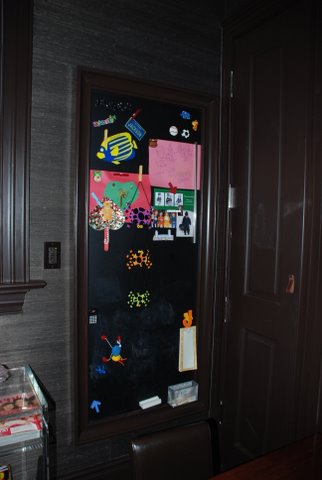 There are 2 of these 5-foot chalkboards (one on either wall) and they hold art projects, drawings, and such.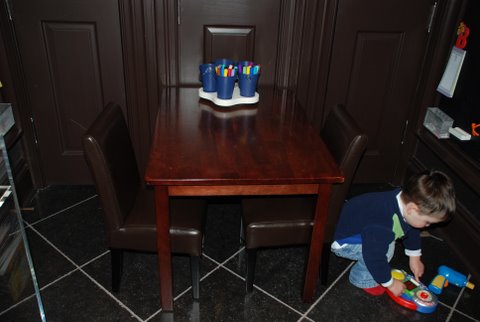 This pint-sized table provides space for the adorables to work while mom is busy.  (Don't mind my younger adorable playing there…)
Behind this table are 3 closets, which store a lot of gear in an incredibly organized way: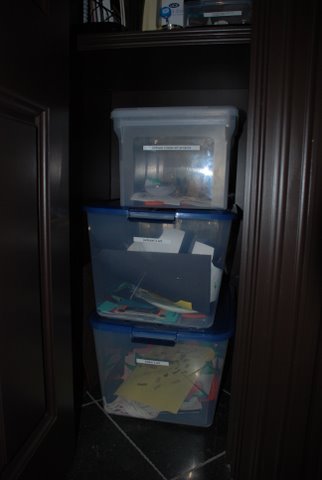 All art is collected here.  Bins are labeled for each child.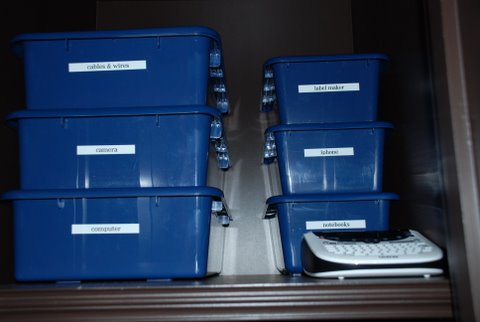 These tubs (from Target) hold office-type stuff: cabled and wires, camera, computer manuals and software, label maker stuff, cell phone manuals, wires, and other notebooks.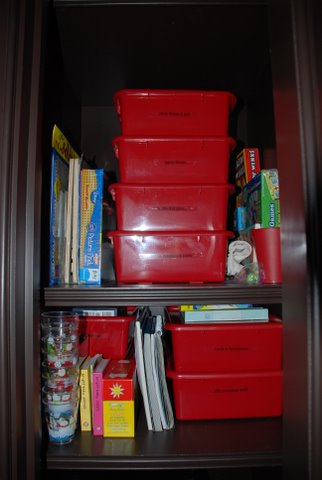 This closet holds extra toys that may later become gifts for friends, or are items to be saved for rainy days.  This closet is high so little eyes would have a hard time seeing items here.  Tubs (again from Target) are labeled: Little Toy Gifts (to save for later and you can't see them through the tub), party favors, family/kid games, and toy manuals.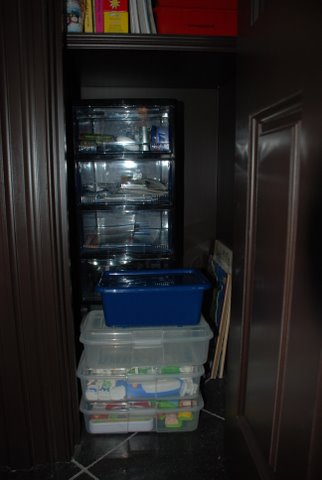 Here toys with lots of pieces are collected so they can be cycled in and out.
This room is a dream of organization, function and beauty for me and has motivated me to get going on my own home!  I just had to show you…

Share this post
You might like...
Category: Mission Control, Organizing
Tags: mom's home office |
4 Comments »
on January 12, 2010 9:11 am

Pretty neat!!!

---

on January 12, 2010 10:43 am

I can't believe how organized she is! I can only dream . . .

---

Heidi Farmer

on January 12, 2010 10:45 am

Me too!

---

on January 12, 2010 7:08 pm

I can't even fathom what it would be like to be this organized. I love that painting too!

---
Leave Us Some Comment-Love