December 20, 2013
Written by Marykate O'Malley, mother of three wonderful children, Gladwyne, Pa
"And the Grinch, with his Grinch-feet ice cold in the snow, stood puzzling and puzzling, how could it be so? It came without ribbons. It came without tags. It came without packages, boxes or bags. And he puzzled and puzzled 'till his puzzler was sore. Then the Grinch thought of something he hadn't before. What if Christmas, he thought, doesn't come from a store. What if Christmas, perhaps, means a little bit more." 
With children and the magic of Santa Clause, it is easy to get caught up in the gift aspect of Christmas, especially "Christmas list" items from St. Nick. We keep it simple in our house, with one big Santa gift and one big one from me and then a few fillers. That said, by the time you get through family members, there are sooooo many presents. This is always a time for my crew to go through old toys they don't play with anymore and donate them or as we usually do – pass them along to younger cousins.
My heart truly breaks when I think of the children who get so little or heaven forbid nothing under the tree, especially with the emphasis on "naughty or nice" (daggers in my heart). I do what I can – adopt a family with friends, donate toys to Toys for Tots and every year my children and I do a volunteer activity. Last year we volunteered at a soup kitchen which was an amazing experience for all of us. This year, we are researching charitable organizations and donating money. They are doing chores around the house to raise money for a cause. It is a great way for them to research all the good there is out there and how easy it is to help – in today's tech age a few clicks and you did something truly good for someone! How easy is that! And another way to give – gifts that give… and give! Giving twice at once – now that is efficient!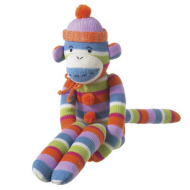 Monkeez & Friends – super cute! 
We are reading up on Heifer and Alex's Lemonade Stand , an amazing organization with Main Line roots. At Heifer you can buy animals in the recipient's name and literally change a family's life by this purchase. I can't think of a better gift to receive! And Alex has a catalogue of gifts with funds that go back to the organization. My mom bought my crew the lemonade maker which has provided hours of fun. Grace Hightower & Coffees of Rwanda sells through fair and environmental stewardship trade delicious coffees. Fair Trade Designs sells hand crafted, sustainable products that are fairly traded. I love my silk screen clutch and alpaca scarf – it is so luxuriously soft. Some of my children's favorite toys are sock monkeys by Monkeez & Friends which come with Do Good trading cards and a proceed of the toys go to organizations such as Alex's Lemonade Stand and Samaritans Purse.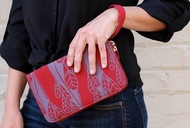 Fair Trade clutch
What I love most about this season is the spirit of giving for so many faiths. This is a sacred time . As Mother Teresa said, "it is not how much we give but how much love we put into giving".
And so, with a focus on "the reason for the season" wishing all of our readers a holiday full of hope and joy and giving!
"And the angel said unto them, Fear not: for, behold, I bring you good tidings of great joy, which shall be to all people. For unto you is born this day in the city of David a Saviour, which is Christ the Lord. And this shall be a sign unto you; Ye shall find the babe wrapped in swaddling clothes, lying in a manger. And suddenly there was with the angel a multitude of the heavenly host praising God, and saying, Glory to God in the highest, and on earth peace, good will toward men." 
Share this post
You might like...
Category: For Kids, For Moms, Fundraising, Holidays, Random and Fun
4 Comments »
on December 20, 2013 9:08 am

LOVE! Another one we found this past year is http://amazima.org/ Also this year my daughter decided we should give to this place for Christmas (we gave them several options): http://www.casaadalia.org/ — I happen to know this amazing family who is living in Ecuador and has been loving street kids/boys for the past 12 years. They are starting this new home for girls who are rescued from trafficking. They just received their first resident a couple of weeks ago.

---

Marykate

on December 20, 2013 9:20 am

Thank you Cathy for sharing these organizations! Casa Adalia – wow. Checking out now. XXOO

---

Anne Schenendorf

on December 21, 2013 7:09 am

Wow guys, thanks!!!! A great way I found to remind my guys of the reason for the season is having a birthday cake for Jesus on Christmas and that through Santa he gives gifts to is. It's a great parlay into talking about all the intangible gifts he gave us- for me we say, is them, faith, joy, love, a warm home and food to eat. Giving away things we outgrow is poignant. MaryKate, these children are always in the back of my mind. There are children among us everywhere in every town who need help and to these children, these toys, gifts and clothes mean everything. I can promise you the saying- in giving we receive is the truest thing of all. Cathy, can you post the address of the family in Ecquador who know street boys? I have toddler boys and should love an extra place to send. Any special instructions getting things there?

---

Heidi Farmer

on December 23, 2013 8:27 am

Love, love, love this post. Great ideas here and in the comments! Anne – I love your birthday cake for Jesus idea. I'm going to use it. Love to all this very special time of year.

---
Leave Us Some Comment-Love