November 9, 2010
I'm a tad bit embarrassed to admit we're back at Disney World for a week.  We spent 7 magical days running from one ride to the next, thrilled that in November, lines are short.
One of the many amazing things we saw just started last night as we took our final heavy steps on our last day around Hollywood Studios.  We caught the first day of the The Osborne Family Spectacle of Dancing Lights on the New York Street set towards the back of the park.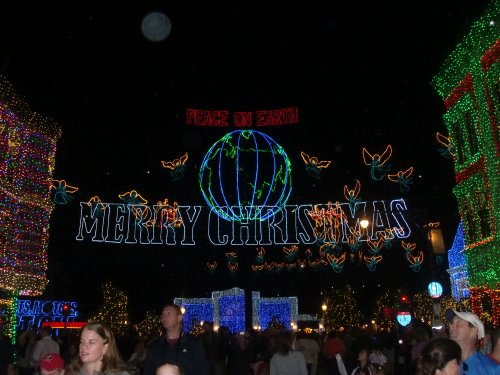 This light show was donated by Jennings and Mitzi Osborne, from Little Rock, Arkansas, who had almost ALL of these lights on their home and property (the Osborne's donated more than 3.2 million lights and Disney has added 2 million to bring the show to a whopping 5 million lights).  I have scoured the internet for a photo of their home, but alas, no luck!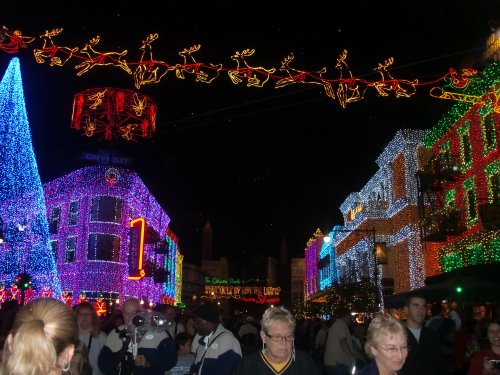 The original Osborne light show included (thanks Wikipedia for the following):
an illuminated globe, with Little Rock and Bethlehem marked, mounted in the back yard;
two rotating carousels of lights, placed on each end of the estate's circular driveway;
a 70-foot-tall Christmas tree of lights with 80,000 lights in three colored layers, mounted atop the home's kitchen; and
a canopy of 30,000 red lights over a section of the driveway.
But the Osborne's neighbors were none too pleased with all the traffic and brightness, and the Osborne's fought a 7-year court battle which ultimately forced them to turn the lights off.
Enter Disney World.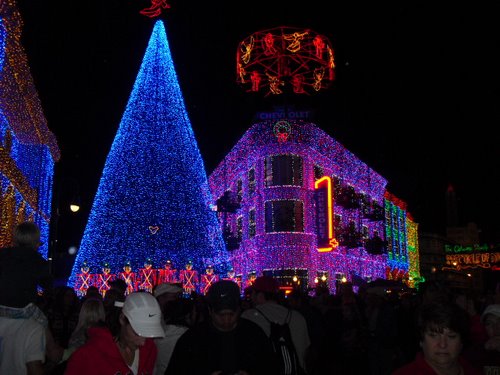 The Osborne's donated the whole she-bang to Disney World, where it finds a prominent home at Hollywood Studios.
I'm hoping the family received lifetime passes to any Disney Park.
And lodging at the Grand Floridian.
And the meal plan, with the 3-meal option and all the desserts they can eat.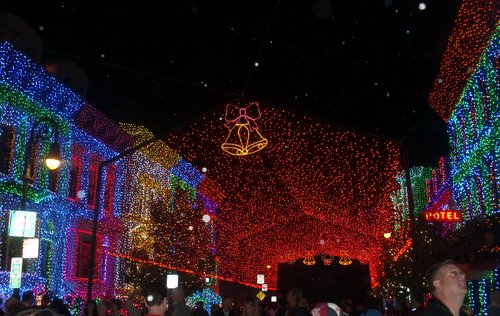 And of course, Disney ran with it: choreographed music/dancing and running lights; SNOW!; crowds; magic!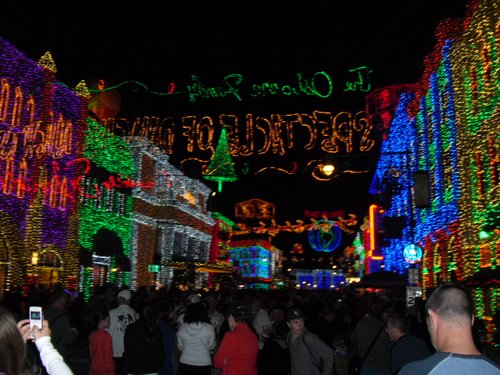 The type is backwards, but otherwise an excellent view down the street.
So if you make it to Disney World this holiday season, don't miss it!  Lucky for us, the lights went on Monday night and we're on a plane home this morning…
This is, oh man, the 5th trip we've booked through Ears of Experience and we've been thrilled with everything Amy has done for us.  Call her and make your Disney trip planning super easy – without paying a dime more (and trust me, she's worth that dime, but she'll keep checking the new rates to make sure you're getting the lowest possible price).  You can reach Amy and her team at 1-877-80MOUSE or email: info@themouseexperts.com.  LOVE her!!

Share this post
You might like...
Category: Disney, Holidays
Tags: Christmas Light Show, Disney World, Hollywood Studios, The Osborne Family Spectacle of Dancing Lights |
6 Comments »
on November 9, 2010 8:32 pm

That is one fantastic light show – my kids were totally surprised to see snow after day spent wearing shorts! We haven't been in about 3 years now – I am ready to go back!

---

on November 10, 2010 3:14 am

Beautiful!

---

Julie R.

on November 10, 2010 8:31 am

yes Heidi, you are making me jealous. Would love to go again. Saw the Osborne lights years ago and it was quite impressive.
Helped you out a bit Heidi – found these pics of the original home (but photos are during the day)
http://www.wdwmagic.com/Attractions/Osborne-Family-Spectacle-of-Lights/Gallery/20Dec2000-The-lights-in-their-original-location-in-Little-Rock-AR.htm

also found this bit of trivia….
There is another story about the purple cat. When the movers were taking the lights to Disney World, they accidently took a halloween light display with them [the purple cat]. Daughter Osborne noticed it right away and thought it was funny. So WDI every year hides the purple cat for our enjoyment and the enjoyment of daughter osborne who trys to find it every year

---

on November 10, 2010 9:09 am

Thanks Heidi! We LOVE helping the Farmers get to Disney! Jon was there yesterday and said he can't help but get in the holiday spirit after being there, even this early in November! Julie, thanks for the background on the cat. I never seemed to have the time to find the story on that and the few cast members I asked, never seemed to know. My girls are always looking for it. Love love love these lights!

---

pat hargesheimer

on November 10, 2010 12:53 pm

My husband and I go every year to Disney at this time, its like a retreat for us. Once you go at Christmas time it's hard to go any other time of year. Another bit of trivia about the Osborne Lights is that every year there are three Xmas stockings somewhere among the lights, one has the name Jennings on it which is Mr. Osborne's first name and the other two stockings each have Mitzy and Breezy on them, and they are his daughters names! Another great thing to see at Xmas in Disney is the Candlelight Processional at Epcot, and I forgot about Mickey's Very Merry Christmas Party at the Magic Kingdom! Can't wait to get there this year.

---

Mimi

on November 17, 2010 11:58 am

WOW ! Fabulous pictures, Heidi ! An unforgetable sight !

---
Leave Us Some Comment-Love