February 15, 2012
Several years ago I posted this idea for keeping track of the states that each of my adorables have visited.
In a nutshell, I have an atlas for each adorable…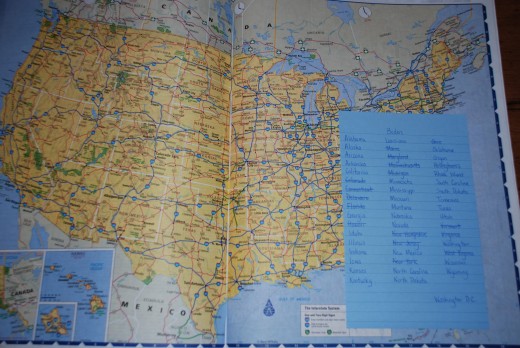 In the front I have a sticky note of all the states, so they can be crossed off as we visit.  Then on the individual state pages, I highlight the roads we've traveled for roadtrips, or circled the cities if we've flown there.
I also use additional sticky notes to mark the dates we've visited places like Disney World, Washington D.C., etc so they can look back later.
Then I hide the highlighter so my adorables can't add their own "trips".  (I'm so mean!)
The Running Man has a good laugh at me when I make my case for my desired trip, knowing it's as much about the "cross-off" as it is about actually visiting.
Oh man, I'm so transparent – he's right.
But tomorrow, I get to make a new one:
TEXAS!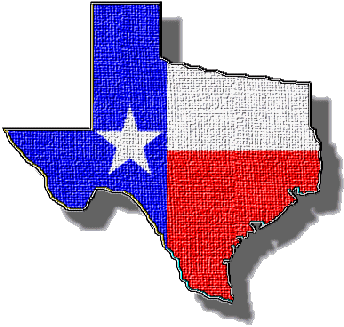 We're going to spend 4 days visiting San Antonio: The Alamo, the River Walk, Sea World.
I'll let you know how it goes, but the anticipation of good Mexican food is killing me!
Have you been there?  Any recommendations??  Please help!!
Share this post
You might like...
Category: Activities, Family Trippin'
5 Comments »
Sarah Farthing

on February 15, 2012 7:43 am

I have some recommendations! 😉 You have to eat at Boudro's (might need a reservation for dinner) and Acenar!

Also, there is so. much. walking. A little umbrella stroller for your youngest is warranted if you're not bringing the big one along.

Across from the Alamo are some great gift shops with fun little kid western/cowboy gear on the cheap.

The mall on the River Walk has an IMAX theater if your boys haven't had that experience yet.

The tour/cruise down the river will be fun for all of you- you might want to do it more than once. Maybe once during the day and once at night…

Have fun!!

---

Heidi Farmer

on February 15, 2012 9:58 am

Oh Sarah! This is exactly what I was hoping for! THANK YOU! Any others friends?

---

on February 15, 2012 12:07 pm

I LOVE the atlas idea! I've wrote down states/dates visited since my girls were born, but the atlas would have been fun to start when they were smaller! Oh, and have fun in TX! I love San Antonio. I still remember it even though I haven't been in almost 20 years!

---

Julie R.

on February 16, 2012 9:18 am

Heidi – Attie and I went four years ago to San Antonio. Would love to go back. Our hotel was right on the riverwalk. It was great. The boatride is a MUST. At a restaurant right on the riverwalk, my boy wanted ribs and I let him order this HUGE platter knowing that it was too big for him, but I have this picture of him from that experience that is one of my favorite – a pic that says "his eyes were bigger than his stomach" We also visited the Alamo and have a picture of him sitting on one of the cannons. I gave in and bought the boy a pop gun. (However had some issues about it fitting into the suitcase because he couldn't carry it onto the plane). The people were SO FRIENDLY. They even had people stationed on the River Walk with buttons that said "ask me if you have any questions" — or something like that. We walked over to the Woodlawn Theatre for kids theatre (School House Rock). I see this weekend they are doing Winnie the Pooh the musical. There was a GREAT playgound right next to the theatre.
http://www.woodlawntheatre.com
Have a BLAST!!!

---

on February 16, 2012 10:34 pm

Have a great time!

---
Leave Us Some Comment-Love