July 7, 2010
Here's what I think:
Lake in Michigan (or anywhere, on second thought) = FUN!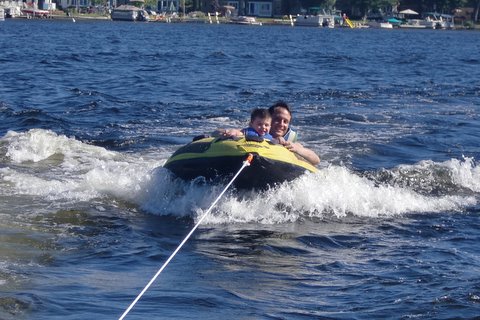 Younger adorable with his daddio having the time of his life.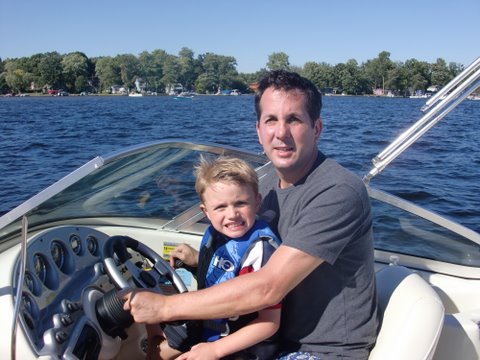 This is the Running Man's brother, who the boys call "Romer", driving the boat.  Elder adorable is "helping".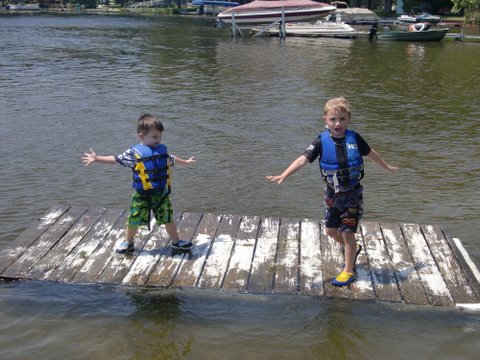 Surfing on the final dock piece.  Oh the dock.
But that's another story entirely.
Then Romer gave the adorables a whopper of a gift: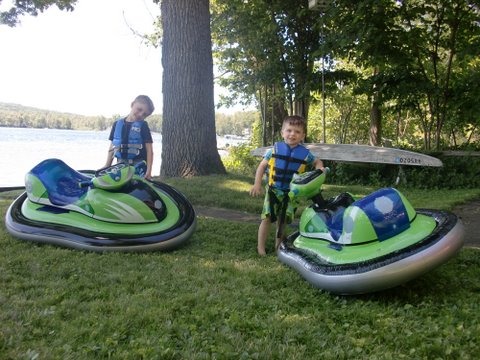 Blow-up Wave runners!
I mean seriously.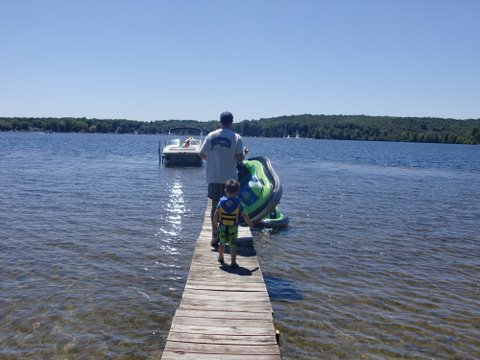 So we're off to test them out on a crystal clear, cloudless day.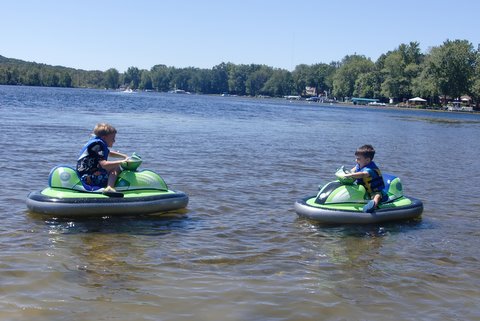 Elder adorable very quickly mastered his aim for the sprayer directly into the eyes of younger adorable.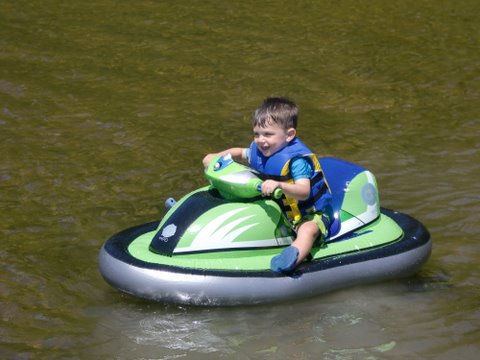 I know I've said this before but…
Happiness, thy name is Boden.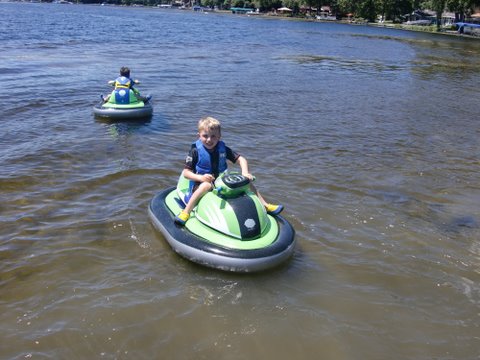 I'm really showing you this photo because the way younger adorable is splayed on his cracks me up.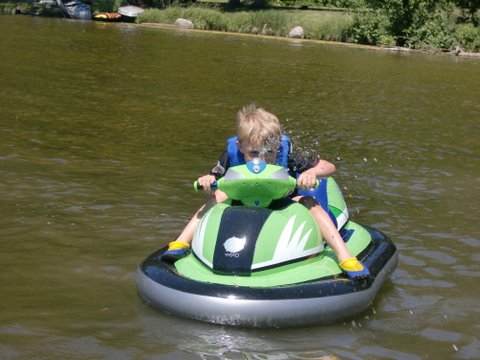 Here I am getting sprayed by the elder adorable….
Try as I might, I couldn't find these online anywhere.  They're the Banzai Wave Rider Motorized Inflatable Boat, but they are unavailable from Amazon (gasp!) and I couldn't find them anywhere else.  But just in case you know a guy, I wholeheartedly recommend them.

Share this post
You might like...
Category: Family Trippin', Toys and Gift Ideas
Tags: Michigan lake, Summer vacation |
8 Comments »
Lisa Lejdstrom

on July 7, 2010 9:37 am

Oh my gosh what fun!! I showed Matthew and he's begging me to visit Sloan and Boden to play in the lake!!!! Hope you're having fun…. judging from your posts, you are!!!!

Lisa
xo

---

Heidi Farmer

on July 7, 2010 12:18 pm

My boys feel the same! We'll be home soon.
Love to you all,
H

---

Julie

on July 7, 2010 12:31 pm

Looks like ToyQuest is the place to contact to see if you can track one of these down if you were interested.
http://www.toyquest.com/banzai/
(very cool toys – can't let my 9yo see this video and website. =)

---

Heidi Farmer

on July 7, 2010 12:33 pm

Julie, you rock! Thanks for finding this!

---

Joy G

on July 7, 2010 4:22 pm

Oh Heidi…this is so fantastic!

---

Erika

on July 8, 2010 10:55 am

Ah, miss you guys!! What gorgeous weather we are having in OH and MI!! Hugs

---

on July 8, 2010 1:13 pm

Looks like so much fun!

---

on July 14, 2010 11:15 am

Looks like we were there at the same time! What fun they were having!

---
Leave Us Some Comment-Love