June 9, 2014
Written by Marykate O'Malley, mother of three wonderful children, Gladwyne PA 
My strategy for a while now has been to not do goody bags and offer something else, equally fun for both children and parents. At some point with birthday parties times three children, I realized that I didn't have a place for the bags and bags of  Oriental Trading trinkets. I needed an alternative.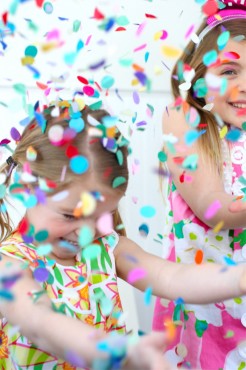 Photograph courtesy of Rachel McGinn photography
It started with my oldest's Sleep Under in kindergarten. I made chocolate chip cookies, and put them in a bag with a Horizon milk and  a "sweet dreams" note. I literally had a mother go to her car and come back to the the house to personally thank me saying, "This is so adorable and thank you for not giving us more plastic stuff" – she couldn't take any more. I knew I was on to something and have avoided them since. Here are some other ditch the goody bag ideas:
Hula hoops
Journal and pen – I did this last year for a Sleep Under party. It's all about the theme.
For a spa theme or sleep over -nail polish in colors that won't make mom cringe.
T shirts – I am doing a tie dye theme party for my youngest this summer and the shirt will be their item to take home.
Pillowcase – for a sleep under \ sleep over, another fun idea especially if the kids decorate them during the party.
Mug – everyone loves a mug! A fun giveaway to go with the theme. It can also double as a craft if kids decorate them during the party. In the colder months you can put a packet of hot chocolate and cookies to go with it. I try to work in homemade cookies as much as I possibly can.
Jump ropes!
Bubbles – especially for the preschool set. I have always loved the line from the movie "Knocked Up" – "I wish I liked anything as much as my kids like bubbles".
Side walk chalk – fun for all ages!
Swim noodles – fun for a swim party, most dollar stores sell them
Butterfly nets – the dollar store strikes again!
Buckets and shovels –  easy to personalize, they look adorable and purposeful!
Water bottles – another easy to personalize item and great for any sports theme party
Crayons, and paint sets – even I love fresh boxes of crayons and new paints
Another idea – don't do them! You will have the parents cheering "goody"!!!
Who has some other ideas to share?
Share this post
You might like...
Category: Activities, Art, Books, Brilliant, Cookin', For Kids, For Moms, Gear, Momzone, Photography, Random and Fun, Toys and Gift Ideas, Wondermom Resources
4 Comments »
on June 9, 2014 10:53 pm

Great ideas! One of the favorites I did once, when my daughter wanted a butterfly birthday party – I actually ordered chrysalises and bought tiny butterfly cages and all the kids took home one. it was fun to hear about all the butterflys hatching out a couple weeks later!

---

Marykate

on June 10, 2014 6:27 am

Cathy – Wow, I am impressed! I am sure they all loved that!!

---

Lauren Deets

on June 10, 2014 9:30 pm

I love these ideas MK! I usually make a themed cake for my boys party and decorate with something that each kiddo can take right of the cake. Last year Jackson had a lego themed cake and there was a lego guy on the cake for everyone at the party. I have also done a race track cake with cars racing for everyone to take, etc…This summer we are planning an out door movie party and was planning to give everyone reusable popcorn container and drink and sweet treat instead of goodie bag.

---

Marykate

on June 11, 2014 6:27 am

Lauren – that is adorable!! Such great ideas – thanks for sharing them!! Love how they all tie in with the theme and are functional and fun! The outdoor movie is such a fun idea – all very original!!

---
Leave Us Some Comment-Love