September 21, 2012

Written by Marykate Wurster, mother of three wonderful children, Gladwyne, PA
This past weekend we traveled from PA to New York City to celebrate one of my daughter's oldest friends birthday at American Girl Place. This was probably our fourth visit and every time we go, it feels like the first. While I am not a "toy mom" and reserve these items for birthdays and holidays – I simply step into into American Girl Place and all sensibility evaporates. My daughter's dolls probably have more shoes collectively than I do, and in a bizarre way, I am fine with that. Even though they never seem to be wearing them. I completely eat the bait, and willingly.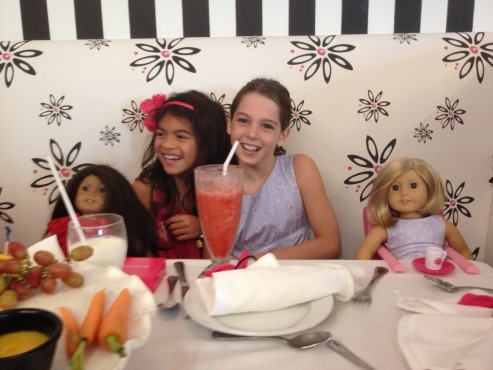 These girls are always giggling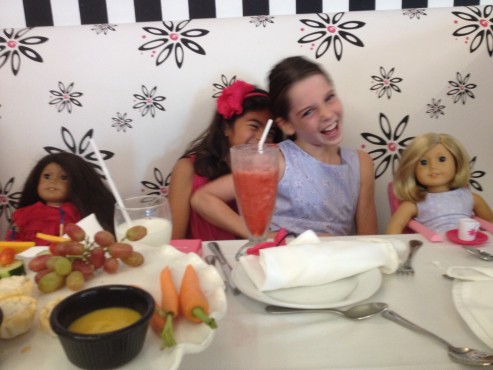 The founders are truly brilliant. They have thought of everything. They have our buy in as parents because the dolls are wholesome, and educational with the historical fiction element. They teach values in the story lines, and then everything in the store is so darn cute.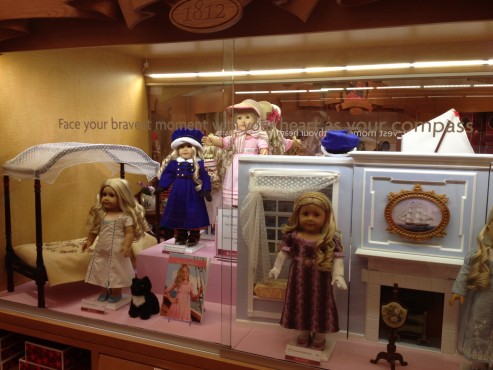 "Face your brave moments with your heart as your compass" – Yep, eating it up.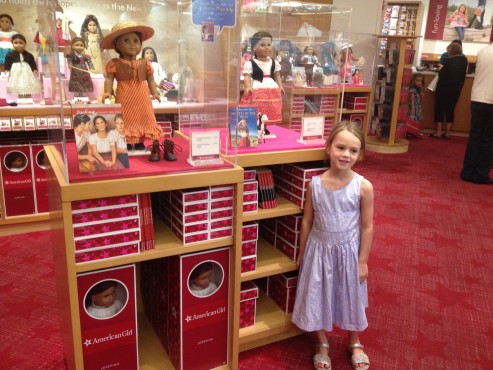 Doll Heaven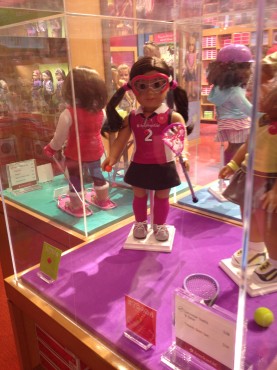 See what I mean – how cute is the lacrosse outfit??
The hair salon for dolls…. they also pierce your dolls ears.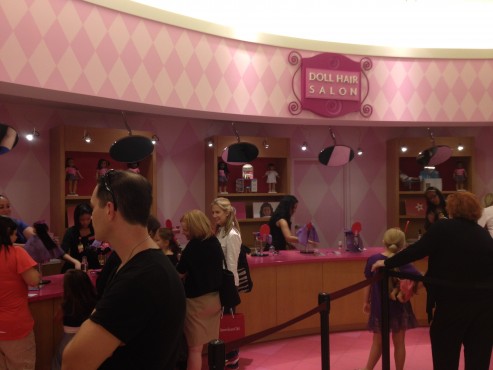 The doll hospital…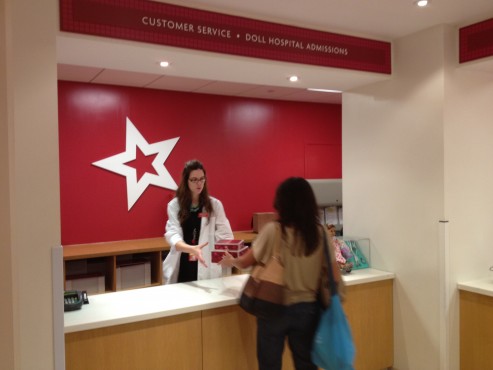 And then the books, and DVDs and accessories. Over the top? Absolutely. Do I love it? Absolutely. The girls ran from display to display taking in the clothes, the dolls, the clothes, the dolls.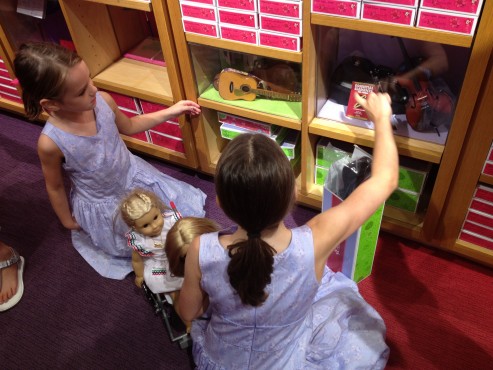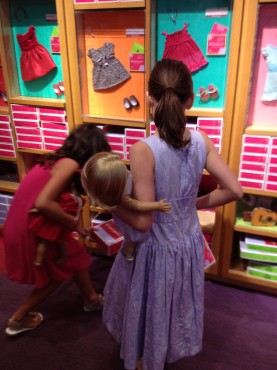 They made their selections carefully and were the proud owners of a cello (my oldest for her doll Kit) and a wheelchair (for my youngest daughter's Julie). You know you are getting older when they make a historical doll dating from the time you were a child.
My son even made it through brunch, and then left for the Nintendo World store. He is such a trooper, and awesome brother.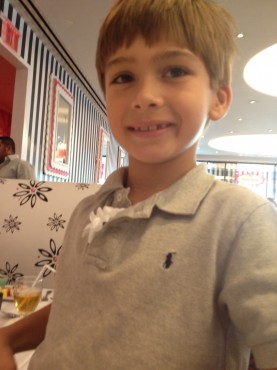 My son, notice the dapper daisy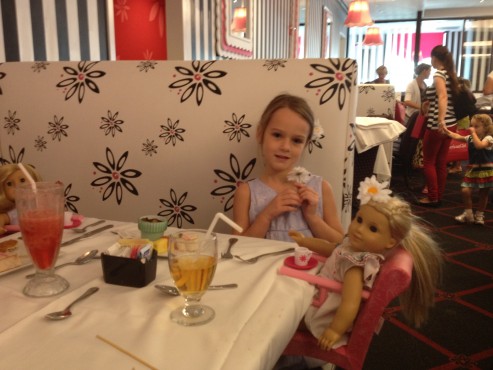 Daisy girl
So what I am wondering is, are they a publically traded company?… 

Who else has been to the American Girl Place? I would love to get to Chicago. I hear they have shows. Lucky Chicago!
Share this post
You might like...
Category: Random and Fun
6 Comments »
Rachel C

on September 22, 2012 1:42 pm

Fun! I've been trying to get my girls interested in the AG dolls for about a year now b/c I WANT a doll!! We're only a couple hours from Chicago and I've just been waiting for my girls to be old enough to enjoy the trip. Can't wait!!

---

Marykate Wurster

on September 22, 2012 9:07 pm

It will be amazing I am sure! My oldest is 8 and will play with her dolls for hours, truly hours, with her younger sister. So great – no tv, no electronics, just girls and their dolls.

---

on September 22, 2012 11:09 pm

We haven't had the joy of actually making it to an American Girl Doll Store yet (no where near one!) – but my girls pretty much adore their American Girl Dolls. We've made them mini apartments in the basement and everything! At ages 9 & 11, I love that this is an outlet through which they can still hang onto childhood for a little bit longer! I love listening to their creativity. Last Christmas was an American Girl Christmas!

---

Marykate Wurster

on September 23, 2012 9:55 pm

Cathy – adorable!! And so great – so I should be able to hang on for another 3 years at least!

---

Heidi Farmer

on September 26, 2012 3:34 pm

Oh man! This makes me wish I had girls! I still, with not even a niece to buy for (can you believe the nerve of my sister?!?), steal into the NYC store every chance I get just to appreciate the marketing (brilliance!) and dream for granddaughters.

---

Marykate Wurster

on September 26, 2012 5:34 pm

I know Heidi! I feel like I am a kid again when I am there and ohh and ahh over all of it. And it really is that cute! Marketing brilliance for sure!

---
Leave Us Some Comment-Love