July 4, 2013
written by Cathy Baker, living in America's Heartland
What is it about porches and American flags?!  Simple beauty. So patriotic.
So on this Independence Day, pour yourself some fresh squeezed lemonade, and come with me, as we visit some porches around this great country.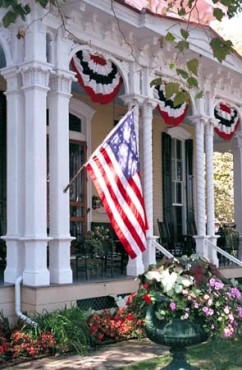 So grand. I love the patriotic bunting on this porch too.
Just think how beautiful fireworks would be from the porch.
Countryside Americana
Why, yes, I do think I'll spend the afternoon reading my latest library find right here. Thanks for asking.
How quaint and charming. Even patriotic furniture.
This may be one of my favorite porches. I'd love to spend hours with friends, or by myself, right there on that couch. I love the simplicity of this.
I do believe I would smile walking up to this porch. So cheerful.
This amazing porch is from the Hamptons.  And while it's missing a flag, it's still so patriotic, I had to include it! I love the blue cushions on white furniture. And stripped floor. Great space for entertaining.
What's not to love about this picture? And you can actually purchase this print at art.com!
A Happy Fourth of July to all of you, sweet readers!!
Share this post
You might like...
Category: For The Home, Outdoor Space
Tags: Fourth of July, patriotic |
No Comments »
No comments yet.
Leave Us Some Comment-Love