March 27, 2012
Written by Cathy Baker, mom of two amazing daughters, from Missouri
Harmless pranks. They are oh, so fun to play on my girls on April Fool's Day.
First, I must stay, I think Family Fun has the BEST collection of Food Prank Ideas! I have obtained most of my ideas from their website, so if you want even more inspiration, I suggest checking out their site!
Here are a few inspirational ideas to get you started –
My First Prank – Jello Punch – Don't worry, she won't spill red punch all over her head – since it's really jello! To make, pour jello into your drinking cups, insert straw, let the jello 'set up' – then serve. My girls totally tried to drink these before discovering they were not sippable! As you can see from their smiles, they liked the 'prank'.
Sunny-side up Milkshakes – As you can see, my girls are not real sure about these. They are milkshakes, topped with an egg! Not really, it's marshmallow fluff and lemon pudding. Trust me they were smiling big after they discovered they weren't really eggs! Note: I also saw a healthier version of this with vanilla yogurt and half a peach.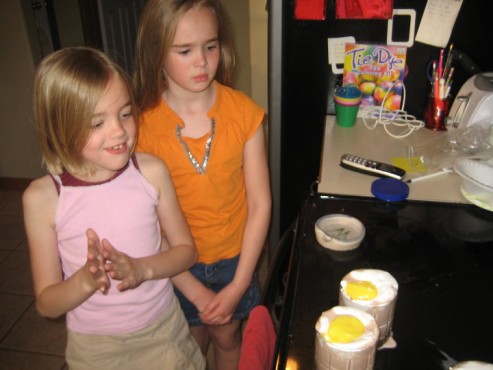 This is one I tried last year. Sponge Cake –  Here's the outside view (I know, I'm not winning a cake decorating contest with this one!)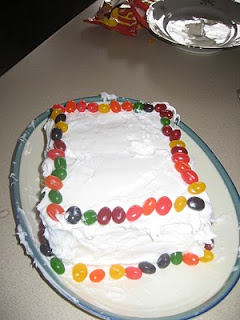 And the inside view. I must confess, my girls are getting older and wiser and coming to expect pranks, so they totally figured this one out! So…we took it over to a friend's house (babysitter) and we fooled her big time – she could not get the cake to cut!  Of course we also brought real cupcakes to share afterwards!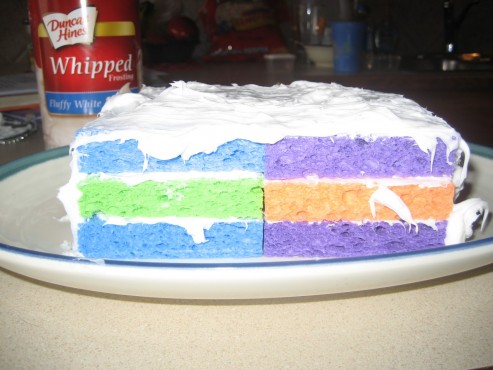 And this year, since they are getting 'too smart' – I think I might have them help with a food prank, since we are having friends over that day, and I might pull this faucet prank on them (we are going to insert easter egg dye tablet into the faucet).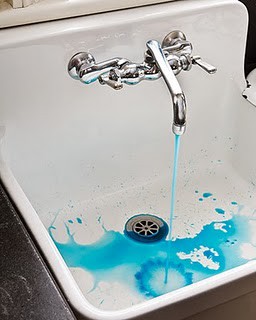 So, have you pulled any harmless pranks on your family members? Oh, please do share!

Share this post
You might like...
Category: Holidays, Random and Fun
No Comments »
No comments yet.
Leave Us Some Comment-Love