May 5, 2011
Written by Contributing Writer, Sarah Farthing

I love to travel. Over the last four years I bet I have averaged a trip about every 7 weeks and boy does my luggage show it! The corners of my most-used suitcase are completely undone to the point that the metal frame of the suitcase actually sticks out several inches past the fabric of the suitcase. I have to be careful in the airport not to catch it on anything.
Not anymore…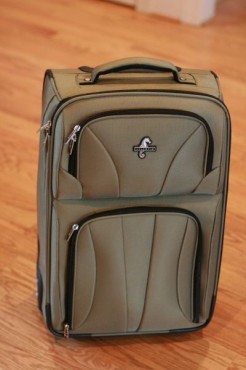 It was with open arms that I welcomed the Atlantic Ultra LITE into my life. It was love at first feel! I'm not kidding; the carry handle on this suitcase is so soft and squishy that I could squeeze it as a stress reliever in long lines at the airport. I'm sorry, did I say handle?! I meant handles, there are three!
The second thing I noticed right away was the protective corner guards. I know I won't be pulling luggage with protruding metal corners ever again!
I also love that:
• The pockets on the outside are usable. They are deep enough that you don't have to decide if it's worth scraping the zipper against the dry, sensitive back of your hand in winter.
• The wheels are actually inline skate wheels! They are durable and smooth rolling.
• The handle locks into two separate heights so I can have it lower for me but someone taller could use it on the highest setting.
• The entire suitcase weights just 6 ½ lbs!!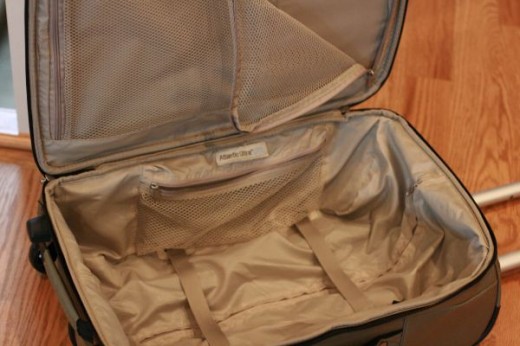 Look at how roomy the inside is and this is just 22 inches long!
I saved the best for last…the Atlantic Luggage Ultra Lite 22 Inch Upright
sells on Amazon for less than $70!
Is new luggage on your Mother's Day Wish List?!
**Many thanks to Atlantic Luggage for providing an Ultra Lite for this review.  You know, it's a tough job, but someone has to do it!

Share this post
You might like...
Category: Travel
Tags: Atlantic Luggage, Atlantic Luggage Ultra Lite 22 Inch Upright |
6 Comments »
on May 5, 2011 9:11 am

I'm always looking for great carry ons! This one looks amazing!

---

jeff

on May 5, 2011 9:53 am

we use Atlantic and it holds up better and seems to pack/travel better than all our other luggage experiences.

---

on May 5, 2011 11:55 am

That's good to know, Jeff, I really need a suitcase that will last!

---

on May 5, 2011 4:08 pm

My 13ish-year-old samsonite needs replacing – thanks for the tip!

---

jane

on May 5, 2011 10:13 pm

I never remember I need new luggage until the next trip rolls around. This looks like a good one!

---

Mama Nolte

on May 6, 2011 8:43 am

I love that it is lightweight and also the color isn't black.
Thanks for checking out this product. I may need one for a trip in June 😉

---
Leave Us Some Comment-Love