July 29, 2009
We returned from our 3-week stint in Michigan to see the jungle growing wild in our garden.
Well not all of it was jungle…
These Stargazer Lilies were actually quite pretty, if a little untamed.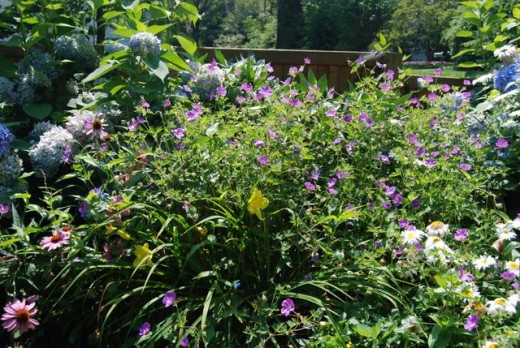 But this one purple perennial geranium (yes, it's a single plant) has created a mini-jungle for me to clear out.  It's wrapped itself around everything else in its vicinity.  If it weren't so pretty, I'd whack at it.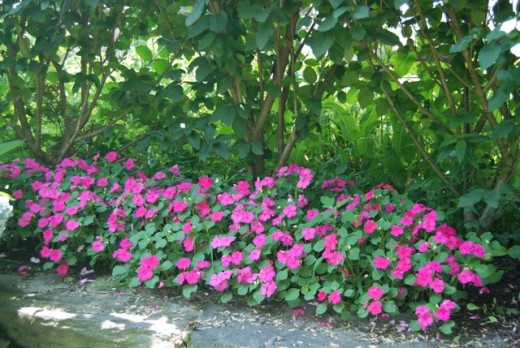 These pink impatiens were puny and straggly and I was about to give up on them.  And then Poof!  Huge.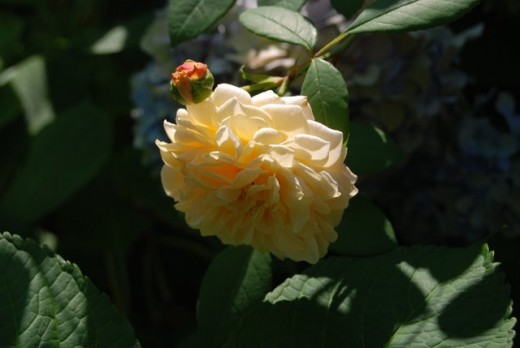 These are from a climbing rose bush that I deadheaded in hopes of seeing another show of blooms.  Reward is sweet, and smells good too.
The biggest surprise was from the vegetable garden.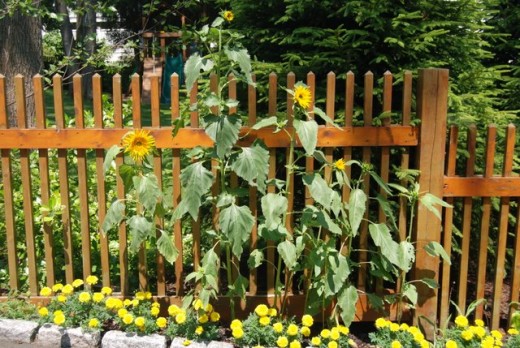 This May the adorables pushed these sunflower seeds into the soil with their chubby little fingers.  When we left at the beginning of July, they were 6 inches tall and floundering.  A little rain and sunshine and kaboom!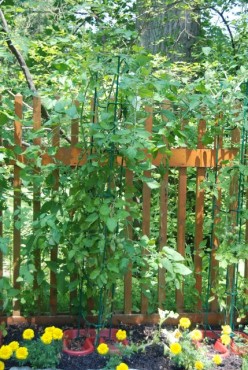 This is the best luck I've had with tomato plants in the 4 years I've been trying to grow them.   See here for info about these red trays and ladders.  I think they are a hit!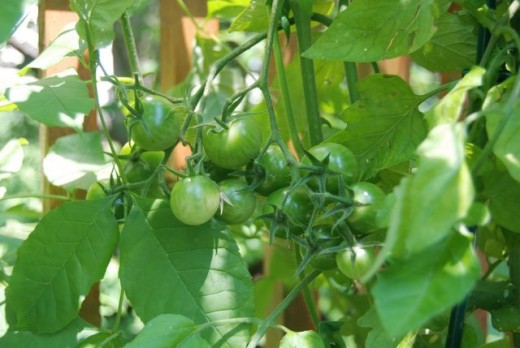 Sweet 100 Cherry tomatoes in about a week!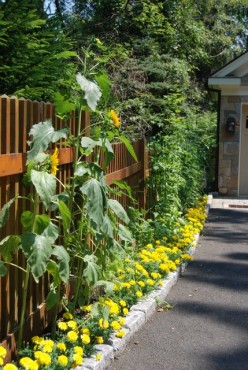 So here's the whole row of sunflowers, 12 tomato plants, 3 basils, 2 cukes, 2 green peppers, multiple lettuce and tons of marigolds.  It's 40 feet long and 1 foot wide and packed with yum.

Share this post
You might like...
Category: Garden
Tags: impatiens, lilies, perennial geraniums, sunflowers, tomatoes, vegetable garden |
1 Comment »
on July 30, 2009 1:50 pm

Wow, I can't believe how much those shot up while you were gone! Beautiful!

---
Leave Us Some Comment-Love