July 31, 2012
Written by Cathy Baker, mom of two amazing girls, from Missouri
I've discovered that there is much joy to be found around a backyard campfire – come spring, summer or fall! A chance to kick back, relax, laugh, tell jokes, sing songs, connect, share conversation, and of course eat your weight in marshmallows and s'mores! I absolutely love having a fire pit in our backyard and spending time with friends and family. It's the perfect place to create memories to last a lifetime!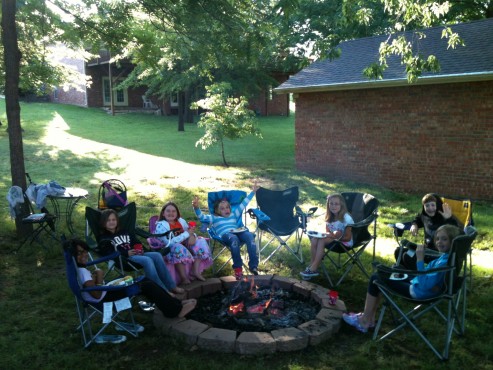 My girl scout troop enjoying breakfast around our backyard firepit.
Here's a twist on the traditional s'mores that we discovered this summer from Chef Jessica Wright Blog. Basically, you take a triangle sugar cones (for ice cream) – fill it with chocolate chips and mini marshmallows (or any candy pieces), wrap it in tinfoil, and set them on hot coals to melt. Then you just unwrap and eat your 'cone' when the marshmallows have all melted! Here's my daughter on her 11th birthday enjoying a cone with her friends around the campfire.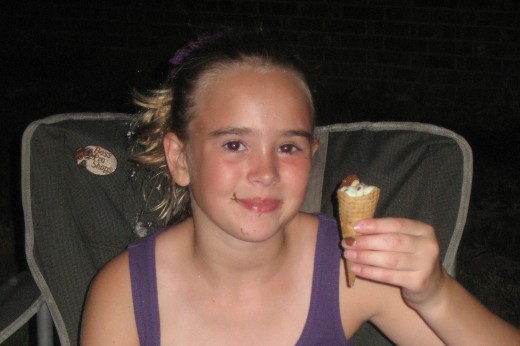 And camping this summer, the camp store had these things called rainbow sticks or rainbow crystals.  My sister had bought the rainbow sticks and they lasted a really long time (we could still see some of the colors even after a half an hour). note: I haven't tried the crystals, so I can't guarantee how long they will last, but I'm still gonna order some to try.  We couldn't get a good picture of our rainbow fire, but here's one I found online at amazon…
And lastly, skip cooking on the stove, and enjoy dinner around the campfire. Have you ever tried using hobo pie irons? We make grilled cheese, pizza pockets and of course, fruit pies (just use canned pie filling).  Hint: be sure to put LOTS of butter on your bread so that it doesn't stick to the pie irons.
So, who's up for sitting around the campfire tonight? Who's making plans for some backyard campfires this autumn?

Share this post
You might like...
Category: Outdoor Space, Random and Fun
Tags: backyard campfire |
1 Comment »
Heidi Farmer

on August 3, 2012 10:27 am

This looks amazing! There's no snack I like more than S'mores. Looks like a fabulous summer tradition.

---
Leave Us Some Comment-Love