January 23, 2012
Written by Contributing Writer, Sarah Farthing
This recipe, by Rich Davis, founder of KC Masterpiece barbecue sauce, has become a staple side dish our family brings to pot lucks.   People rave about these beans and someone always requests the recipe.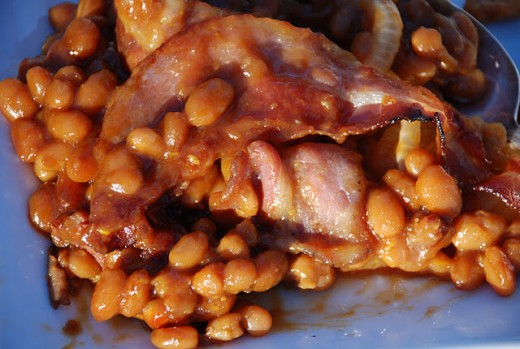 Barbecued Baked Beans
Ingredients
2 (16-ounce) cans pork-and-beans, drained
3/4 cup KC Masterpiece barbecue sauce
1/2 cup brown sugar
1 teaspoon ground cumin
1/2 teaspoon ground red pepper
1 Granny Smith apple, peeled, seeded, and chopped
1 ounce golden raisins
1 medium onion, finely chopped
3 strips uncooked bacon, cut in half (you can substitute 3 tbs butter)
Directions
Preheat oven to 350 degrees. Combine all ingredients except bacon in a 2-quart baking dish. Top with bacon (or dots of butter) and bake uncovered for 1 hour.
Serves 6-8
* I usually substitute our favorite barbecue sauce of the season and I always make these ahead.  They tend to exit the oven slightly soupy but they set up so nicely if they have a half hour to cool.  Also, don't let the apples and raisins scare you off- together with the onions they create an unforgettable taste experience. Trust me!
**Rich Davis earned a medical degree from the University of Kansas, specializing in child psychiatry, and served as Dean of the North Dakota School of Medicine before moving to Kansas City in 1977 and developing KC Masterpiece Barbecue Sauce. I had no idea!
(The image is from this site. I could not find a great picture of this exact recipe, as hard as I tried!)

Share this post
You might like...
Category: Cookin'
No Comments »
No comments yet.
Leave Us Some Comment-Love