January 16, 2014
written by Cathy Baker, mom of two sweet tweens, who are growing faster than I want to admit!
When we moved in, we inherited this gigantic pool table.  So for 5 years it has sat in the middle of the basement. It was used to build forts under, as a craft table during parties, as a train table at Christmas time, and mostly as a place to pile junk that was taken to the basement.
Finally, I convinced my family to part with it! And I'm so glad it went to a teenage guy and his friends who have been having a blast actually playing pool on it!
So then I had all this empty space in my basement…and so I got this *brilliant* idea to make a snack bar out of upcycled pallets.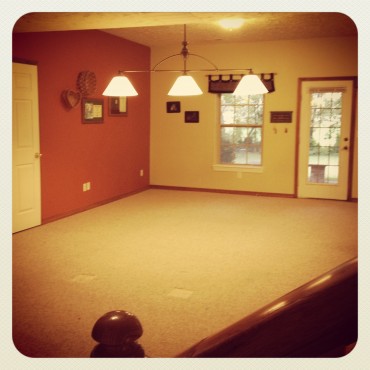 Here's the project…
I had a friend who had a bunch of pallets sitting out in a farmer's field, so we loaded up our little trailer with pallets. Then we spent the next week tearing all these pallets apart.  Of course my husband got 2 new tools out of the deal, so all was good.  I highly recommend a 'Deck Wrecker' and a 'Nail Puller/Extractor' — both tools simplified the process immensely!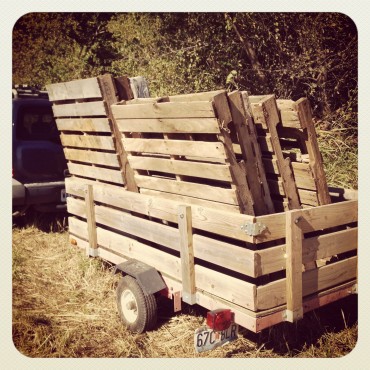 Then my husband began the hammering (most of these boards were oak, so I let him feel 'manly' and hammer into all that hardwood!) and I began laying out the patterns and shortening boards on our miter saw. I *kinda* loved using the power tools!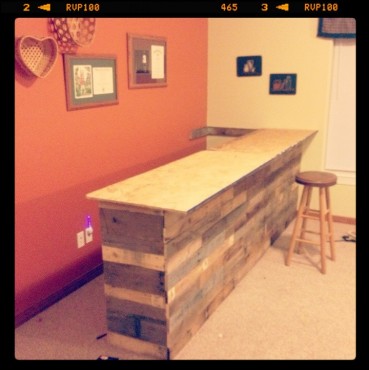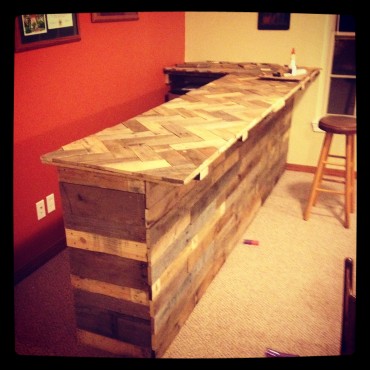 And here's the final project…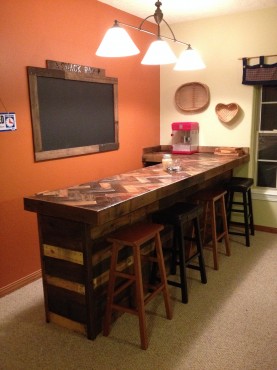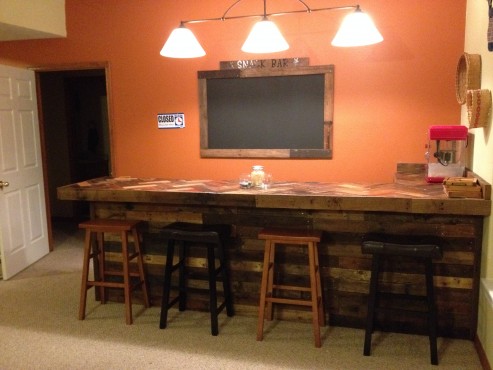 We're are majorly in LOVE with this space.  And my kids have spent hours and hours playing here. There is even a (pretend) cellar underneath where they get supplies from.  I love getting 'served' by these giggly girls!
The popcorn machine is a big hit!  We now have popcorn daily at our house. It's the perfect size for our family.
The chalkboard will soon be used for menus and score keeping and creativity! (We have to wait a few days to actually write on it since we painted it.)
The bar has shelves behind it for storing snack supplies and board games. There's even a mini refrig.  It truly is a perfect spot for my soon-to-be-teens!
Who knew old pallets rotting in a farmer's field could be so beautiful!?! I love my husband's handiness!! Do you have any cool pallet projects in your home? Here's our other pallet project (in case you missed it the first time): the go-boggan.

Share this post
You might like...
Category: For The Home, Playrooms, Random and Fun
Tags: Awesome basement |
3 Comments »
Heidi Farmer

on January 16, 2014 2:49 pm

I love, love, love this Cathy! Kudos to you and your husband for this outstanding project!

---

Marykate

on January 16, 2014 8:47 pm

Amazing!!! Awesome work – he is an artist!

---

on June 21, 2014 2:25 am

Wow…… This is really a great transformation, Cathy. We all appreciate your effort. Keep up the good work. Love it.

---
Leave Us Some Comment-Love