February 18, 2015
Written by Marykate O'Malley, mother of three wonderful children, Gladwyne PA 
It is that time of year. The holidays are over, even football which was a little entertainment for while, is also over. All the winter must do's have been done. The light is returning and with it the promise that spring will come. And yet the temperature is still hovering in the 20s, and 30s, and some days even the teens. It seems all we can say to one another is that we are so ready for spring. And yet…. I don't want to wish away February and March. And let's be honest, sometimes it is frigid into April. So how do you beat the winter blues. Here is what we have been doing and I need your ideas because this Momma is tapped out.
Baking – we bake a lot, especially in the winter. Inspired by Master Chef junior our baking has gone to new levels – baking contests.
All the snow activities – sledding, skiing, tubing, fort making, snow angels, snow ball fights. What else, sledding.
Ice skating – love this one and need to do this more – only once so far this winter.
Reading by a roaring fire
Cozy reading time – we make forts with lots of pillows and stuffed animals and then settle in to read
Movie nights
Making dinner together – inspired again by Master Chef Junior!
Flashlight tag – bundle them up and send them out!
Game night
Family volunteerism
Making hot cocoa and whip cream from scratch
Painting
Clay
Art and Crafts
Fort making
Dance parties
Gymnastic routines
Obstacle courses – inspired by American Ninja Warrior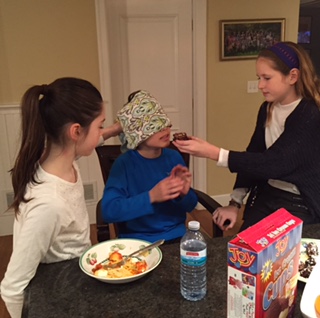 Baking contest – let the voting begin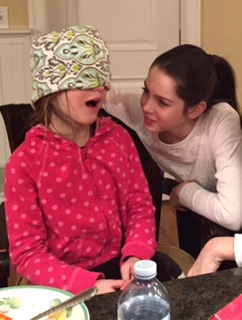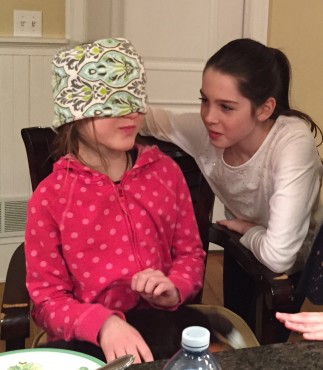 And that is all I have Moms!
And despite embracing the last days of winter, I must say, spring is my most favorite season. After months of being starved for open windows, and robins, the miracle of green grass, and green leaves, and flowers pushing through the earth the beauty is overwhelming. But until then, I am embracing each bone chilling day. It's always darkest before the dawn.
Share this post
You might like...
Category: Random and Fun
Tags: activities, indoors, mommy blog, Snow, spring, winter |
4 Comments »
Anne Schenendorf

on February 20, 2015 7:14 am

Ooooh my gosh I LOVE THIS!!!! The pic of the cuties I love is awesome! ;D Today we are doing a street play date with pizza delivery and wine. We still have to ice skate! Thanks for he inspiration! Xxxxooo

---

Cathy

on February 20, 2015 8:03 am

we really are kindred spirits. Let's see around here it's been baking, puzzles, wii, playing outside, flag twirling (don't look at my basement ceiling), watching Star Trek episodes (dad likes this one), crafts, and lots of getting lost in good books. Filling sink with snow is always fun too. Build mini snowmen. Get out dump trucks or figurines to play in snow. Younger kids – playing in bathtub in swimsuits is fun. Girls use to build elaborate towns or houses out of whatever they could find. Iceskating inside on paper plates. Create a new board game. They still play one they made 2 years ago. Look they family photos and watch family videos. Make pretzel dough and have fun making cool shape pretzels. Homemade playdoh. Science experiments.

---

Marykate

on February 23, 2015 9:30 pm

Thank you Cathy – all great ideas!! So funny we did the ice skating with paper plates too – forgot about that one – it has been a long winter mini snow men is so cute – love it. Great ideas – thanks for sharing!! Another I want to do is start a "watching musicals" series (totally self serving) and bring back the Music Man, the King and I – shall we dance, one two, three!

---

Marykate

on February 23, 2015 9:30 pm

Anne- gotta love the pizza wine playdates! I want to go to one of your porch parties – something to look forward to in warmer weather!

---
Leave Us Some Comment-Love