October 14, 2013


Written by Marykate O'Malley, mother of three wonderful children, Gladwyne PA
Every Halloween my street hosts a block party. We are a cul de sac in the midst of winding, hilly roads with long drives that trail up to homes. And so we have earned the reputation for being the street to trick or treat on in town. I adore my street and really because of the people who live here. I was lucky enough to grow up on a street where children ran from house to house, where friends were always welcome and everyone came together to help one another out and support each other. And like I have said many times, someone is looking out for me because with a lot of luck and some help from a sweet Gladwyne friend I found myself here.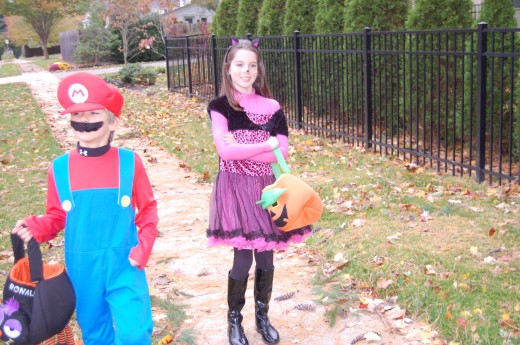 My street, my cutie pies
Here is our block party formula – 3 families host each year. This year it is us and 2 others. The host families take care of the set up (tables, chairs, main food staples) and decorations. We are doing BBQ this year. One friend is manning the grill, I am doing warm starters because I can run in and out of my house, others are doing sides and desserts. We played with the idea of entertainment (bobbing for apples, Halloween parade, and scavenger hunt) but decided it is Halloween and the kids will make their own fun. We are doing a piñata – because, well, doesn't everyone love a piñata?! And it gives some closure to the event – a little signal – this is over – on to the next.
Otherwise, we will set up hula hoops and buckets of side walk chalk and bubbles. And then there are the old stand bys – the limbo and freeze dance if the kids are getting antsy. An iPod with speakers will provide the music. Our Halloween playlist has Witchcraft by Frank Sinatra (I have to sneak in some of my songs too!), Ding Dong the Witch is Dead (Kidz Bob has a fun version), The Monster Mash (of course), Ghostbusters and Thriller (a la Kidz Bop). Then I always add songs that mesh with their costumes – think Batman, Disney Princess songs, Kung Fu Fighting, Take Me Out to the Ball game.
Mario and Tangled Rapunzel off to last year's Block Party 


We have a neighborhood email distribution list and circulate the invite this way. Going door to door with paper invites works as well.
Our annual block party is our time to catch up and celebrate before the thongs of children and their parents descend upon our street. Think tailgating, pre-gaming for Trick or Treating. We finish up before the crowds arrive and make our way around our own street. I love the creativity of Halloween. And seeing princesses and ladybugs sharing a slice of pizza next to a football player and witch chasing each other across the lawn next door. It is creativity at its best. Halloween is the class play with everyone playing the lead, choosing their part and knowing every beautiful line.
Wishing you all a fun, safe and Happy Halloween!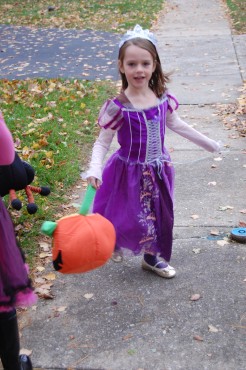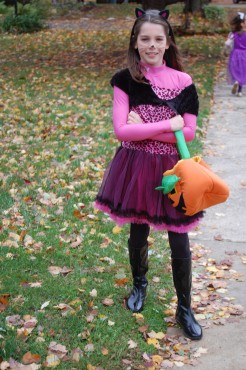 ***********************************
I am a huge fan of block parties. It is a chance for neighbors to stop and spend time catching up with old friends and new. My old neighborhood in Riverside CT had one for July 4 and Halloween. How I miss them!! My sister's block in Port Washington NY has an annual one. They go all out with bouncy castles and entertainment. Some towns require getting a permit, especially if you block off the street. Other require liquor license if alcohol is provided. You can check your local municipality to find out more information.
**********************************
Who has some block party ideas to share? And good Halloween playlist songs to share?
Share this post
You might like...
Category: Activities, Brilliant, Cookin', Family Trippin', For Kids, For Moms, Girl Time, Momzone, Outdoor Space, Random and Fun
2 Comments »
Anne Schenendorf

on October 18, 2013 1:12 pm

So fun MaryKate!!!! We had our last weekend and it was amazing. Our street is packed with kids and fun friends. It's a block with about 20 houses and 95% have kids. For us it is a huge full day affair. As the flyer said this year- if you live on Reid Ave, it's the best time of the year. Someone gets permits for alcohol and shautting down the street(NY is a big fan of lots of rules). We shut it down at noon and it started at 2- a time when most of the munchkins were rising from naps. At noon I knew it was closed b/c I could hear the squeal of laughter and joy as the little ones raced their cars and bikes down the center of the street. Based on the year before's cost, the come up with a fee to cover plates, drinks, burgers, hotdogs, sausages, chips ect(someone goes to costco)and then each family brings their fav dish. They coordinate so there is a variety. We are a close group so we talk about the dishes we loved last year. Their is an enormous bouncy castle with 2 climbing walls, silly string- an annual highlight as is the piñata. It started at two with apps, the was a bar far from the kiddie section of juice boxes and snacks, chair and tables to catch up with old friends. It ended with an after party on a friends porch. It really was the best time of the year…

---

Marykate

on October 18, 2013 3:03 pm

Anne! I need to start going to your block parties!! It sounds more like a carnival! You know how to block party girl!

---
Leave Us Some Comment-Love