July 25, 2009
So I called this the "Brilliant Author Series" and David Small is really best known as an illustrator – go figure.  He won the Caldecott Medal, the highest prize in children's lit, for his illustrations of So You Want To Be President?, written by Judith St. George.
This book is packed full of interesting facts about our past presidents.  Some are hilarious, and some serious, but shows a very unique view of the men (so far) who have held this illustrous office.

Be sure to look for these other titles in the series, which are seriously great:
David's wife, Sarah Stewart, has authored many wonderful picture books that David has illustrated. These books have wonderful, meaningful lessons for adults and adorables alike.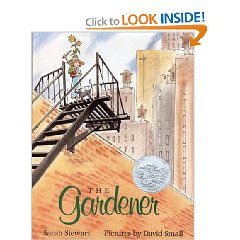 The Gardener is one of my favorite books.  It is a heartwarming tale of a young girl who leaves her family to live with her uncle during the depression.  The illustrations show the sheer brilliance of David Small – he perfectly captures the expressions of Sarah's characters.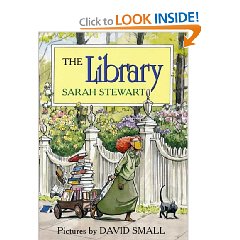 The Library is another collaboration between David Small and his wife, Sarah Stewart. It's the charming story of Elizabeth Brown and her love of books and reading. Great for that last relaxing book before lights out.
David Small has also authored some of my favorite books.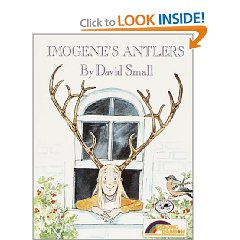 Imogene's Antlers is one of my all-time favorite books. It is imaginative, well-written, and quite fun. The adorables love it and it is a consistent favorite at our house.
Share this post
You might like...
Category: Brilliant Authors, Picture Books
Tags: brilliant author, caldecott winner, David Small |
No Comments »
No comments yet.
Leave Us Some Comment-Love