May 1, 2010
I get all excited when I find books that get the adorables revved up about learning.  Friends, I've found 3 more…
Tod Olson has created 3 super-entertaining books that teach about different aspects of the Old West.  Geared for adorables 9-12, but great resources for all ages, they are fun, rich in historical content and facts, and a great medium-depth introduction to their subjects.  Wait until you meet these characters…
1. How to Get Rich in the California Gold Rush: An Adventurer's Guide to the Fabulous Riches Discovered in 1848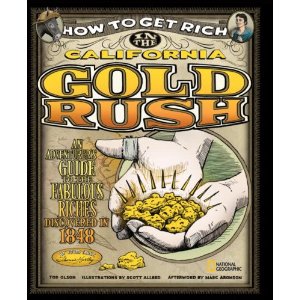 Now don't let the titles fool you: these characters, like our Thomas Hartley in this book, are all good, hard-working folk, but do tell tales of those out to take advantage of their fellow adventurers.  No worries though, our hero shares some pitfalls, but uses his wits to come out ahead.
These illustrations really make these books come alive.  Gorgeous and plentiful in detail and information – I bet you'll learning something too.  I did!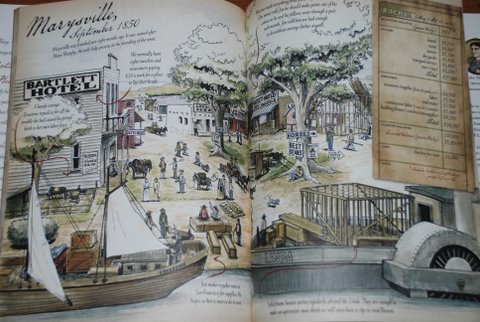 Every several pages or so, you'll find a Ledger, which explains the economics of the time.  My adorables are too young to fully grasp this, but I think this gives a fuller picture of what befalls our adventurers.
2. How to Get Rich on the Oregon Trail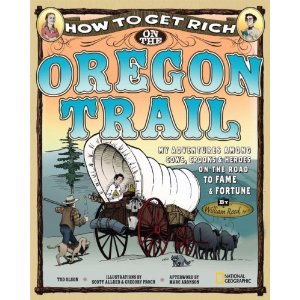 I love tales of going overland on the Oregon Trail, and William Reed, our adventurer, provides an action-packed account of his families trials and wicked smart tribulations.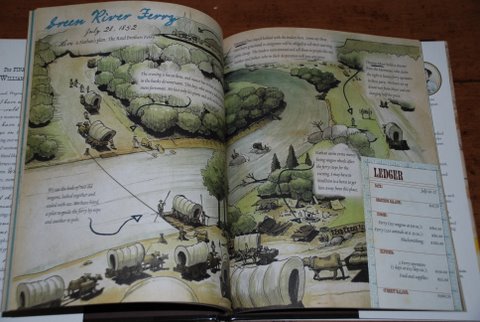 Here's one major success: after thieves wipe out all but $10 of the family's entire savings, William and his brother build a ferry for wagons and animals, and build the family's fortune to $2970!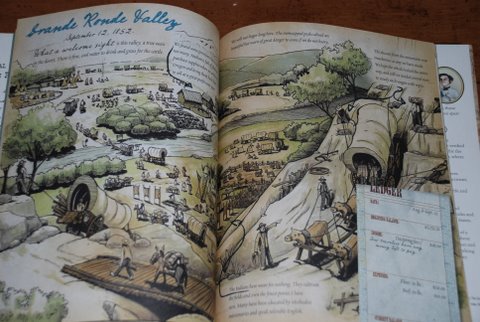 Down into the fertile plain these wagons descend, but they must not tarry long – winter and a dangerous climb up snowcapped mountains looms.
3. How to Get Rich on a Texas Cattle Drive: In Which I Tell the Honest Truth About Rampaging Rustlers, Stampeding Steers and Other Fateful Hazards on the Wild Chisolm Trail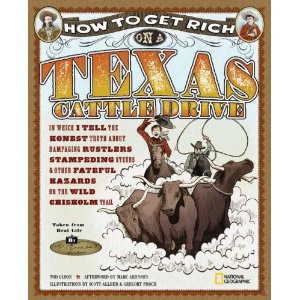 I, for one, knew nothing about driving cattle from Texas up the Chisolm Trail to Dodge City, Kansas.  A.J. "Little John" Larken chronicles his first year on the drive, and all the chiding and nuances that accompany a long and dangerous adventure as a newbie.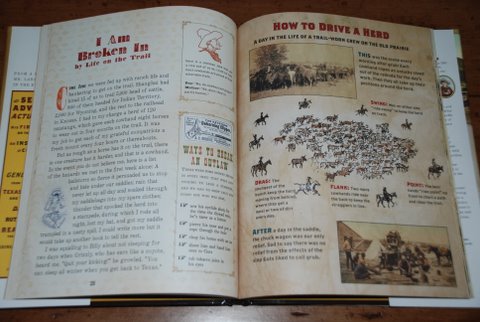 Another thing I love about this series is all the break-out boxes that add visual interest to the delivery of so much information.  How To Drive a Herd is a play-by-play explanation of moving cattle.  Note: you don't want to be the Drag: "the youngest of the bunch keep the herd moving from behind, where they get a meal or two of dirt every day."  No thanks.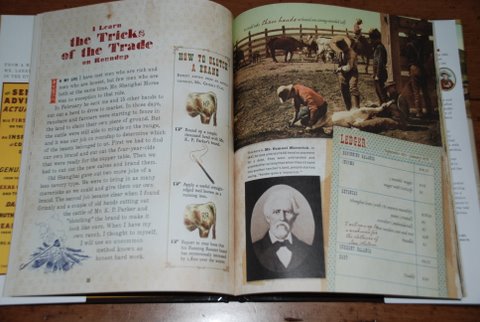 Throughout are old photos, famous people, and the ledger (my favorite!) so you can keep an eye on the goings-on.
These three How To Get Rich in the Gold Rush, Oregon Trail, and the Texas Cattle Drive are excellent narrative histories and your elder adorables will love them.
These are published by National Geographic who also published outstanding books for Cheryl Harness, another brilliant author.  Keep the good works coming!
____________________________________________
Starting Monday and in honor of all you Moms out there (or for your Mom), a full week of Mother's Day Giveaways: SpaFinder ($100 giftcard), the Write Invite for personalized stationery, momAgenda gift basket, Picaboo Photo Books and more to come!  Alert your friends and stop by EVERY day!

Share this post
You might like...
Category: Brilliant Authors
Tags: Brilliant Author Series, kids history, National Geographic Books, Tod Olson |
3 Comments »
on May 1, 2010 8:54 pm

Wow, I would certainly learn a TON reading these! They definitely look like a lot of fun!

---

Julie

on May 2, 2010 8:51 pm

This is great. My son's 3/4 grade class is studying the Oregon Trail. I'll have to pik this up for him.

---

on May 3, 2010 5:08 pm

These sound great! If I'm not the one to read them first to a child, I'm afraid I might be embarrassed since I'm sure there's so much I don't know about these subjects that the kid(s) would be way ahead of me!! I guess its never to late to learn, even if I end up feeling a bit "stoup-ed"!

---
Leave Us Some Comment-Love