September 16, 2009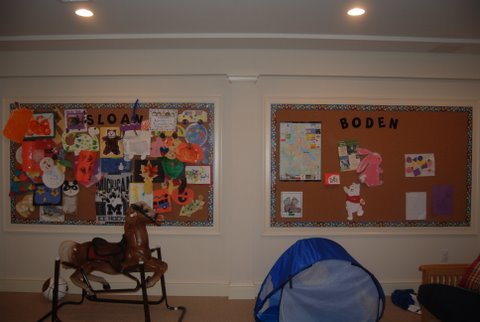 We're all back-to-school now and with that comes piles of art projects, eagerly looking for a place of honor in our home.
Well we were swimming in cute projects around here and I needed a place to display all of them.  I looked to the basement and I had 2 large empty walls in the playroom.  A dear neighbor offered to help with me cut and glue giant bulletin boards to the wall.  Mostly I stood by and watched – he's a great one for projects and tools.  He also insisted on the molding around them, and I'm so glad he did!
I need to get these old projects off the board and into some sort of attic storage (I'll sort and thin them first).  Then we're ready for the year  for the onslaught of art!
Oh, I use a stapler so I don't have to deal with pushpins.  The staples pull out very easily (but it's very hard for the little adorables to do so themselves).
Share this post
You might like...
Category: Art, Playrooms
Tags: billboards, bulletin boards |
6 Comments »
Lisa Lejdstrom

on September 16, 2009 12:09 pm

I liked this idea so much that I did the same thing for my son's playroom. Another great idea that could be a great rainy day project is to take a digital photo of all the "special" art projects and then add them to a photo book which you can create easily using My Publisher or iPhoto. That way they don't take up so much space and you have them forever in a neat place. It's also a great gift for grandparents as well!!

---

Heidi Farmer

on September 16, 2009 2:33 pm

I am so going to do this idea! Love it! Thanks!!

---

on September 19, 2009 1:26 pm

I LOVE Lisa's idea for the photo book of art! What a perfect way to preserve all of our children's "masterpieces"!

---

on September 24, 2009 10:09 am

awesome! I am going to do this in my kids playroom. Did you just buy a roll of cork or alter a large bulletin board that already existed?

---

Heidi Farmer

on September 24, 2009 8:37 pm

So glad you liked them! Your local lumber store will have big bulletin boards. The ones at mine were 5′ X 8′, so I had to cut them down a bit. The molding we attached hid the rough edges of the cuts.

---

Linda C

on October 14, 2010 5:04 am

I bet the huge boards make the kids feel terrific, seeing their art displayed so nicely!
My art director friend did smoothing similar to Lisa's suggestion, she grabbed the camera and snapped a photo of her child holding the macaroni, or leaf art! Then those fragile pieces are remembered, along with a moment in time.

---
Leave Us Some Comment-Love