March 29, 2010
*Or anyone willing to give it a shot!
It's getting warmer 'round these parts, and my bones are itching to get outside and plant.  Create new gardens.  Harvest fruit and vegetables.  Bring fresh flowers indoors and take deep breaths.
But here's my problem:
I'm running out of room.
Our home is on .27 acres and I've pretty much cultivated everywhere while still leaving the adorables their much needed soccer yard.
This year I've already been enticed by 4 Blueberry plants that are currently sitting in my garage until the threat of frost passes.  (I'll show you when Running Man and I get around to putting them in –  I have a little spot in mind behind the garage.)
But enough about my gardening angst.
Today, we're hosting a giveaway for garden products to get you started at your house.
Your gardening basket will include:
1) Yard Net by Liquid Fence.com
2) Yard Net for Pets
3) The Ultimate Insect Repellent
4. Speedy Grow – to get the most from your plants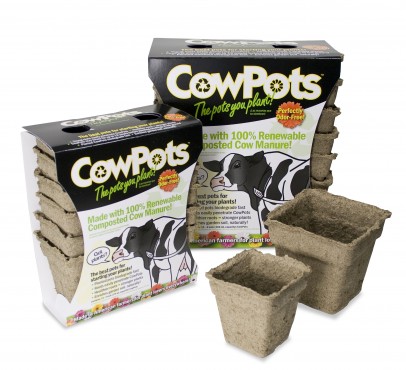 5. Cow Pots – the pots you plant in the ground and provide all the nutrients you need to get your plants off to the best start.  I swear by manure (I'll tell you about it on Saturday).  These pots are so great for starting plants from seed and I can't think of a better activity for your adorables.
6. Organic Mechanic Potting Soil – sorry no photo, but just think of good black dirt and you're good.
Giveaway
Just leave a comment by Friday, April 2nd (whoa baby, April??) and I'll choose the winner using Random.org on Saturday, April 3rd.
You can get an extra entry by emailing 5 of your friends about The Good Stuff Guide (or tweeting or leaving something about TGSG as your status update on Facebook).  As always, I trust ya!
If you know any gardeners, please forward this on…
Good luck!
Hopefully, a sunny warm spring Monday to you.

Share this post
You might like...
Category: Garden
Tags: Garden, Monday giveaway |
20 Comments »
Mama Nolte

on March 29, 2010 5:40 am

I have a lot of plans for perennials and ground cover this spring. We had a make-over done 2 weeks ago of an old waterfall/pond area and tiered garden spot. Both had gotten old and in disrepair. It looks great now but I'm not sure all my flowers will survive the changes. Springtime in the Denver area can run from 65 degrees to 8 inches of slush as it did for us last week! Wish me luck!

---

on March 29, 2010 11:44 am

I was just thinking about all the gardening I need to do this weekend! This would be so helpful!

---

on March 29, 2010 12:04 pm

Neat, I will tell some people about this.

---

on March 29, 2010 12:04 pm

I will be working all week to get my backyard and patio area updated for Spring. Any and all gardening items would be extremely helpful!

---

Amy Nowak

on March 29, 2010 12:16 pm

Wow- I can't believe it is almost April. Certainly the April showers in
Washington will bring May flowers. It is time to get busy with the gardening and yard work here.

---

on March 29, 2010 12:22 pm

Right in time, we are planting the next few weekends! You are lucky to have some land, we have a big backyard for CA standards, but there isnt more than a few small planting areas!!

---

Marie

on March 29, 2010 12:43 pm

I look forward to planting beautiful flowers in my yard, my daughter who is three she loves helping me plant the seeds.

---

Melissa

on March 29, 2010 1:06 pm

I am soooo excited about digging my hands into the earth!!! It's spring and the buds are out ; )
I love all the products you posted! Blueberries, yum- we did strawberries in pots and had some good results, they were easier to cover with nets that way, of course so the birds did not get to the fruits of our labor ; )

---

Summer

on March 29, 2010 1:47 pm

I have big plans this year for my yard. My family moved in the middle of spring so I really wasn't able to do anything to our new house. This year our flower garden will be gorgeous and I get to have my very first garden. I can't wait t start planting

---

on March 29, 2010 1:48 pm

Oooh I could have a lot of fun with this stuff! Great giveaway!

---

on March 29, 2010 2:12 pm

Oooh, I can't wait to start this year! Well, I've already started my seeds indoors but I'm itching to get OUTSIDE!!

---

Sandi

on March 29, 2010 2:24 pm

Can't wait to get in the yard.

---

on March 29, 2010 10:22 pm

My garden is going to be in sad shape this year. Why? Because the dang neighbors installed a deer feeder, but they find my plants far tastier. Send me some of that liquid fence, please?

---

Julie

on March 30, 2010 7:35 am

Spring is springing. I have a new yard that is calling for a garden and I have no plans yet. YIKES. Please enter us in the contest. Thanks!!!

---

Kowanda

on March 31, 2010 12:59 am

I love spring! The planting of a new garden is the highlight!

---

Kowanda

on March 31, 2010 1:00 am

I put this giveaway in my facebook status.

---

Jessica

on March 31, 2010 3:49 pm

My back yard could use this!!! What a great giveaway!!!

---

Mimi

on March 31, 2010 6:41 pm

Looks like the perfect start-up for someone who needs all the help she can get !

---

on April 1, 2010 12:06 am

Definitely could use these things to help my sorry looking yard.

---

Traci

on April 2, 2010 10:35 pm

I love the cow pots! Anything to help those tomatos grow, grow, grow!

---
Leave Us Some Comment-Love