October 11, 2012
It's a Home Tour Return on Thursday!
This past weekend I made my annual 48-hour trek to England for a conference.  Lately, I've been reading tons of classic (and not-so-classic) literature about the British aristocracy and it got me day-dreaming about these magnificent homes where so many of these stories take place.
Then on the airplane I came across a magazine that listed this castle for sale:
Meet Mamhead House. While the current house was built in 1833, a significant dwelling has sat on the property for many centuries.  According to the listing website,  "Mamhead is mentioned in the Domesday Book and the ownership has passed through several distinguished families. In 1547 it was bought by the Balle family. In 1672 Peter Balle, an attorney to Queen Henrietta Maria, was awarded a Baronetcy for his services to her. Later William of Orange billeted his supporters on the Estate. Mamhead then passed into the hands of the Earls of Lisburne who sold the Estate in 1822 to R W Newman, MP for Exeter.  Marriage House" [was built] for Robert Newman and his new bride, Mary. The initials of both appear entwined throughout the house. The family motto, "Ubi amor ibi fides", "Where there is love there is trust" is beautifully carved above the front door and is repeated in various places throughout the house."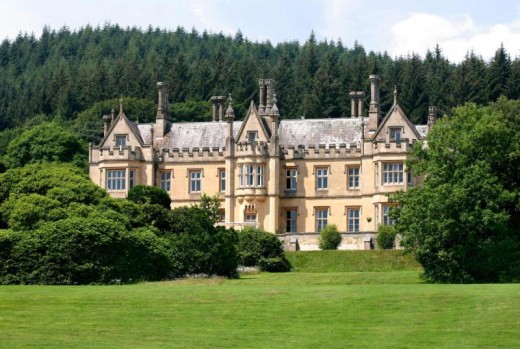 The house, which is built of mellow Bath stone, boasts 16 bedrooms, 8 bathrooms and an attic with a further 11 bedrooms and 2 bathrooms.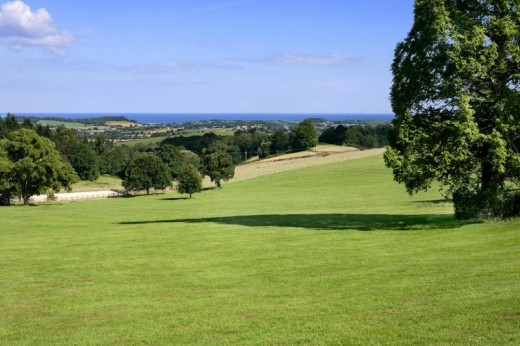 Mamhead House occupies 164 acres of lush parkland, professionally landscaped gardens, lily pond, Italian terraces, and sweeping views of the Devon shoreline.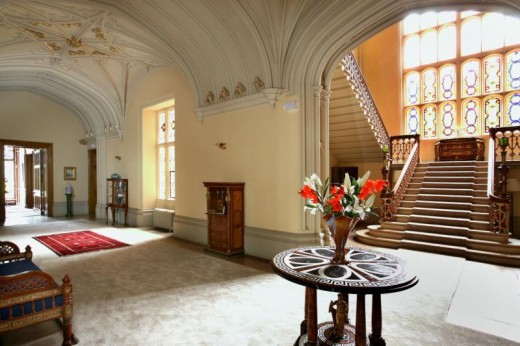 Inside is light-filled splendor.  Please notice the detail in all of ceilings.
A proverbial drawing room.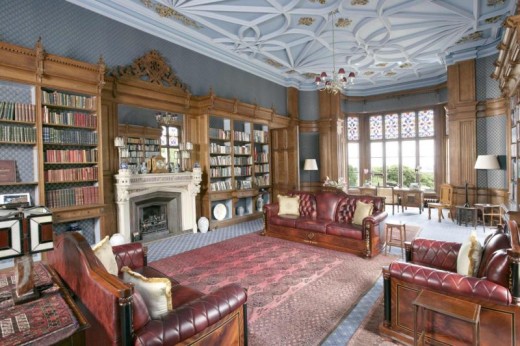 A gorgeous library.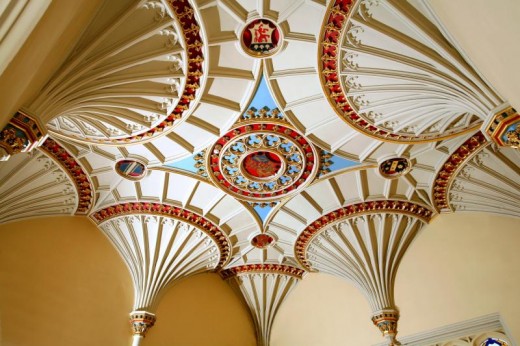 This ceiling is incredible.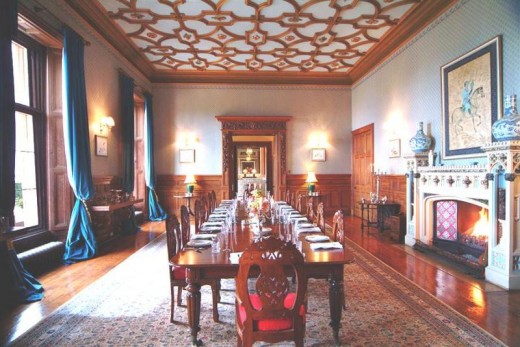 Dining Room.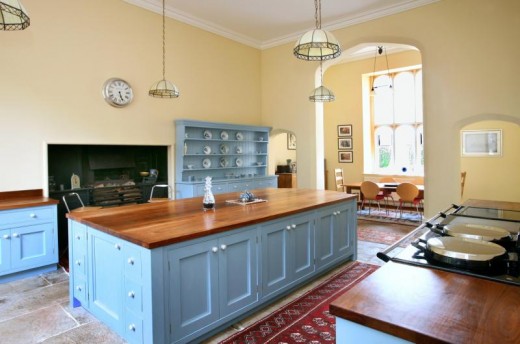 Kitchen.  I can only imagine the staffs of yore rushing about to get dinner up to the waiting Barons and Viscounts.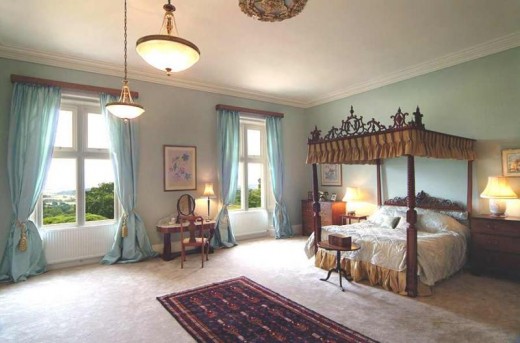 A grand bedroom.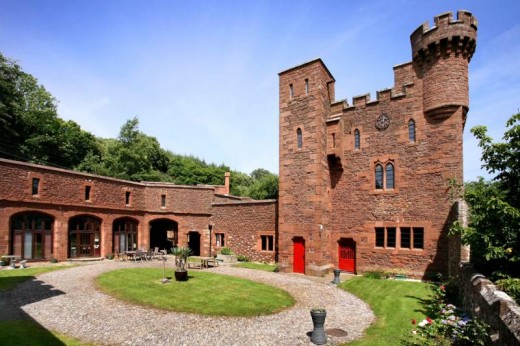 On the property also sits Mamhead Castle, built at the same time as the house it is a copy of 14th century Belsay Castle in Northumberland.  Constructed of local red sandstone it was originally used to provide stabling, a coach house, laundry and brewery.  Now it is divided into 6 office spaces which provide rental income.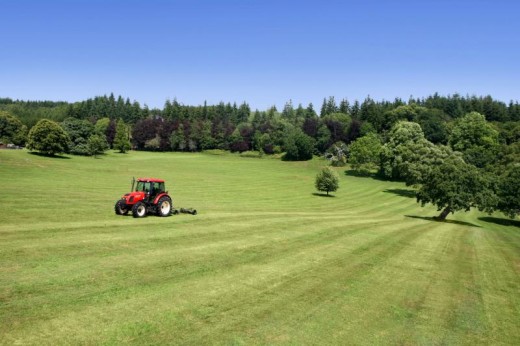 Think of the soccer/football/lacrosse/baseball fields.
And that magnificent view!  This home is currently on the market for £8 million, which translates to $12.8 US dollars.  Mamhead House is listed by Stutt and Parker and Christie's.
If you would like to spend hours pouring over other British, Scottish and Irish Castles for sale, visit BISH – British & Irish Stately Homes.  I think I cut myself off after 3 hours.  Good Luck!!

Share this post
You might like...
Category: Home Tours
2 Comments »
Marykate Wurster

on October 11, 2012 7:03 pm

Love love love the blue cabinets and how they are kind of homey- for a castle!! Love house tours!

---

Marla

on October 11, 2012 7:54 pm

Really Really Really fun post!!!

---
Leave Us Some Comment-Love