November 25, 2013
I have made this in years past and I'm making it again for Thursday.  It is really and truly the moistest, most tender turkey I've ever had.  (Sorry to my mom and Aunt Bette, 2 of the world's best cooks.)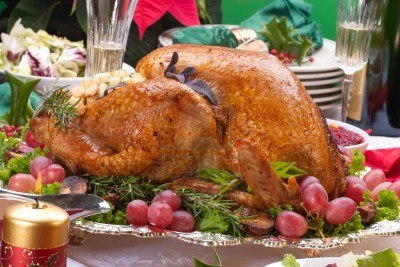 It's also relatively easy, and that always makes me happy.
I originally was emailed the recipe, but also found it on AllRecipes.comm where it is adeptly named, "The World's Best Turkey Recipe"
Ingredients:
* 1 (14 pound) whole turkey, neck and giblets removed  (My bird is 18 pounds this year, so I'll just add a dab more of everything.)
* 1/2 cup butter, cubed
* 2 apples, cored and halved; 1 orange is optional
* 3 crushed garlic cloves
* 1/2 flour
* salt and pepper to taste
* 2/3 (750 milliliter) bottle champagne or sparkling apple juice
Directions:
1. Preheat oven to 350 degrees F (175 degrees C).
2. Rinse turkey, and pat dry. Gently loosen turkey breast skin, insert pieces of butter between the skin and breast – the most unpleasant part. Place apples and oranges inside the turkey's cavity. Sprinkle with salt, and pepper. Place turkey, crushed garlic cloves and flour in a roasting bag, and pour champagne over the inside and outside of the bird. Close bag, and place turkey in a roasting pan.
3. Bake turkey 2 to 2-1/2 hours in the preheated oven, remove turkey from bag then return to oven to brown skin (approximately 45 minutes) occasionally basting and until the internal temperature is 180 degrees F (85 degrees C) when measured in the meatiest part of the thigh. Remove turkey from oven and let stand for at least 20 minutes before carving.
That's it!
What is your favorite/usual way to cook your bird?
Share this post
You might like...
Category: Cookin', Holidays
Tags: Thanksgiving dinner, Thanksgiving turkey |
No Comments »
No comments yet.
Leave Us Some Comment-Love