December 22, 2011
Written by Cathy Baker, mom of 2 girls, from Missouri
With Christmas just days away – here are a few websites that can add a little bit of 'merry' to your day!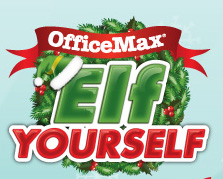 Just add pictures and your family members can become dancing elves! My girls look forward to this every year and I never hear the end of "when are we going to elf ourselves?" until we do it. I love their giggles most of all. If only I really could dance like my elf-self! Also, it's fun if you upload pictures of grandparents or cousins – and send them the clip of them as dancing elves – which is sure to bring laughter and smiles.  This is FREE and they also have some you can purchase, as well.

They are currently keeping track of Santa's busy week ahead before the big night! Your kids can visit countdown village for some online fun.  However, the very best part of this site is that they actually track Santa's Sleigh Ride on Christmas Eve and you can see where Santa is in the world all evening long!  They also have a FB page and last year they were really great about providing regular updates on Santa's whereabouts!  Also, did you know that Norad has been tracking Santa for over 50 years?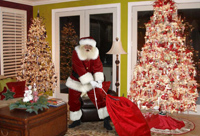 Upload a picture of your living room. Add Santa's picture. And then you can prove Santa has been at your house!  I have not yet tried this site, as I just found it this year, and must wait til Christmas Eve – but I think it would be good for those doubting children (umm, mine!)! I wonder if the $9.95 for the photo will keep my kids believing for one more year?! It may just be worth every penny if it does!
Do you have any online Christmas websites that help your family 'jingle all the way' through the holidays?

Share this post
You might like...
Category: Activities, Holidays
1 Comment »
on December 22, 2011 9:11 am

Oh, I can't believe I forgot this webiste too: http://www.portablenorthpole.tv/home – I did this last year and it was lots of fun. You just give them a few details about your child – and they create a personalized video message of Santa talking to your child!

---
Leave Us Some Comment-Love