May 22, 2010
The adorables call these "the pricker bushes" and they don't have the same affinity for these roses as I do.
Mostly because they remind me of my favorite flower…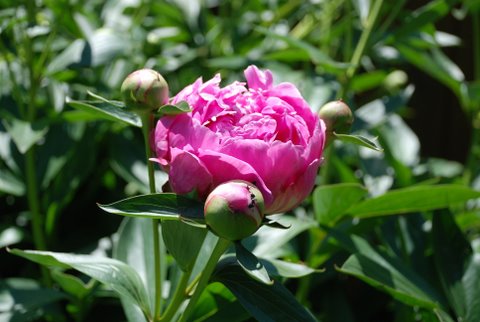 The Peony – Sarah Bernhardt, to be exact.
Which blooms, thanks to…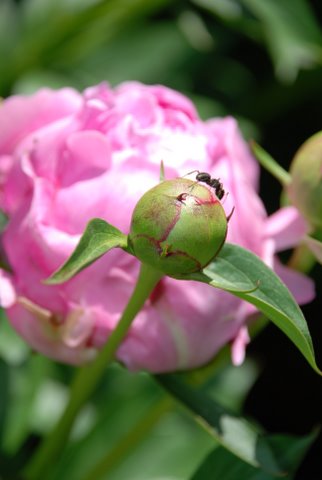 Ants!
Its an old wives tale that peonies need ants to bloom or be pollinated by them (which I believed until 30 seconds ago when I just read otherwise), but its really the sweet nectar they love to eat.  Think of it like an ant's hot fudge sundae.  With a brownie.  Heated.
Last year I reworked this area of my garden.  I had 8 or 9 rose bushes in here, but they weren't happy, so I moved them to the front and replaced them with lillies.
Here they are pre-blooms.  This will smell super-sweet in a month or so.
Now this is what I'm currently losing sleep over: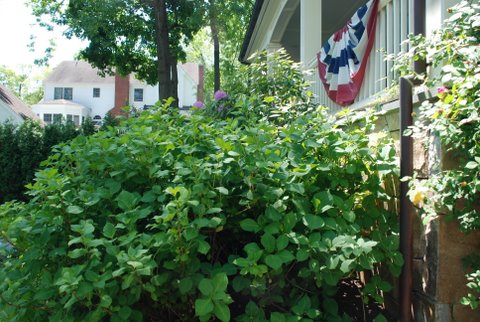 This is one of my Blue Endless Summer Hydrangeas.  This one is now more than 6 feet tall and 7 feet across.  I have 5 of these in the backyard, and I CAN'T WAIT for them to bloom.
In a month or so, this will be covered in gorgeous blue blooms.
Ahhhh summer….

Share this post
You might like...
4 Comments »
on May 22, 2010 8:55 am

I miss gardening! It's creating something all the time, and so rewarding, and great exercize!

---

on May 23, 2010 11:30 am

Wow, those hydrangeas are going to be gorgeous!! So jealous!

---

Jenny

on May 25, 2010 7:52 am

I LOVE hydrangeas. I have 4 or so…but they're all little baby ones right now.

---

Ellen

on June 2, 2010 8:43 pm

I love peonies! They don't grow well where I live, but I did get to have them in my wedding. Your garden is lovely. I need to work in mine right now.

---
Leave Us Some Comment-Love