December 15, 2009
We have a great Christmas tradition that I look forward to every year.  My girlfriends from Playgroup and I get together for one morning and make all of our Christmas cookies together and gab and laugh.  And then we divy up all of our baking results and take them home to gobble up in private.
This year, we actually split the event into 2 parts.
We wanted to put our adorables to work decorating sugar cookies, but also wanted to be kid-free when we did the heavy cooking.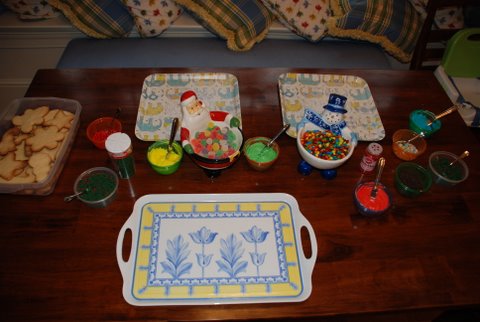 So we got it all set up and let the mayhem ensue.  FYI, trays are excellent for keeping sprinkles somewhat contained.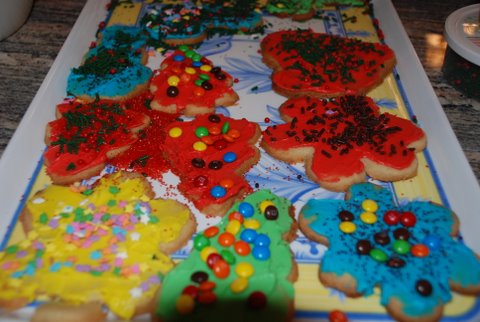 Slave labor is so worth it…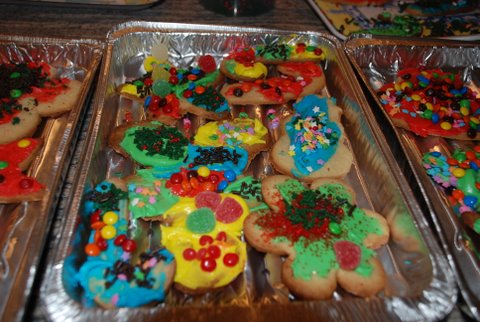 Productive little souls.
The next morning while the adorables were away at preschool, we really got to work: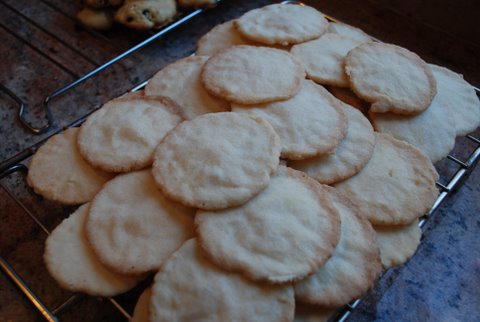 Lisa made these scrumptious melt-in-your-mouth Lemon sugar cookies.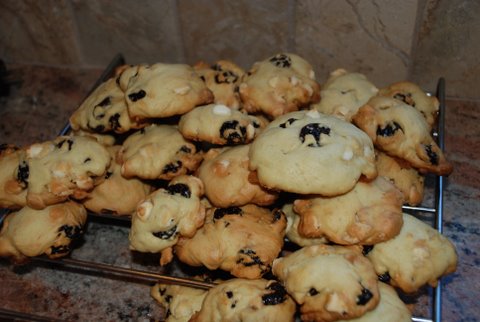 Gretchen made these white chocolate chip and cherry cookies that were rich and yummy.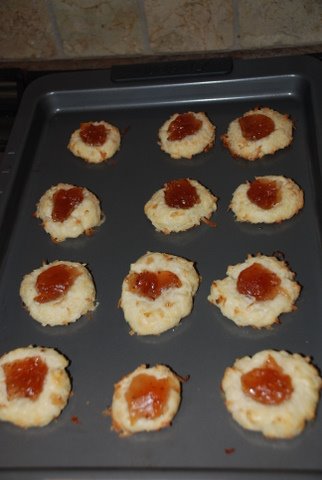 Gretchen also made these coconut thumbprint cookies with apricot jam. Dee-lish.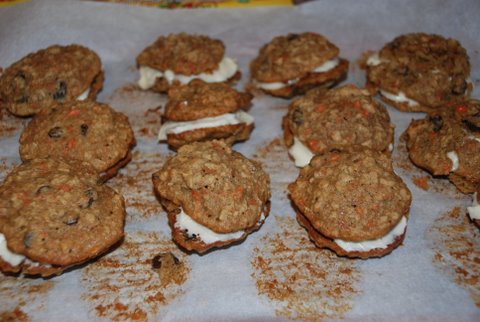 Wendy made these carrot cake inside-out cookies. I'm telling you…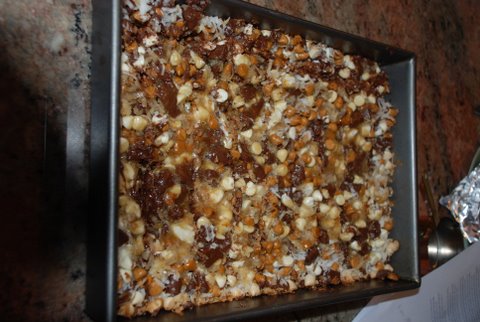 And I made these gooey white & butterscotch & regular chocolate chip & coconut mess.  We needed some chocolate in the mix so I could stay sane.
What do you make every year?  What are your favorites?  We could use some new ideas!

Share this post
You might like...
5 Comments »
jocelyn tingley

on December 15, 2009 7:58 am

I make Brownies, with Red icing and sprinkles. Peanut Butter balls, Short bread cookies, Choc Chip cookies. Blond brownies. Gingerbread People, Hay stacks and whatever I get the nitch. I literally bake once a day. If not every second a day. I do not own a mixer so I mix all my hand. Pamper chef Spat. Rocks.

My daughter makes yummy Peanut Butter cookies.

---

on December 15, 2009 8:48 am

Fun! Fun! Fun! I miss the cookie exchanges of the past.

---

on December 15, 2009 11:12 am

That looks so fun! I have to admit, I am woefully behind on the cookie tradition.

---

Erika

on December 17, 2009 11:24 pm

I've gained 7 pounds in the last week by eating all of these kinds of cookies!! My mouth is watering looking at them.
I had a great cookie, never tried it before bc I am more of a 'traditional sugar cookie and/or gingerbread type of gal', but this one had peppermint filling sandwiched between 2 chocolate cookies rolled in chopped peppermint candies on the edge. WOW. Very tasty!

---

Heidi Farmer

on December 22, 2009 9:32 pm

Now that sounds good!

---
Leave Us Some Comment-Love