October 21, 2010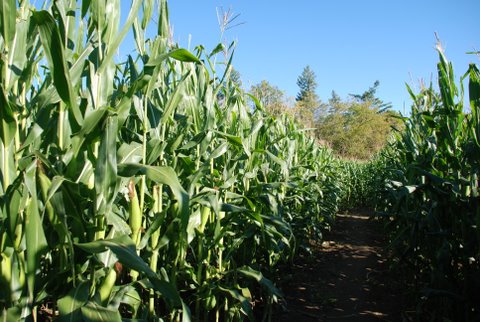 The past weekend my family toured a corn maze and had the time of our lives!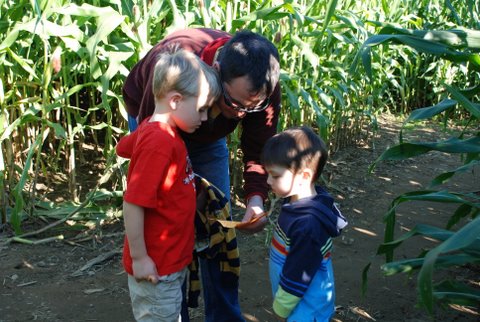 Here are all 3 of my boys consulting the maze map.
Today I've gathered a sampling of corn mazes across our great nation.
Find one close to you and GO – you'll love it!  And hurry – most of these close after Halloween.
(Yes, next year I'll try to give you more notice!)
Northeast
Great Vermont Corn Maze: Danville, VT (802) 748-1399
Fort Hill Farms Corn Maze Adventure: Thompson, CT (860) 923-3439 
Lyman Orchards:  Middletown, CT (860) 349-1793
Marini Farm: Ipswich, MA (978) 356-0430
Ithaca Corn Maze: Trumansburg NY  (607) 387-7888
Mid-Atlantic
Corner-Copia Farm Market and Garden Center: East Windsor, NJ (609) 426-8884

Montpelier Farms: Upper Marlboro, MD (410) 320-0464
Queen Anne Farm: Mitchellville, MD (301) 249-2427
Duncan's Corn Maze: Robesonia, PA (610) 693-8056
Cherry Crest Adventure Farm: Ronks, PA  (717) 687-6843
South
Jones Orchard: Millington, TN (901) 873-3150
The Mid South Maze: Memphis, TN  (901) 870-6338
Cedar Hills Farms: Memphis, TN
Myers Pumpkin Patch/Corn Maze/Greenhouse: Bulls Gap, TN  (423) 235-4796
Rock City's Enchanted MAiZE: Flintstone, GA (706) 820-3220
Mid-West
Severs Corn Maze: Shakopee, MN (952) 974-5000
Country Corner: Alpha, IL (309) 629-2359
Richardson's Corn Maze: Spring Grove, IL (815) 675-9729
Robinette's Apple Haus And Corn Maze:  Grand Rapids, Michigan (800) 400-8100
Gull Meadow Farms: Richland, MI (my hometown!) (269) 629-4214
Mountain
The Farmstead Corn Maze: Meridian, Idaho (208) 922-LOST (5678)
Crazed Corn Field Maze Colorado Pumpkin Patch: Thornton, CO (303) 913-5947
Ryden Ranch Maize Maze: New Castle, CO (970) 984-2190 (sorry no website!)
West
G & M Farm Corn Maze: Livermore, CA (925) 477-FARM
Petaluma Pumpkin Patch and Amazing Corn Maze: Petaluma, California (707) 781- 3132
The Maize at the Pumpkin Patch: Portland, OR (503) 621-7110
Sequim Pumpkin Patch: Sequim, WA (360) 431-0940 (sorry no website!)
Corn maze at Apple Annie's Orchard: Willcox, Arizona (520) 384-4685
I hope you can find one near you.  If you know of another great corn maze, please leave it in the comments area.

Share this post
You might like...
Category: Activities, Family Trippin'
Tags: corn mazes, national corn maze list |
7 Comments »
Julie R.

on October 21, 2010 7:37 am

wow – there are some amazing maze designers out there. Especially love the shout outs to boy scouts since they are celebrating their 100 year anniversary. =)

---

Mimi

on October 21, 2010 10:13 am

These are truly "amazing" ! Fantastic shots from above !

---

Cheryl

on October 21, 2010 11:38 am

We love mazes! Which one did you visit?

---

on October 21, 2010 12:49 pm

Thanks for including Apple Annie's of Willcox, AZ in your story. What fun!

---

on October 22, 2010 6:41 am

"If you want to get lost, come to the corn maze. If you want to be found, come to the Labyrinth. Fort Hill Farms!"
"Best Place to Go Nowhere"–Yankee Magazine, The Best of New England!
http://www.pickyourownlavender.com

---

on January 15, 2011 3:49 pm

This year our local Boone Hall Plantation's annual Corn Maze was designed as our town's new town logo and was the first introduction of the logo to the community. Quite amazing!

http://www.live5news.com/Global/story.asp?S=13207163

---

on November 9, 2011 2:29 pm

These are some of the most creative corn mazes that I have ever seen. I wonder how they make them. Does anyone know?

---
Leave Us Some Comment-Love