March 22, 2011
Written by Contributing Writer, Sarah Farthing
We received these personal baby blocks from Craft-E-Family as a gift when our sons were born from my Aunt and Uncle and we've been giving them ourselves as gifts ever since!    I think they're perfect because they are unique, personalized, and appropriate for grandparents and parents alike.  Best of all, they are affordable, starting at $15.50!!  Free shipping!
Here are the details:
Personalized baby gift
One all natural maple block – 2 inch
Great gift for parents, grandparents, and great grandparents
Each block is laser engraved with the details of the baby's birth
Includes:

Child's full name
Date and time of birth
Baby's weight and length
Name of Parents
Location of birth

Optionally Includes:

Names of Siblings
Name of Hospital
Name of gift giver(s)

Made in Mooresville, IN USA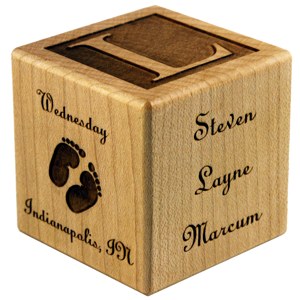 I have lost track of how many I have purchased, at least 10 or 12, and I can personally vouch for the quality of this product.  Every block is beautifully done and I am amazed every time how fast my order is processed and shipped out from Indiana.   You can place your order at www.craftefamily.com.
I cherish our blocks and my sons do too.  What's the most unique baby gift you've received?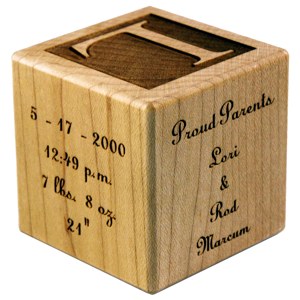 Share this post
You might like...
Category: Toys and Gift Ideas
Tags: baby shower gifts, Craft Efamily, new baby presents |
11 Comments »
Danielle

on March 22, 2011 9:03 am

We received one of these baby blocks when our son Ethan was born and it was instantly one of our favorite gifts. We proudly displayed it in his nursery and still today it's in his big boy room. And he loves the block because it's got a big "E" on it and it has his information. And it's made of very solid wood so it's great quality and can take a few tosses across the room (although i wouldn't recommend it). My parents also received one as a Grandparent gift and they proudly display it in the guest room as well. It's a wonderful gift for any new parent/grandparent.

---

Yaya Kelley

on March 22, 2011 9:31 am

These are amazing gifts – Two of the dozen or so Sarah purchased came to us when our grandchildren were born. It really helps this old Yaya remember birth information –

---

Mama Nolte

on March 22, 2011 10:40 am

I have been given these blocks in honor of the births of our grandchildren and I have given these to friends. They are cherished mementos of this exciting time in your life.
Their are other handmade items on their website as well.

---

Mama Nolte

on March 22, 2011 10:43 am

*There* are other items on *Their* website 😉

---

Heidi Farmer

on March 22, 2011 10:52 am

Oh we knew what you meant! And I just typed "new" instead of "knew" so it must be going around today!

---

monkygm

on March 22, 2011 1:52 pm

Love this too!

---

on March 22, 2011 2:50 pm

Love this idea. Have a nephew who is expecting his first child in April. Now I know what I will be giving them to welcome their baby into the family!

---

Jenny Hout

on March 29, 2011 8:47 pm

WOW! I love them!

---

Taylor Killian

on April 5, 2011 2:33 pm

I can't follow the link! Any other way to get a hold of them???

---

Heidi Farmer

on April 5, 2011 3:53 pm

I just checked and it seems that their site is down. I'll keep checking…

---

Heidi Farmer

on April 5, 2011 4:52 pm

And now it's back up!

---
Leave Us Some Comment-Love