September 12, 2013
written by Cathy Baker, who loves being a mom!
I've been working on putting some of my parenting ideas into a format where others can use them.  (I'd really love to turn some of these ideas into apps…so if you have resources to make that happen, send me a message!)
For now, I put them into a format that lets you download them (via my shop on etsy) and print them up to use in your home!!
This parenting journey comes with no manual, so sharing and borrowing other's ideas, keeping our parenting 'tool boxes' full of tools we can pull out and use and various times, only makes sense!  Be encouraged, you are not alone!
OH, and The Good Stuff Guide Readers always get 10% off with code GSG10 at my etsy shop, CelebratingTheMoment!
Here are the two ideas I have available, but more will be coming in the weeks ahead! I hope you LOVE them and your kids have FUN with them!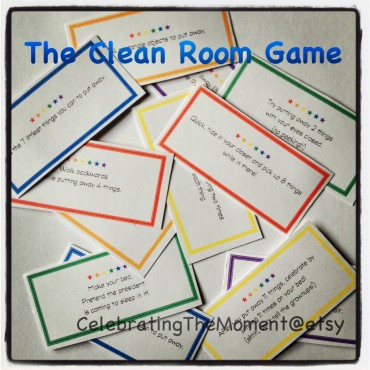 The Clean Room Game: A fun way we get our kid's bedrooms cleaned in our house! My kids love it, and I bet your kids will too! (One friend of mine bought this last week, and sent me a text saying that her daughter had been busy cleaning her room for 45 minutes and was refusing all offers of help! — how's that for a positive review?!)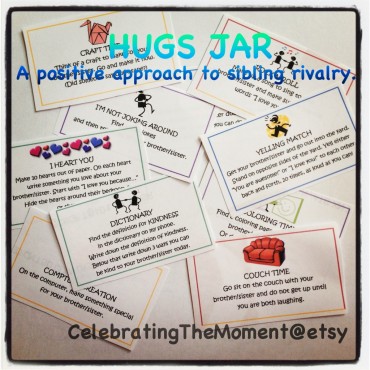 Hugs Jar: A Positive Approach to Sibling Rivalry: When I was at my wit's end one day because of how mean my girls were being to each other, I made up this Hugs Jar. You may recall, I actually wrote about it on the GSG back in February. It's about refocusing your kids on the positives of their relationships with their siblings and, ultimately, nurturing sibling love.
I hope you find them as beneficial to your family, as I have found them in my own!
Share this post
You might like...
Category: For Kids, Kid Bedrooms, Playrooms, Random and Fun
Tags: parenting |
2 Comments »
Marykate

on September 13, 2013 9:25 am

Ooohhhh – loving the hug jar – will be checking that out! Great ideas!

---

Heidi Farmer

on September 16, 2013 9:19 pm

These are great games! What else would I expect? Love that you are making them available to download – how easy is that??

---
Leave Us Some Comment-Love