June 4, 2013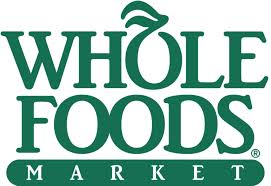 Written by Marykate OMalley, mother of three hungry children, Gladwyne, PA
Dear Whole Foods,
I am writing to express how I feel about you. When I first met you in Greenwich, CT I wasn't sure how I felt. Frankly, I couldn't understand what the fuss was about. You were small and crowded. Your carts were dirty. There was so little parking you needed 2 parking attendants who didn't do much to help the situation despite their best efforts.  And to be completely honest the other customers weren't always so nice. So I moved on. Yes, I thought about you from time to time but I really didn't feel any reason to go back.
But I wasn't satisfied. There was something lacking in my life, a void. Trader Joe's is always fun and has all the great Trader Joe products but I was searching for more. I didn't know it was you until you built  the glorious, shining clean, spacious and gracious store in Darien CT. As soon as I pulled into the large freshly paved parking lot and entered the naturally lit entrance with the mini carts my children could pull – not push (brilliant), I knew my life would never be the same. I knew I was about to have a shopping experience that would make all other pale in comparison. It makes me think of the line from Romeo and Juliet " Arise, fair sun, and kill the envious moon, who is already sick and pale with grief. That thou, her maid, art far more fair than she".  It was as if every mediocre supermarket had brought me to this moment.
You were organized to perfection. You had vegetables I would never buy like fiddleheads and the things that look like roots but make feel like a culinary great shopping in a store with such breadth. Your aisles were large and the right width so one could navigate and not feel pressured to move and make room for an oncoming cart. You had just the right selection – not so much that someone prone to analysis paralysis (c'est moi) couldn't decide and just enough that I felt like I had a say in the matter. You had a gelato bar, and coffee bar, and a play area for children. You had every 365 product and every prepared food I could imagine. And even though my children won't eat pumpkin ravioli or rain-forest crackers, I love seeing all the possibilities for the future. And the packaging, and the Kids Club snacks, and the packaging, and samples. And you were so so so very very clean. If nothing else, supermarkets should be clean. I felt healthy just being there, yes Whole Foods, you completed me.
And then I moved. A long distance relationship simply wouldn't work, you know transporting all that food. So now, I shop in Wynnewood, PA. Your parking lot is small and crowded. But you have everything I need. And sometimes I get to see my very sweet cousin who works there. And you have samples, and your carts are fine, and I love your salad bar and morning glory muffins and black bean soup. And I am excited about the future. Not that I am trying to change you. It would never be good to enter a new  relationship that way. But I do know you plan to expand, to be more like my beloved Darien, CT store. And be big big big, and have natural light and clean wide aisles. And I see the great kids pulling carts, and Kids Club samples, and the play area and clean bathrooms that we visit during almost every, every, shopping trip. I think about the future and it looks good. Really good. And clean. With new carts.
With love and admiration,your hungry patron,
Marykate O'Malley

Share this post
You might like...
Category: Brilliant, Cookin', For Moms, For The Home, Girl Time, Home Tours, Mission Control, Momzone, Organizing, Random and Fun
2 Comments »
Anne Schenendorf

on June 5, 2013 8:56 pm

I live far enough away from Darien CT that I need to take a bridge to get there. Like Stew Lenard's though, it sounds like it is worth it. I would keel over from joy if I had any of the above features. You had me at kiddie carts and reeled me in at play are. Mine in Manhasset is more like Greenwich. It's packed and my double stroller doesn't fit down the aisles… 😉

---

Maryland

on June 6, 2013 1:05 pm

It's all about the double stroller!! And clean carts! I actually think about that store with longing. Kinda scary. And sad. It's like no other will ever be the same!

---
Leave Us Some Comment-Love