March 9, 2011
Written by Contributing Writer, Sarah Farthing
During our stay in Texas my husband and I had a great time exploring San Antonio; I had never visited before and it had been a long time for him.   We absolutely loved it.  There was so much to do we couldn't possibly fit it all in a four day trip so we must go back and I think next time we'll bring the kids with us because there was so much they would have enjoyed, too!
I know they would have loved the boat tours: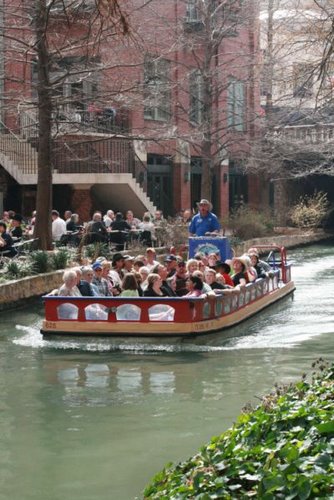 We took one boat tour during the day and then another at night.  They were affordable, informative and fun!
The whole River Walk area is an amazing scene.  Restaurants and shops line the river as far as you can see.  There is no shortage of great places to eat and good people watching!  We saw tons of families out, both during the day and enjoying the walk at night.  The path itself is very wide and easily accommodates large numbers of pedestrians and their strollers.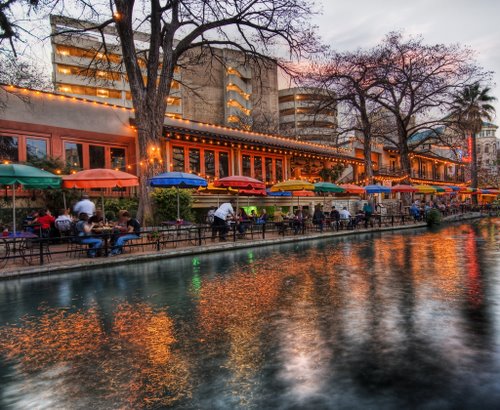 The River Walk
Several things stood out to me about this city and chief among them was that it felt so safe and welcoming.   Friendly faces were everywhere, service was fantastic no matter the caliber of the restaurant we were in, windows and doors were wide open in celebration of the mild temperatures- no bars on the windows in these here parts!   There were interesting design elements everywhere we turned, the whole downtown area is so bright and unique.  I took picture after picture of the art and architecture surrounding us at every turn.
This city is extremely family friendly.  You'll want to wear comfortable shoes and bring a stroller for your little ones under 5 (or purchase a cheap umbrella stroller when you get there), because there is definitely walking to be done.  There are plenty of opportunities, however, to stop and play in fabulous parks and cool down in fun water features while you walk.  The sidewalks and park paths are wide and well-maintained and there are trolley taxis, and boat taxis!, when you need a break.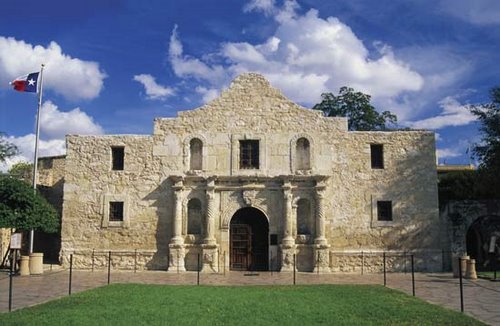 The Alamo
In every direction from the River Walk at street level we found an array of things to see and do.  You name it, San Antonio has it!  Segway and trolley tours, Ripley's Believe It or Not! "Odditorium," Louis Tussaud's Wax Museum, boutique shopping, Rivercenter Mall, The Alamo, Market Square, La Villita, Hemisfair Park, San Antonio Children's Museum, Buckhorn/Texas Rangers Museum,  Tower of the Americas, live theater, IMAX theater…the list goes on!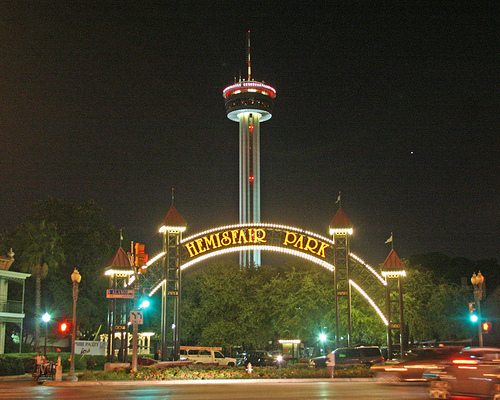 Hemisfair Park and Tower of the Americas
If you have time to venture from Downtown San Antonio, there are attractions so nearby you can't miss them!  The Witte Museum, the Japanese Tea Garden, Pearl Farmer's Market, Pearl Brewery, the San Antonio Museum of Art and the Spanish Colonial Missions to name a few!
The food!  Oh my goodness the food.  We realized early on that we needed to plan for four meals a day (and Haagen Dazs for a snack) if we were going to experience all the restaurants we put on our must-eat list!   This worked out well because you can score midday meals at some of the best restaurants for nearly half the price you would pay for dinner!
We had to try Mi Tierra next to the Market Square for Tex-Mex.  This place is decorated for Christmas year round and festive is definitely the word I would use to describe it!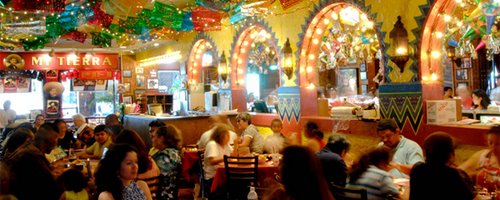 Mi Terra Restaurant and Bakery
Our two favorite meals were at Acenar and Boudro's.   We had Prickly Pear Margaritas at Boudro's and devoured the fresh guacamole, which was made tableside!  This is far from your standard Southwest fare.   My husband had an entree called "Duck Three Ways" that he savored and will never forget.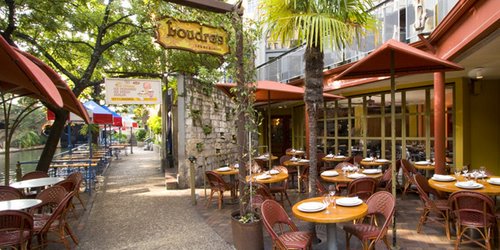 Boudro's
Our food at Acenar, which serves up self-described "modern tex-mex," was equally unforgettable.  In fact, my husband was lobbying to go back the next day!   Their tagline is "hotmex, coolbar."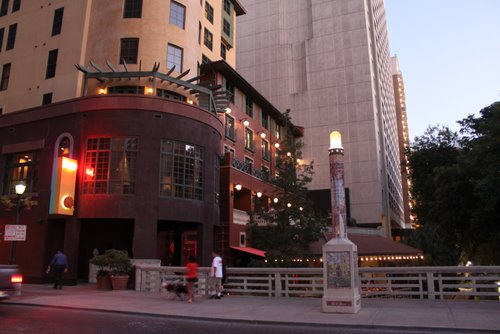 Acenar
On our last night we opted for fine dining at The Fig Tree and we loved every morsel of food they brought us on their tiered patio.  The twinkling white lights everywhere mirrored the night sky and it was a fantastic, gourmet meal to close our trip with.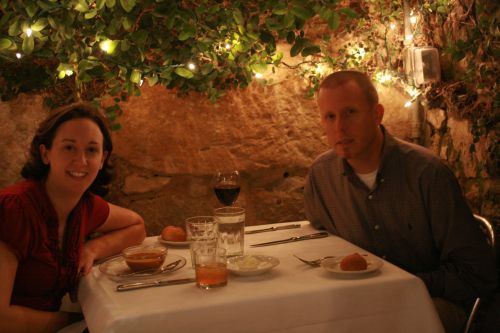 The Fig Tree
San Antonio is definitely a city we'll visit again.  Texas is a new vacation destination for our family!
Visit  Visit San Antonio to learn more about all there is to see and do in San Antonio and visit Travel Tex to read about all the vacation opportunities the great state of Texas has to offer!
______________________________________
Remember these great Organizational Tools from myKimbo.com?
Well *Today ONLY*, you can have a buy a $100 SHOPPING SPREE for only $60.
Visit Daily Deals For Moms to learn more…
(I actually bought 2.)
Share this post
You might like...
Category: Family Trippin', Lovey-Dovey Time
Tags: River Walk, San Antonio |
5 Comments »
Heidi Farmer

on March 9, 2011 9:24 am

These photos – and the food! – made me pine for a visit! Someday soon it will be. The River Walk has been high on my to-do list for a long time!

---

Julie R.

on March 10, 2011 10:00 am

I went to San Antonio the spring of 2008 with my then 7yo son. We had a great time. We got a deal on a hotel right on the riverwalk. SO FRIENDLY. Was most impressed by "greeters" on the Riverwalk that wore buttons that said "ASK ME" (or something along those lines) – so you knew that visitors to San Antonio were definitely welcome.
We went to the Witte Museum, did the Riverwalk boat tour, ate ribs along the river, visited the Alamo, the children's museum, even attended a "School House Rock" Musical.
From San Antonio we headed north to Austin and along the way we visited National Bridge Caverns and Schlitterbahn water park. Both great places for day trips with San Antonio as your base. (just make sure to bring WATER-PROOF sunscreen)
Our nephew is now going to college in San Antonio so looking forward to a return trip for his graduation. =)

---

Mama Nolte

on March 10, 2011 10:07 am

This article got me so excited to visit San Antonio that I just checked Southwest Airlines and it is only a short 2 hour direct flight from here! I am wondering what time of year would be ideal to explore this friendly city.

---

Heidi Farmer

on March 10, 2011 10:31 am

@Julie, your trip sounds so fun! Periodically (or really often), I get a major travel bug and Texas has been high on my list for a long time.
@Mama Nolte, winter, spring and fall would be awesome – great warm weather!

---

Molly Maci

on March 24, 2011 10:35 pm

We head to San Antonio on Tuesday to visit my twin brother and his family – can't wait. Thanks for the great write up on SA – it's an awesome place to visit with or without kids.

---
Leave Us Some Comment-Love