April 8, 2010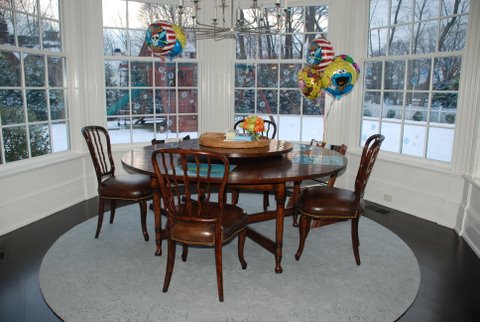 How does mealtime work at your home?  Do you cook regularly?  Is it stressful?  Are you all able to sit down together?
I've been researching different ideas about family mealtime to share with you in a post.  Serendipitously, I was introduced to A Little Book to Ease Meal-Time Madness! and I realized that all the work was done for me.  (I love it when this happens.)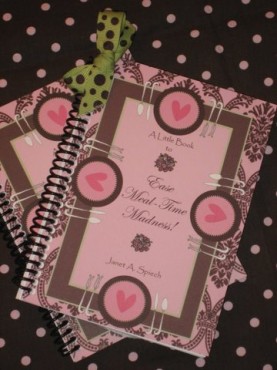 Isn't this book darling?  Just wait until you peak inside – the real beauty is the great ideas collected from moms all across the country.  Here's just a sampling:
* Make nice with your freezer – this appliance may even become your new BFF
* Get meal-planning under control, so that everything else will flow with ease
* Plant a clipping garden for endless dinner bouquets throughout the spring & summer
* Invite your children's friends to dinner–it will definitely give you a window into the "goings-on" in your child's life
* Cherish meal-time as a place for families to grow, know and enjoy one another
* Improve your financial savings with great tips and ideas to make your grocery dollars stretch
* Take the CRAZINESS OUT of the MEAL-TIME…making the meal-time a place of WARMTH and COMFORT
Here are a few of my favorites from the book:
-from Betty Ann of Irvine, CA (a mom to 4 and now grandmother to 14):
When the children were young, my husband traveled on business regularly.  So, to break-up the day, I would make a picnic dinner and bring it and the children to the park.  The kids were able to enjoy the outdoors and burn off some that 'witching-hour' energy, while enjoying a fun, casual dinner. It never failed; they were tired and ready for bed when we returned home.  And, it gave me some much needed time to myself in the evening to relax and prepare for the next day ahead.
–from Wendy of Redford, MI (a mom of 1):
We recognize our accomplishments at dinner-time with the 'special plate'.  The person being honored has earned it through some sort of goal they were aspiring to acheive; no matter how small or large. Unlike our regular dinner plates (which are ceramic), the special plat is 100 year-old china.  This tradition has really brought our family together at meal-time.
-from Renee of Glen Ellyn, IL (a mom of 4):
Flexibility has been a big thing for me.  With my husband's job (a heart surgeon), and kid's schedules, we are not able to keep a regular meal-time.  We eat when we can all be together – sometimes early, sometimes late.  And, if I need to, I put out a few healthy simple "appetizers" (veggies, cheese and crackers) to keep hunger at bay.  I know that this is hard for people who are more scheduled, but eating together for us is a priority (sometimes no matter the exact hour).  And, truly, eating together has been some of the best times we have had as a family.
Aren't these ideas so inspiring?  We're having a Kitchen Sink salad here tonight, and maybe I should get a little more creative!
I'm motivated to bring it outside – it's 80 degrees here today after all.
In addition to A Little Book to Ease Meal-Time Madness! there are 3 additional items that are extremely useful: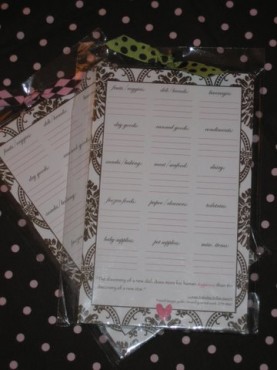 This is the weekly Grocery Needs Notepad.  With 52 sheets (one for each week in a year), your list is categorized so you don't forget the potatoes when you're all the way in the dairy section.
And it's so pretty…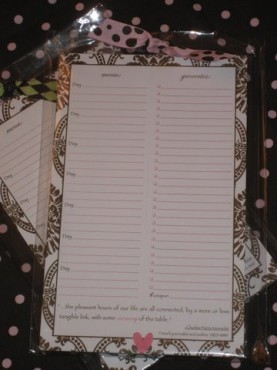 This is the Menu Planner Notepad (again with 52 sheets).  With this pad, you can plan out your dinner menus for the week and add items you need to the perforated grocery list on the right side.  Clever, clever, and cute too!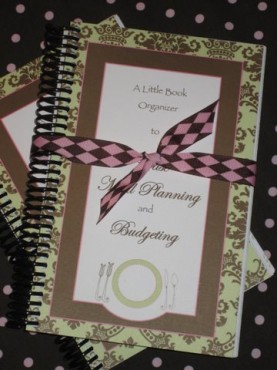 This is A Little Book Organizer to Ease Meal Planning and Budgeting.  Think of this as your meal-planning journal for 12 months.  It's small enough to fit into your purse and inside you can record your monthly grocery needs and keep an inventory of what's in your freezer, as well as your weekly meal planners and grocery lists.  Pages are perforated, so this book will get much smaller as it is used.  It's pretty neat when you see it.
Giveaway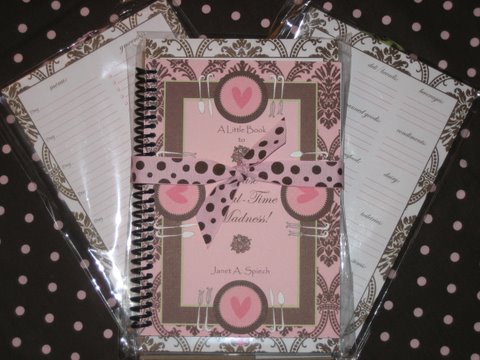 You can win all 4 "Little Books" just by leaving a comment by Tuesday, April 13th and I'll choose the winner Wednesday the 14th using Random.org.  Hooray!
You can add yourself for a second entry by emailing 5 of your friends about The Good Stuff Guide (or tweeting or leaving something about TGSG as your status update on Facebook).  As always, I trust ya!
If you are not the lucky winner, you can see these titles at http://alittlebook.net.
****UPDATE**** #21 Jennifer won the giveaway. Congrats!
A happy day to you!!

Share this post
You might like...
Category: Brilliant, For Moms, Kitchen
Tags: alittlebook.net, dinnertime, meal planning |
21 Comments »
on April 8, 2010 7:57 am

This books looks great! We travel so much that I feel like I am continuously working to get us back on track with family meals. I almost need a routine to get us back into our routine. Is that ridiculous?

---

nancy

on April 8, 2010 9:37 am

Oh, maybe that is what I need to figure out "meal planning"!!!

---

on April 8, 2010 1:48 pm

Oh my goodness, this is fabulous. With my husband and I working full time, traveling, etc, we have to get a handle on meal time. It is sooo stressful and the planner and other books would be sooo helpful. We also use SUper Suppers for some good frozen meals, but there are too many days in a week to do that all the time!

---

on April 8, 2010 5:41 pm

Wow that sounds SO NICE! I would LOVE to try it. Thanks for the giveaway!

---

on April 8, 2010 5:41 pm

I put a link on Facebook just now!

---

on April 8, 2010 7:03 pm

I love this! And, the idea of the picnic dinner really appeals to me, even if it is just in the backyard!

---

Marie

on April 8, 2010 7:08 pm

That is awesome!

---

on April 8, 2010 11:36 pm

We work hard to have family meals at the table as often as possible, but I could really use some ideas to make it a little more fun sometimes!

---

on April 8, 2010 11:40 pm

Just tweeted. Also added to FB status/

---

Julie

on April 9, 2010 7:26 am

Please sign me up. I can always use more help with dinner. Thinking about what we are having for dinner is the worse part of the day for me.

---

Laurie

on April 9, 2010 8:29 am

Family dinners, although hard to always pull together, are so worthwhile to me! I love the ideas about having kids' friends over and the one about the special plate. Thanks for the ideas! We have a fun game we play with the kids sometimes after eating to keep them at the table (after they've inhaled their dinner)…someone starts by drawing one thing on a piece of paper and we pass it around. Each person adds something and we end up with a wacky drawing that makes everyone laugh and talk and stay at the table! Fun. Some of the drawings are worth saving b/c they are hilarious and will be fun to look back on someday.

---

Heidi Farmer

on April 9, 2010 8:47 am

Oh my goodness – LOVE this idea!

---

Lauren

on April 9, 2010 9:03 am

Great ideas! Family dinner time for us is usually stressful, so it would be nice to have some fun ideas to bring to the table! Thanks.

---

Sarah

on April 9, 2010 9:13 am

I would love this! I'm always searching for some way to make dinnertime easier, it is always the toughest part of the day!

---

gillette

on April 9, 2010 10:38 am

would LOVE to win it for one of my daughter-in-laws!

---

Sarah

on April 9, 2010 1:13 pm

Great ideas. If I planned better, the actual "putting dinner together" at the witching hour would probably not be so stressful. Thanks for the tips.

---

Claudia Flotron

on April 9, 2010 1:21 pm

I love your webpage and the information published. Will surely recommand it to my friends.

---

Tara Rogers

on April 12, 2010 4:21 am

I love this book and refer to it often!! Thanks also for the Sunday emails!

---

Megan

on April 13, 2010 12:53 am

Oh this is a priority! Love it!

---

on April 13, 2010 9:46 pm

These menu planners would make my lofe with twins sooooooooooo much easier!

---

on April 13, 2010 9:49 pm

Just tweeted…

---
Leave Us Some Comment-Love