May 5, 2014
Written by Marykate O'Malley, mother of three wonderful children, Gladwyne PA 
It's produce season friends and I couldn't remember if corn was on the "dirty dozen" list or "clean 15" and thought I would share the results with you. It's clean, yay! The Environmental Working Group creates a list every year of the foods with the most pesticides then those with the least. Here it is below.
I was just discussing pesticides with my son and why farmers use them, why they are bad for us and he says, "why don't they grow crops in a greenhouse?" My idea guy!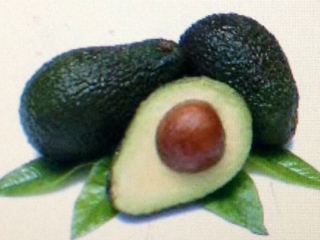 It's Cinco de Mayo so I had to use an avooado! My most favorite veggie – or is it a fruit – it has seeds. Wait, is a pit a seed? Anyone know?!
Here is the EWG list of the "Dirty Dozen" fruits and vegetables:
Apples
Strawberries
Grapes
Celery
Peaches
Spinach
Sweet bell peppers
Nectarines
Cucumbers
Cherry tomatoes
Snap peas
Potatoes
Clean 15
Avocados
Sweet corn
Pineapples
Cabbage
Sweet peas (frozen)
Onions
Asparagus
Mangoes
Papayas
Kiwi
Eggplant
Grapefruit
Cantaloupe (domestic)
Cauliflower
Sweet potatoes
I did not know cauliflower was on here! I am going to print this and keep in my car until I have it memorized. I have the dirty dozen down but can't remember all the clean ones.
Happy shopping!

Share this post
You might like...
Category: Brilliant, Cookin', For Moms, For The Home, Kitchen, Mission Control, Random and Fun
3 Comments »
Joanne

on May 6, 2014 8:14 am

Thanks for sharing. It is noteworthy to add, that going organic is the best!! Yes I know it can be pricey but if we "vote with our pocketbook", we send a message out there to the stores and farmers, and if more people want it , more farmers will switch and the price comes down, eventually.
Another option is joining a CSA, which was written about on this blog in the past. Find one in your area-it stands for Community Supported Agriculture, and you get a "share" of organic veggies each week, at a better price.
We must also be aware that the bee population is dwindling, and this WILL be catastrophic in the future… Huge corporations like Monsanto, who make the pesticides, only care about their profits now, not the future… So buying organic will also help with this potential disaster. Also, buy local honey! We can all make a difference!!

---

Marykate

on May 6, 2014 5:48 pm

Yes Joanne! Couldn't agree more!! You said it all! Another benefit to local honey is it helps with seasonal allergies! Nature is always best.

---

Anne Schenendorf

on May 6, 2014 7:46 pm

Thank you MaryKate!!!! I didn't know clementines were one of the dirty dozen! Time to not assume that because their is skin, it is fine. I agree Mom. I always think that when I cringe at the price difference between irganic broccoli and not. If money is a huge issue though for you, I have such important info about using food that is not organic. My neighbor is a PICU nurse and recently went to a conference on this subject. She said if you can't afford to do organic, be sure to buy the veggie spray sold in your local produce section of the supermarket. She said this removed the pesticides. Be sure to use it as directed. As Joanne said though, going organic is clearly the way to go. As more people buy organic, the prices are sure to drop. Wouldn't life be sad without honey? The question is, what are we doing now to fix the depleted world we are leaving our children? Xxxooo

---
Leave Us Some Comment-Love