October 14, 2009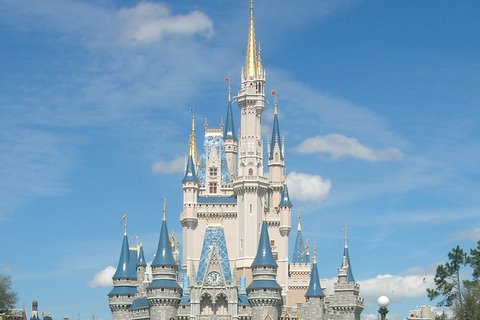 The Running Man and I live for Disney.  We both grew up going every year with our families, we used to run down every chance we could for the weekend, we were engaged there… You get the idea.
It is seriously a magical place.
Then we had our first adorable and thought we needed to wait a little while until we took him.  It cracked us up that having the little one actually kept us from Disney.
We waited all the way until he was a year (it killed us) and then booked our trip.
While the parks are magical, booking the actual trip requires a PhD in Disney.  There are so many options, so many hotels, so many different plans (Disney dining? Park Hopper? Parties? Character dining?) to wade through.  This is not the simple Disney World of our youth!
As luck would have it, friends put us in touch with a classmate of the Running Man's from high school days who owns Ears of Experience.  Ears of Experience is a travel agency that solely books Disney vacations.
Hello easy!
We made one call, were given the best price (of course we checked) and were provided with a thorough itinerary for our trip.
And then we wondered why we suffered through all those years before.
I just had to share…
If you're planning a trip to see Mickey (or take a cruise), give Amy a call at 1-877-80MOUSE and she'll help you wade through it all.
Share this post
You might like...
Category: Disney
Tags: Disney planning, Disney vacation |
7 Comments »
marla

on October 14, 2009 6:29 am

I can't wait to use her services!!

---

on October 14, 2009 4:47 pm

I love it–a PhD in Disney. Ha. Thanks for posting this. I took the liberty to share it and bookmark it.

---

on October 14, 2009 9:43 pm

That is great! I know booking a trip to Disney can be impossible sometimes!

---

Julie

on October 15, 2009 7:13 am

I LOVE Disney. My first trip was for my 30th bday and it was magical. Have taken my dear son three times, but all before he was 4 1/2. He is now turning 9, I think another trip is in order soon. Thanks for the tip.

---

Amy Bonney

on October 15, 2009 10:09 am

Great timing! We've had three planned (and failed) attempts to go to Disney and are trying to make it work in January…we'll definitely check this out! Thanks!

---

on October 16, 2009 10:12 am

I love Ears of Experience! Amy is always so helpful and thinks of everything you could possibly need.

---

Erika

on October 17, 2009 11:23 pm

What a great find! We like going with you to WDW.

---
Leave Us Some Comment-Love