January 20, 2010
Just in case that your spring vacation planning includes the Magical World of Disney in Florida, I wanted to weigh in on where Team Farmer likes to stay.
Starting at the high end first… If money is not an issue (and if you fall into this category, please feel blessed), I would recommend the following 3 hotels: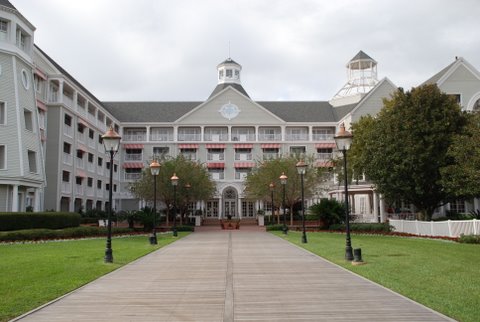 The Yacht Club – we stayed here when we got engaged.  It was very, very special.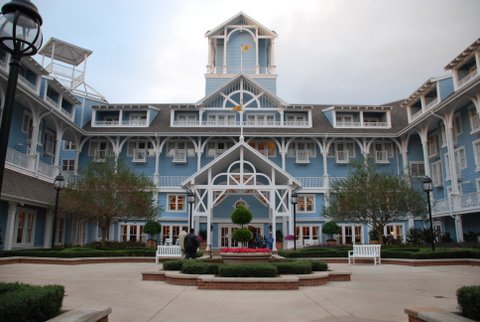 The Beach Club (which is attached to the Yacht Club, but technically a separate hotel)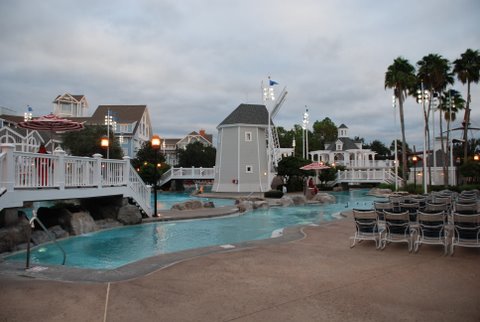 (this is the pool that the 2 hotels share)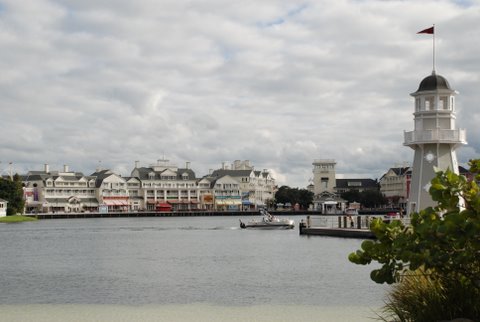 And across the lagoon, the Boardwalk Hotel.
All 3 of these hotels are within walking distance to Epcot (my all-time favorite park of the four), and a long walk to Hollywood Studios.  Boats are also available to both.  At the Boardwalk, there are numerous restaurants (in addition to those within the parks), so meal options are abundant.
The Running Man grew up staying at The Polynesian, which is on the monorail directly across from the Magic Kingdom.  He would probably say this is still his favorite, perhaps for sentimental reasons (though it is very beautiful).  It also is in a prime location with an easy-as-pie commute to the Magic Kingdom, though we've never been able to stomach the $300-400 dollar per night price tag for our family.
Since we travel often and don't want to break our travel budget on one vacation, we've been very happy staying at the Port Orleans French Quarter, a moderately priced Disney World hotel.  A short bus ride to all the parks (my eldest adorable counts the bus ride as one of his favorite rides – go figure) and a boat ride to Downtown Disney, we've been pleased as punch with this resort and the rate.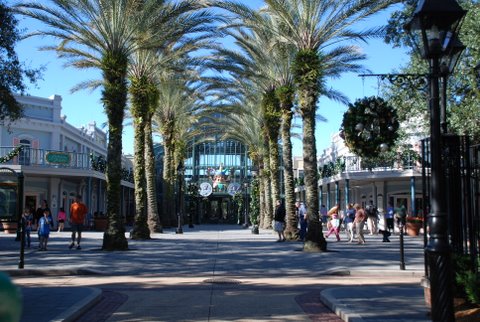 Main Street at the Port Orleans French Quarter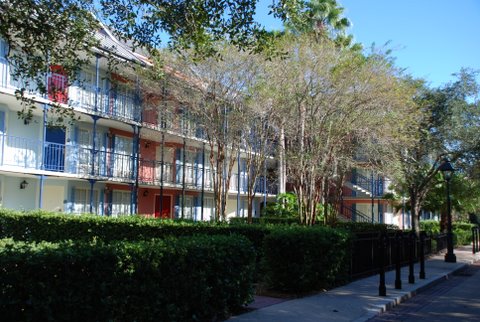 All the rooms are set along these streets that wind throughout the complex.  The rooms are very clean and have 2 double beds (think Hampton), and they do include refrigerators, which we stock with our breakfast food so we can be out the door and in the park ASAP.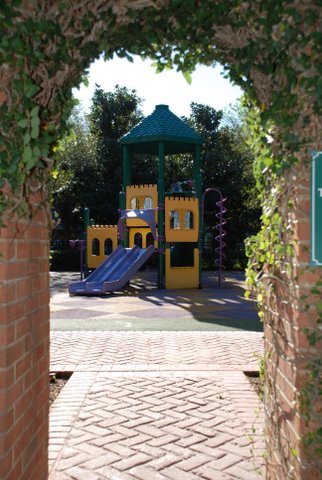 A playground, which is marvelous after dinner for wresting those last drops of energy from the adorables…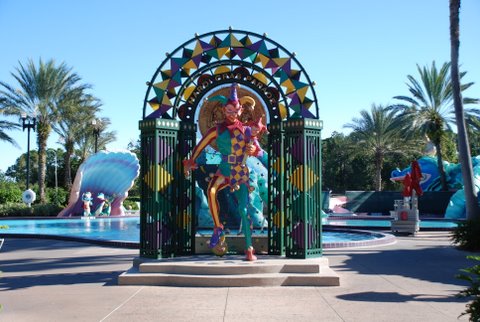 And a fun Mardi Gras-themed pool with a slide.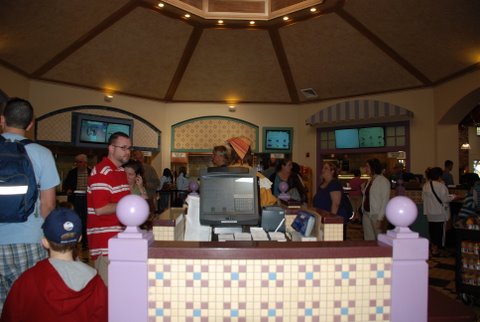 Now if you have young adorables and plan to spend the bulk of your day in the park, I cannot stress to you how convenient a food court is when the adorables are well past tired and you need to feed them before they fall down asleep.  This food court has one of the 3 best pizzas (it's the large supreme) I've ever tasted.  Ever.
We are off-season visitors because the adorables are not yet in grade school, but we've been paying $89-$139/night (depending on time of year) for this hotel.  In addition, we use Disney's Magical Express, a free bus service to and from the airport, so we don't have to rent a car.  This price seems very fair for what we get.
Just my 2 cents…
We've also stayed at the Animal Kingdom Lodge, the Wilderness Lodge, the All-Sports, Port Orleans Riverside (which is next door to the Port Orleans French Quarter) and the Carribean.
I would be remiss not to mention that we've now used Ears of Experience for 3 trips and have been thrilled with everything.  Amy just checked our rates we had booked for an upcoming trip and rebooked one of our party's reservation at a much lower rate.  Seriously, she's magical.
So where are your favorite hotels at the park?  Where have you stayed?  Have any tips for us?

Share this post
You might like...
Category: Disney
Tags: disney world hotels, Hotels |
4 Comments »
on January 20, 2010 9:18 am

Can't wait!!!!!

---

on January 20, 2010 10:32 am

Oh I can't say I have a favorite, that would be unprofessional. :0) The last one we stayed at always seems to be my favorite. Heidi, a tip, take a toaster and grab some bagels and cream cheese if you are driving. This is a great way to cut down on time and money in the morning. If you can go at the end of this month, the Polynesian is only $219 a night! Some of the lowest rates we have seen for it!

---

Heidi Farmer

on January 20, 2010 11:41 am

Maybe we'll have to give the Polynesian a whirl, of only for a night or 2…

---

on January 20, 2010 12:09 pm

I want to go so badly! It all looks so fun. I'm sure my adorable would love every minute of it.

---
Leave Us Some Comment-Love