November 28, 2011
Written by Contributing Writer, Sarah Farthing
This recipe came to me from a friend of a friend years ago at my request after tasting what I consider the perfect sugar cookie!  I love that this recipe requires that you make ahead and refrigerate the dough for at least a few hours (or overnight) because it makes the cookie cutting/baking/decorating day all about the fun!  You just pull  out the dough, let it warm up a bit out of the fridge and start the rolling pins!  These are just the right amount of soft and they are delicious!!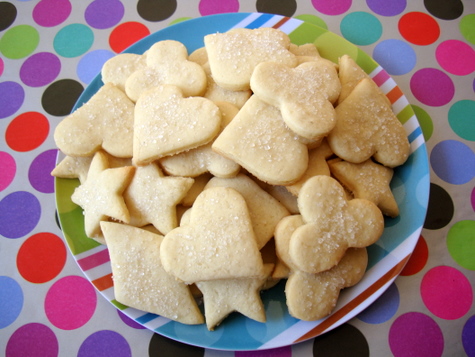 Family Secret Sugar Cookies
(Guess it's not a secret anymore…)
Ingredients
1  cup butter
2 cups sugar
2 eggs
2 tsp vanilla
1  cup sour cream
5 1/3 cups flour
2 tsp baking powder
1 1/2 tsp baking soda
1 tsp salt
Mix softened butter, sugar, eggs and vanilla, blending well.  Combine remaining ingredients and add alternately with sour cream.
Refrigerate 4 hours or overnight.  Roll dough 1/4 " think on lightly floured surface.  Cut into shapes.  Bake @ 350 until set.  Do not brown. Frost/decorate as desired.  (You don't have to sprinkle sugar on the cookies before they bake as shown above; that's personal preference of course and I choose to skip it!)
Do you have a sure-fire recipe to share with us?! E-mail sarah@thegoodstuffguide.com
Share this post
You might like...
Category: Cookin'
1 Comment »
Marykate

on November 29, 2011 6:23 pm

I can't wait to try these! Heidi – loving all the recipes!

---
Leave Us Some Comment-Love