June 18, 2010
It's the LAST DAY of Giveaways to celebrate the daddios in our lives.
(Daddios, we celebrate you every day, just not always with a giveaway.)
Say hello to the Notebook Portable Grill: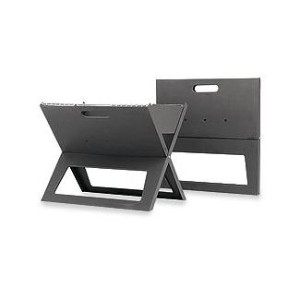 This mack-daddy charcoal grilling machine is perfect for your on-the-go cooking needs.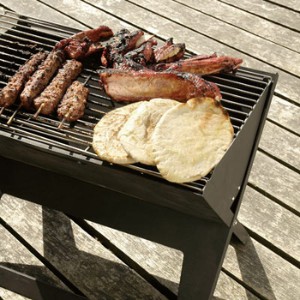 There's plenty of space to accomodate plenty of food for a crowd.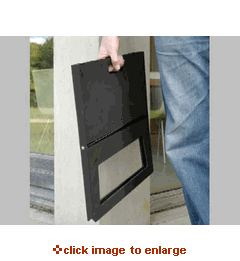 When you're finished you just dump out the charcoal and fold it up to easily take it with you.
Wouldn't this be perfect for the park?
Giveaway
You can win one Notebook Portable Grill just by leaving a comment by Tuesday, June 22nd and I'll choose the winner using Random.org on Wednesday, the 23rd.
Here's how to gain extra entries:
Do you subscribe by email or RSS to The Good Stuff Guide? I love my subscribers, so you get an extra entry. Wahoo!
Email 5 of your friends about The Good Stuff Guide and tell them what a rockin' website this is.  We'd love to have them join us!
Tweet about this Father's Day Week of Giveaways (Just cut and paste): It's a whole week of #Giveaway for Father's Day at The Good Stuff Guide @GoodStuffGuide http://su.pr/2TJPO2
Share the news of this giveaway on your Facebook status (Just cut and paste): It's a whole week of Giveaways for Father's Day @The Good Stuff Guide http://su.pr/2TJPO2
Become a Facebook fan of The Good Stuff Guide and receive the latest news and your chance at additional giveaways.
(Feel free to do them all – that's a total of 6 entries!)
Good luck!
And many thanks for ChefsResource.com for this awesome giveaway where you can find the Notebook Portable Grill for $35.
While you're there, be sure to look at their collections of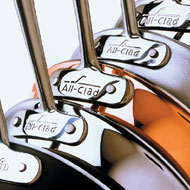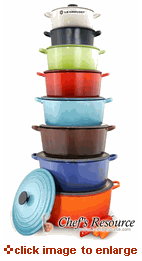 And don't miss: Shun Knives, Wusthof Knives, and Kuhn Rikon Kitchen Tools
Hooray for ChefsResource.com!
And if you're worried about going through giveaway withdrawal next week, I have 2 giveaways scheduled – both for the adorables – so make sure to check back for the fun.
A very Happy Father's Day on Sunday to all the daddios out there!

Share this post
You might like...
Category: Brilliant, Kitchen
Tags: chefsresource.com, Father's Day Week of Giveaways, notebook grill |
77 Comments »
Shannon Spath

on June 19, 2010 3:26 pm

I posted as my facebook status.

---

Shannon Spath

on June 19, 2010 3:27 pm

I'm a FB fan.

---

Shannon Spath

on June 19, 2010 3:27 pm

This grill would be perfect to take on picnics and camping!

---

Shannon Spath

on June 19, 2010 3:28 pm

I'm an email subscriber!

---

Jules Greenaway

on June 19, 2010 5:10 pm

What a cool "toy"!!!! I love it! It would be great for the beach, picnics, camping & just whatever…

---

Caryn

on June 19, 2010 8:18 pm

That is the coolest grill ever! Have you tried this out yet???

---

Caryn

on June 19, 2010 8:19 pm

I'm a FB fan.

---

Caryn

on June 19, 2010 8:19 pm

And also an RSS subscriber.

---

on June 19, 2010 10:58 pm

I love this!

---

Kareem Fenner

on June 20, 2010 12:38 am

This is absolutely awesome.

---

Karissa

on June 20, 2010 4:59 pm

Ohh pick me! Pick me!
Looks pretty cool, I know my honey would like this

---

Jill

on June 21, 2010 12:11 pm

Ooooh, we would use that OFTEN!

---

Caroline

on June 21, 2010 1:56 pm

Perfect for tailgaiting! College football will be here before you know it.

---

Christie H

on June 21, 2010 4:17 pm

Whoa, now that's an awesome grill! I would love to have it!

---

Christie H

on June 21, 2010 4:19 pm

I'm also subscribed to the RSS feed, I tweeted, and of course I'm a Facebook Fan. Thanks GSG!

---

on June 21, 2010 4:30 pm

how adorable is that grill?!?!? It would be perfect for tailgating at football games.

---

on June 21, 2010 4:32 pm

I tweeted the giveaway weekend. I'm brideandadog. http://twitter.com/brideandadog/status/16719205306

---

on June 21, 2010 4:33 pm

I subscribe via rss (google reader)

---

on June 21, 2010 4:34 pm

I like the good stuff guide on facebook. lee laborde

---

on June 22, 2010 12:52 pm

very cool idea! This would be ideal for my hubby! We could grill anywhere!!
thanks
bleatham*at*gmail.com

---

on June 22, 2010 12:52 pm

email subscriber
bleatham*at*gmail.com

---

on June 22, 2010 12:53 pm

tweet
http://twitter.com/sleatham1/status/16783852784
bleatham(at)gmail.com

---

on June 22, 2010 12:55 pm

facebook fan shelly leatham
bleatham(at)gmail.com

---

on June 22, 2010 12:55 pm

posted giveaway on facebook
http://www.facebook.com/sleatham1?v=wall&story_fbid=118230581555697
bleatham*at*gmail.com

---

Sharon

on June 22, 2010 1:05 pm

I am your fan on facebook. Thanks for the chance to win!

---

Sharon

on June 22, 2010 1:05 pm

I am subscribed to your RSS feed.

---

Sharon

on June 22, 2010 1:05 pm

Wow! I love this thing!

---
Leave Us Some Comment-Love