October 25, 2010
Happy Giveaway Monday to you!
One thing on my to-do list this week is to clean out my gardens: rip out all of the vegetable plants that have been steadily producing fruit throughout the fall, and all those pretty annuals.  I just hate to do it, because it looks so bare when I'm done.
But at least it will be easier this year with this handy new cart:
Take a gander at the Fiskars Carry-All Garden Cart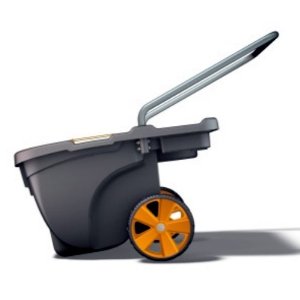 This 4-Cubic Foot cart is perfect for carting all of your garden clippings, leaves, tools, and waste.  The nice big wheels make it super easy to maneuver around your lawn.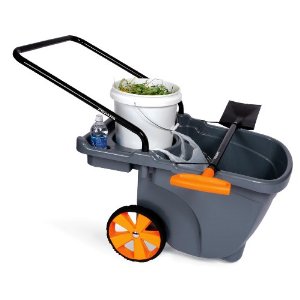 In the spring, you can load it with your annuals and perennials that need to be planted, as well as your garden tools and be all ready to go.  (Ahh, spring!)
But first, the great yard clean-up of 2010 begins….
Giveaway
You can win one Fiskars Carry-All Garden Cart ($80) simply by leaving a comment by Friday, October 29th.  I'll choose the winner using Random.org on Saturday.
Because I just LOVE comments, here's how to gain extra entries (please leave them as separate entries):
Do you subscribe by email or RSS to The Good Stuff Guide? I love my subscribers, so you get an extra entry. Wahoo!
Email 5 of your friends about The Good Stuff Guide and tell them what a rockin' website this is.  We'd love to have them join us!
"Like" The Good Stuff Guide on Facebook and receive the latest news and your chance at additional giveaways. (I LIKE you too!)
Good luck!
You can also find the Fiskars Carry-All Garden Cart
at Amazon.
Don't miss the stellar Fiskars rakes:
This Fiskars 24-Inch Leaf Rake
($19)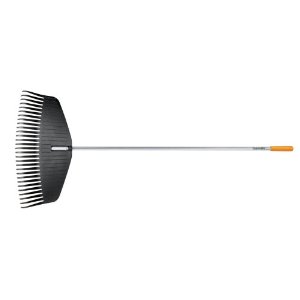 This rake is awesome!  Great design elements help it scoop up ALL the leaves.  I finished my postage stamp lawn in under 15 minutes.
And this Fiskars 8-Inch Shrub Rake
($17.50), perfect for between your perennials and other tight spots.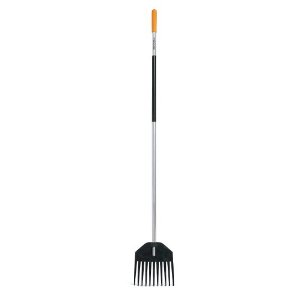 Share this post
You might like...
Category: Garden
Tags: Fiskars Carry-All Garden Cart, Garden Cart, Leaf Removal, Monday giveaway |
115 Comments »
Kelly Metcalf

on October 29, 2010 9:41 am

This is great. With 2 and 3 year old little girls I love anything that emptys my hands. Hope I win it.

---

Lynn Trussell #2244

on October 29, 2010 9:46 am

Thanks for this wonderful chance to win!

---

Lynn Trussell #2244

on October 29, 2010 9:46 am

I follow you via Facebook!

---

Vicki D.

on October 29, 2010 9:47 am

Nice site! This cart would be a great help in my yard and garden.

---

Lynn Trussell #2244

on October 29, 2010 9:51 am

Email subscriber! Woo-Hoo!

---

Christine Cox

on October 29, 2010 9:51 am

I love this!!! Hope I win! Thanks for the great giveaway!

---

amy warren

on October 29, 2010 9:58 am

what a grat giveaway! my son would love to have this to help me with the yard work.

---

Janet Brown

on October 29, 2010 10:24 am

There are so many other things I can think of to use this for, but gardening is not one of them!!!LOL Can't wait to try!

---

on October 29, 2010 1:10 pm

I could stop using my 3 little children to pull a big old wagon around with all my pots and shovels and things if I got one of these, imagine how much my kids would love me then!!

---

Scott

on October 29, 2010 6:10 pm

Wow we need this for our farm in Humboldt County CA…Fiskars all the way!!

---

on October 29, 2010 6:36 pm

This is great. I could definitely use one of those!!!

---

Margaret

on October 29, 2010 8:07 pm

I left the yard to my husband and never really got a garden. Now it's time to do it for myself!

---

on October 29, 2010 9:02 pm

Very cool!

---

on October 29, 2010 9:05 pm

Like you on FB!

---

Rachael Gilles

on October 29, 2010 9:16 pm

Yard work is very therapeutic, this is the perfect item to help with it!! Thank you for the chance to win it! YAY!!

---
Leave Us Some Comment-Love